Penguin Cafe/Portico Quartet, Usher Hall, Edinburgh
Penguin Cafe/Portico Quartet, Usher Hall, Edinburgh
Final night of two-headed tour ends on a high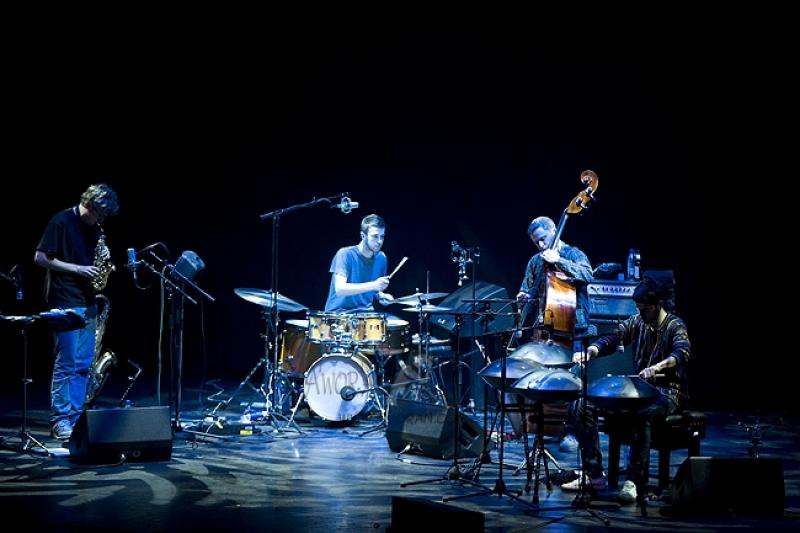 Portico Quartet: piebald modernist noodlings with some Eighties sax action
It's the convention to review concerts on the first night of a tour rather than the last, but in this case it transpired it was rather wise to make an exception. These two groups may make very different kinds of music, but in their questing desire to escape classification last night they seemed to share a certain esprit de corps which added to the sense of occasion.
Their jaunt around the UK was a joint headline tour, requiring each group to alternate top billing. It fell to Portico Quartet to open last night, which meant a shorter set that perhaps didn't allow them time to settle in and stretch and breath as they might have otherwise. Their line up consisted of tuned Hang drums, saxophones, double bass and drums, with various electronic textures – a spacey dub effect here, some loops there – selectively painted in. The results nodded to a working knowledge of the wider world of contemporary music which informed their pieces without ever threatening to unbalance them.
Because the Quartet mess around (but only a bit) with electronics and jittery rhythm, "a jazz Radiohead" has become the go-to shorthand reference for their piebald modernist noodlings. I didn't really hear it. I did hear plenty of the spacious, skeletal jazz-influenced post-rock of Talk Talk, and at times the slo-mo pastoral flow of Van Morrison's wide-open Common One album; I even caught a hint of the Blue Nile's more leftfield moments. They didn't stay long but it was sufficient time to make some beautiful music. A scuffling opening improvisation led to a stunning rendition of "The Visitor" from their second album, Isla, while the title track started in choppy waters and then burst into a sublime stretch of music brimming with beauty and easy melody.
My only criticism is that Jack Wylie's soprano saxophone felt too clean, and at times sounded worryingly like it would have been more at home smeared all over some hideous 1980s cocktail jazz confection. And for all the rhythmic invention of clacking sticks, subtly versatile drums and furious bass, the melody lines could at times have been more adventurous.
"They're ever so good," the man behind me exclaimed loudly after Penguin Cafe (pictured right) had finished their opening number, the nimble, bluesy "Dirt". He was not only right, but his jolly, old-school terminology neatly captured the spirit of this welcome revival.
Simon Jeffes, the English cellist and composer, led the Penguin Café Orchestra between 1972 until his death in 1997. In 2009 his son Arthur Jeffes revived the enterprise as Penguin Café, plundering musicians from sources as diverse as the Royal College of Music and Gorillaz. Last night the ten-piece band made fine use of a battalion of guitars of all shapes and sizes, two violins, a harmonium, an army of percussion instruments, double bass, cello, grand piano, some reinforced glass and an iPhone. The clobber was good value, too: a couple of top hats, a Fez, a pair of plus fours and more waistcoats than Mumford and Sons.
From the off this felt like a genuine tribute rather than anything remotely opportunistic. As he reminisced fondly and frequently about the circumstances which inspired his father to write many of these songs it was clear that Jeffes Jr was getting as much of a kick as the audience from hearing music he clearly cherished performed live once again.
The Penguin Café Orchestra's vast – and vastly entertaining - back catalogue was assiduously mined, offering upbeat folk strums, north African strains, a little blues, some classical minimalism, a hint of Calypso and a touch of Celtic fire. Highlights included an exquisite "Air À Danser", led by the beautiful Spanish guitar of Neil Codling, ex-of Suede. "Telephone and Rubber Band", composed originally to the pulse of an engaged tone (in G) throbbing against a conventional ring tone (in A), was niftily updated using a loop played on Jeffes' iPhone, a touch of which his father would surely have approved.
There was nothing remotely difficult about any of it. It was warm, inviting and lacking any sharp edges
Violinist Darren Berry led the pace on a smoking "Swing the Cat" and a faithful "Music For a Found Harmonium" earned the biggest cheer of the night, but there was also room for some excellent new compositions from Penguin Cafe's album A Matter of Life, such as the autumnal "That, Not That" and the zinging "Pale Peach Jukebox".
There was nothing remotely difficult about any of it. It was warm, inviting and lacking in any sharp edges, which is only a slight criticism. If the Penguin Cafe Orchestra's original spirit of adventure had to be consciously reconstructed rather than summoned from within, and if there was a suspicion occasionally that the musicians on stage mightn't have been making the absolute most of their collective resources, it barely detracted from the sense of enjoyment.
"Beanfields" proved a rambunctious closer, before the Portico Quartet sloped on for a final encore. The two bands congregated for "Salty Bean Rumble", all 14 musicians swept up in its naive, driving rhythm. What had begun as a study in contrasts ended in a fitting moment of communion.
Watch the Penguin Café Orchestra perform "Air À Danser":
It ended with 14 musicians on stage, and what had begun as a study in contrasts ended in a fitting moment of communion
Share this article