Carmen, Opera North |

reviews, news & interviews
Carmen, Opera North
Carmen, Opera North
Trailer-park updating is as thrilling as it is chilling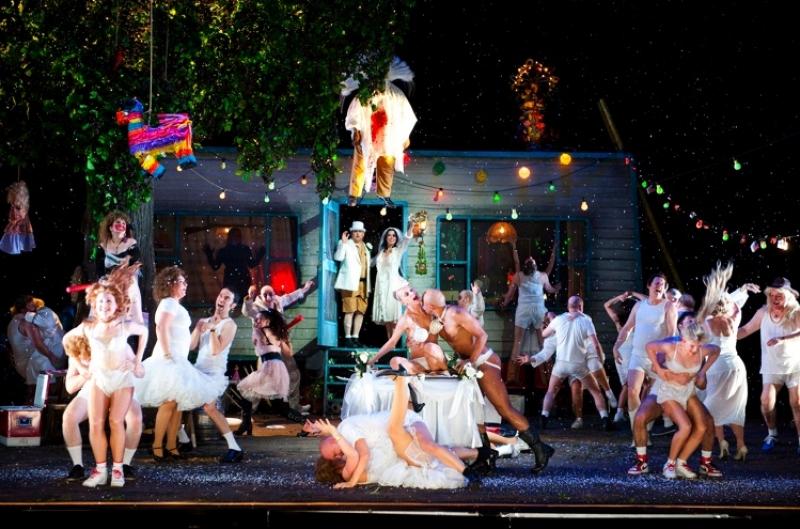 Opera North's 'Carmen': Peter Auty as Don José and Heather Shipp as Carmen
"If you're not careful, the opening act could become a costume parade: there are the townspeople, the children, the guards, the factory women – up to 350 people on stage in 20 minutes, before Carmen even enters, singing a catchy jingle from a recent TV advert." So wrote director Daniel Kramer in last week's Guardian. This may fill Carmen fans with nervous apprehension, but none should be felt, as this production is one of the most visually spectacula
r and exciting things I've seen.
Not all the directorial decisions work equally well, but we'll get to one of those later. Bizet's score has been trimmed slightly and we don't get all the dialogue, but the cuts mean that the evening flies by in cinematic fashion. This is a French composer's account of a Spanish story, so the fact that Kramer's setting is now Seville, Ohio, doesn't jar in the slightest.
"Blow in her face and she'll follow you anywhere", states the delicious 1960s pastiche cigarette advertisement hoarding shown before the curtain rises, and Soutra Gilmour's detailed set presents us with a faux-American town square, the guards now policemen throwing basketballs. There's still a sense of heat, sweat and violence, softened by the depiction of Bizet's guards as overgrown Boy Scouts. Their grotesque harassment of Anne Sophie Duprels's Micaela is still stomach-churning, but in general the male characters seem feeble and immature, contrasting with Heather Shipp's vibrant Carmen.
Shipp is a wonderful actress, completely in thrall to Kramer's conception of the piece. How can she be attracted to Peter Auty's José – clumsy, chubby and wearing ridiculous shorts? It helps that his voice is so alluring.
The love scene together in Act Two sounds marvellous, even as we laugh when José decides to return to duty rather than consummate his love for Carmen. Here, Kramer's conception of a town dance is an insanely choreographed party in a trailer park, pinyada dangling from a tree and drunken locals shuffling around. Kostas Smoriginas's matador Escamillo is wonderfully seedy, swaggering around with a bull terrier on a chain – do watch what he does with a bottle of tomato ketchup.
All this may give the impression that Opera North's production is a piece of vapid sensationalism. It isn't. It's supremely well cast and is impressively conducted by Andreas Delfs, never letting his orchestra overwhelm the vocals. It's wonderfully designed and beautifully lit; witness Act Three's dark forest, and how the colour scheme darkens as the opera progresses.
The townsfolk of Seville are literally roaring for blood, and it's chilling to see them now dressed in black and red. This is superb, edgy stuff. How reassuring to see an opera company staging something bold and exciting instead of dusting off a safe revival. Keel Watson's Zuniga is excellent, and the chorus are superb. But can someone explain to me what was going on with the elderly folk in Act One, whose significance still eludes me?
Carmen runs at the Grand Theatre Leeds until 11 May. It then goes on tour to Newcastle, Nottingham and Salford.