Whitney Houston: The Legacy of an R&B Diva |

reviews, news & interviews
Whitney Houston: The Legacy of an R&B Diva
Whitney Houston: The Legacy of an R&B Diva
The career and lasting impact of the late soul singer considered
Thursday, 16 February 2012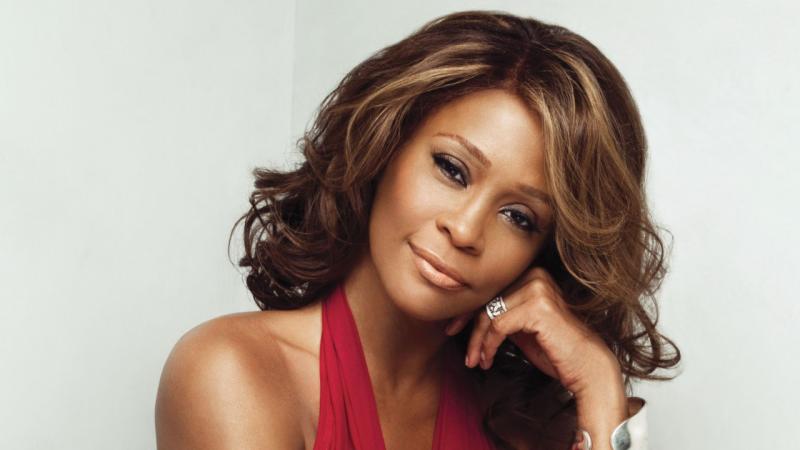 Black enough? Whitney Houston back in the day
Of the many statements and tributes coming from peers and fans following the death of Whitney Houston last Saturday, perhaps the most unlikely of all was the one from the website of Diamanda Galás. One mightn't have imagined the most fiercely uncompromising singer of her (or any other) generation rushing to the defence of someone widely seen as the patron saint of the just-add-water divas of The X Factor age.
But Galás knows a thing or two about death and decay, and has also praised Houston in the past, declaring her to have "ended the line" for modern R&B singers.
So there she was, in vintage "kill 'em all" mode, tearing Clive Davis ("a colossal pig") and Bobby Brown ("a common idiot") the proverbial new one, whilst slamming the ghoulish price-gougers of Sony and iTunes, who jacked up the price of two Houston hits collections within hours of her death, only to quickly apologise for "mistakenly mispricing" them following a wave of online outrage. It was a response as shocking and unexpected as Houston's final fate was unsurprising.
Just the mention of her name was enough to draw boos
Reports differ on precisely when Whitney Houston made her recording debut, but certainly one of her earliest appearances was on the 1982 album One Down by Bill Laswell's post-disco No Wave outfit Material. Barely 19 and taking her first pro steps into what was virtually the family business, she was part of a pool of musicians that included improv titan Fred Frith, jazzers Archie Shepp and Oliver Lake, and Chic's Nile Rodgers, Tony Thompson and Raymond Jones. Her lead vocal on a cover of the Soft Machine's "Memories" (later sung by Robert Wyatt on composer Hugh Hopper's solo album 1984) turned the song from a melancholy psych ballad into a bleak urban lament, giving the listener an early glimpse of the interpretive powers that would reach their peak some 10 years later on her multi-million-selling version of Dolly Parton's "I Will Always Love You".
'I Will Always Love You' live in 2000
She soon appeared on the radar of ex-Columbia Records exec Clive Davis, then repositioning himself at the helm of Arista Records. Following his success turning Barry Manilow into an MOR superstar, and perhaps seeing a gap in the market following Diana Ross's post-Motown drift into irrelevance, Davis quickly signed Houston to the label and set about shaping her almost into a black Barbra Streisand, in the process setting the template for the next generation of female r&b and pop singers. Her debut album saw her performing material by voguish R&B writer-producers like Kashif, but it was clear from the outset that she wasn't being aimed at the street. The album's first big hits - "Saving All My Love for You" and "How Will I Know" - were more pop than R&B, with the outsize ballads that became her hallmark also present and correct. Houston and Davis were going for the brass ring, and the debates about "authenticity" would soon be left to the purists for whom covers of "The Greatest Love of All" had as much value as a wooden nickel.
Houston's unashamed pursuit of pop success undoubtedly paid dividends, but it left her without the kind of solid base amongst black audiences that helped sustain more critically revered singers like Chaka Khan and Aretha Franklin during the times when neither could so much as buy a hit. At the 1989 Soul Train Awards, just the mention of her name was enough to draw boos from the audience at the very point when she was probably the most successful black female performer in the world. Even this wasn't enough to prompt a radical change of direction, with 1990's "I'm Your Baby Tonight" displaying only the slightest hardening of the edges.
'I'm Your Baby Tonight'
As the 1990s went on, she reached what was arguably her commercial peak; her focus shifted towards Hollywood, but her personal life also began to draw the attention of the tabloids and her recorded output was limited mostly to soundtracks. By the time she was ready to make a new studio album, much had changed. Hip-hop was now at the centre of the black pop landscape, Mariah Carey and Mary J Blige were well into their careers, and to launch a new black artist without acknowledging urban music was unthinkable. Houston could no longer avoid the very constituency she'd neglected for her entire career - the streets.
It's possible that she'd spent too long on the path of grandiose pop balladry
Listening to My Love Is Your Love, it's easy to believe that Houston had grown tired of being told she wasn't black enough, and had decided to set about asserting her pre-eminence over the succession of young pretenders who'd emerged while she'd been away making movies by beating them on their own turf. But despite being well-received critically, as well as a major international hit, the album was unable to replicate the domestic blockbuster status of her previous releases. Whether or not this attempt to embrace urban music was seen as too little too late is debatable, but it does raise the issue of whether her failure to do so earlier meant that, when her career irrevocably hit the skids, there was no safety net.
Despite the joyous disco flourish of "Million Dollar Bill", the comeback promised by 2009's I Look To You failed to materialise, and stories persist that Houston spent her final years paralysed by the fear that her fans would abandon her once they realised she could no longer sing her big hits the way she used to. It's possible that she'd spent too long on the path of grandiose pop balladry to change direction and recapture that all-important "relevance", but that's a notion that's proved no impediment to the parade of young singers who've reworked Houston's formula with significant, if less spectacular, success. That there will probably always be an audience for someone who does that kind of thing well is testament to Houston's lasting artistic impact. It'll be some time before another female singer steps from out of her shadow.
'Million Dollar Bill'