Come Fly With Me, BBC One |

reviews, news & interviews
Come Fly With Me, BBC One
Come Fly With Me, BBC One
The Little Britain stars take a blunt instrument to the aviation industry
Thursday, 06 January 2011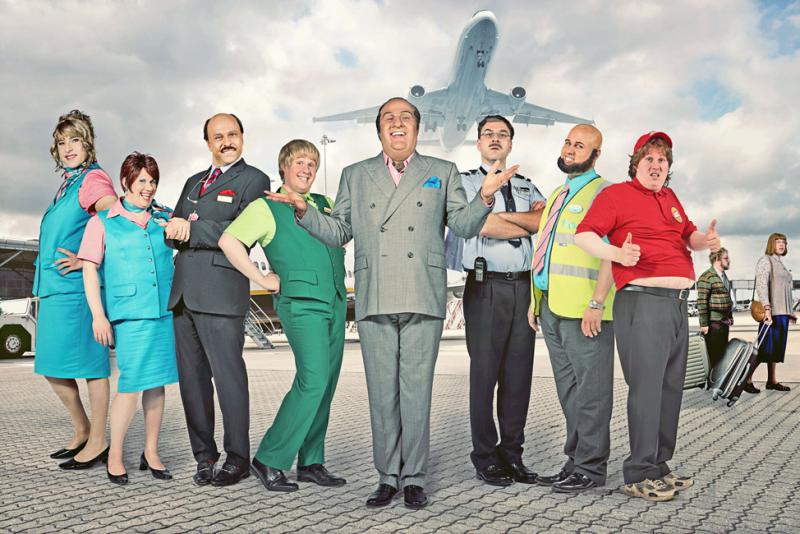 Come fly with them: David Walliams and Matt Lucas go back to the dressing-up box
There was always going to come a time when Little Britain had to stop. For a couple of years the heavily milked franchise seemed to be on a tape loop on BBC Three. Its international expansion - to the Greek islands one Christmas, to America for an entire series – suggested that its stars were getting itchy feet.
That hankering to grow wings has manifested itself in the form of
Come Fly With Me
, a spoof docusoap in which Matt Lucas and David Walliams present an entirely new set of grotesques. In last night's third episode, the gallery was still growing.
It's a risky strategy. When Harry Enfield dumped his famous creations for fresh ones, it was as if he'd fed his career with fast-acting poison. And you could argue that the docusoap is an odd conduit through which to attempt anything new, a programming format so old that The Savoy on ITV last month looked like a patient emerging from a decade of locked-in syndrome. That said, it's a good time to be hitting the aviation industry over the head with a blunt instrument. Last year it left hundreds of thousands of travellers stranded all over the world thanks variously to invisible ash clouds and heavy snowfall, to go with the regular checklist of endemic ills: lost bags, stealth charges, unnumbered seating in cattle trucks which take to the skies at ungodly hours.
Make no mistake, the instrument wielded in Come Fly With Me is as blunt as Aron Ralston's penknife. One of Lucas's characters is a Scottish halfwit who dreams of becoming an airline pilot and has got his foot in the door by cleaning up vomit at Happy Burger. Walliams's immigration officer is suspicious of any blameless foreigners attempting to get into the country. But the obvious targets are hit and hit well. Take FlyLo, a bucket-shop airline run by a bumptious Johnny Foreigner called Omar Baba who charges passengers for life vests and last night used dwarves to advertise the leg room on his planes. My favourite is Lucas's charming Irish air steward Fearghal O'Farrell of Our Lady Air (pictured below) who doesn't know the difference between halal and kosher. Last night Walliams introduced a head stewardess in the first-class cabin of Great British Air, a crashing snob who despises anything but the hoity-toitiest passengers.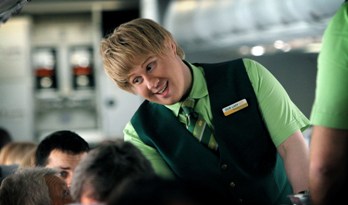 In so far as Come Fly With Me has any satirical purpose, it has required the two actors to rein in their regular house style. There are still fat slags and deluded gays galore, bickering couples, ethnic stereotypes and demented racists, but surrounded by the teeming humanity of an actual airport they somehow have more of a toehold in the real world. Some check-in girls really are as shallow, paparazzi as scuzzy and passengers as fixated on their rights as the characters we regularly spend time with here.
Inevitably, given how widely they've cast the net, there is repetition. Walliams plays two henpecking wives to Lucas's two long-suffering husbands. Lucas's West Indian coffee lady who is always knocking off early is wearing a bit thin. But the scripts are careful to vary situations. In the first episode Walliams's executive passenger liaison officer was bested by Lucas as a manipulative old Jewish passenger. Last night he got his own back on the British public through his personal charity, in which he takes sick children off to Sydney's Mardi Gras and Mykonos.
Most of Walliams's performances spark the usual questions: his undiminished eagerness to dress up and camp up would give a shrink years of material to chew on. As ever it's Lucas's protean gifts that really impress. Among all the broad brushwork you expect of these two, his skill as a detailed actor deserves a lot more trumpeting. The comedy is often crude, the scattergun aim misses as much as it hits. But it's worth booking a flight with Come Fly With Me. It looks like it might be taking off.
Walliams's undiminished eagerness to dress up and camp up would give a shrink years of material to chew on
rating
Explore topics
Share this article