When Harvey Met Bob, BBC Two |

reviews, news & interviews
When Harvey Met Bob, BBC Two
When Harvey Met Bob, BBC Two
The story of Live Aid entertainingly dramatised
By 1985 Geldof was a washed-up pop star looking not only for direction but meaning. When Harvey Met Bob began in October 1984, poking around the ignominious dying days of the Boomtown Rats, their single "Dave" whimpering its way to an early grave. Geldof caught Michael Buerk's infamous BBC broadcast of Ethiopia's "biblical famine" and the next morning Band Aid began with an envelope on the family fridge. Coincidence? Doubtful. This was a flawed, sensitive man searching in some way for his own salvation. From the very start it was personal.
Because it meant so much to him, Geldof couldn't quite see why his crusade might not mean as much to everyone else. When Harvey Met Bob showed a man a little too willing to behave like an 18-carat arsehole for his new-found cause. Everyone "had to do" Live Aid. No one was allowed to wriggle free from the hook of personal responsibility. His argument was little more than a blackmail note: "Everything we do is morally justified if we stop people dying," he told Goldsmith, which is an unreasonable, desperate, self-righteous and downright untenable position to take on any issue. But it worked. Live Aid happened because Geldof had said it would and couldn't back down. At points watching this programme I found myself wondering, as I have in the past when talking to him: was he doing all this to feed the world or simply to save face?
Domhnall Gleeson (pictured below right) – son of the wonderful Irish actor Brendan - was excellent as the bedraggled Dubliner. He captured the surly eloquence, the awkward visionary streak, the maddening obstinacy shot through with naked self-doubt. He caught, too, the physical and vocal mannerisms (albeit with a disconcerting hint of Ed Byrne around the edges), but lacked just a little venom. The script, meanwhile, failed to address the complicated motives lurking behind Geldof's involvement.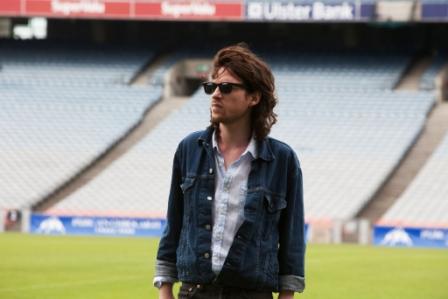 Instead, this was an old-fashioned, slightly corny quest in which a series of obstacles – Bruce Springsteen's no-show, Channel 4 bailing, ABC's hardball tactics, Paul McCartney's reluctance, Shea Stadium asking for the earth, the threat of rain, and finally, on the day itself, Geldof's bad back - had to be negotiated as the clock ran down and our heroes became increasingly fraught and yet formed an awkward bond of affection.

Impulsive, intransigent, impossible, Geldof and his big mouth kept writing cheques Goldsmith struggled to pay. "He hasn't got Springsteen," barked the promoter to one of his lackeys at one point. "I haven't not got him," shouted Geldof.

And there it was in a nutshell: the believer and the sceptic, the maverick and the plodder, two anti-buddies off to save the world; Geldof the bloody-minded tyro who wouldn't be told it couldn't be done, Goldsmith the hardened sceptic who could think of a hundred reasons why it shouldn't be. "Oh, I see, it's a concept," he sneered. "No one gets signed, no one gets paid..." Ian Hart played the bluff impresario with a believable sense of exasperation and wounded professional pride, but his portrayal veered perilously close to a caricature of Suralan Sugar with a pillow up his shirt. Laughably poor cameo depictions of Paul McCartney and Simon Bates did little to add to the sense of veracity. In many ways the truth of Live Aid will always be stranger than any fictionalised account.
This was a multimedia landmark made to Blue Peter specifications; a global event stuck together with sticky tape and glue
But it was watchable enough, like The Odd Couple set in a series of Eighties open-plan offices; soundtrack by Queen, clothes by Zandra Rhodes. The nostalgia porn was largely of the soft variety. What the time travel conveyed most forcefully was the remarkably seat-of-the-pants nature of Live Aid. This was a multimedia landmark made to Blue Peter specifications; a global event awkwardly held together by sticky tape and glue. Before email, iPhones, Twitter and mobiles, Live Aid was built on late-night phone calls, white boards and faith. The line-up – a mixture of truth and fiction until very near the end – was scribbled on scraps of A4 paper. The gig itself was endearingly lo-tech. There were no video screens and the performance area was crowned with the kind of banner which wouldn't have looked out of place at a school summer fete. The "revolve", the three-part circular stage which was the key to everything happening on time, was shunted around for 12 hours by a fleet of human pit ponies.  

When Harvey Met Bob captured the giddy, emotional power of an event driven forward by sheer will power. The wider resonance was left for another day. Tellingly - and wisely - there was no attempt to recreate the concert itself as a TV spectacle, because Live Aid always was a TV spectacle. The key point in the film was not Geldof getting McCartney to sing 'Let it Be' but him persuading the BBC to broadcast the event after Channel 4 dropped out. Geldof knew that if it wasn't shown live on telly it simply wasn't worth doing. In this he was something of a prophet. Live Aid was not only the sound of rock locating its social conscience - a double-edged sword if ever there was one. It also marked the beginning of the media dictating terms to the music industry. It mapped out the contract to which all musicians must now abide: if we can't see you on our little screens, you don't exist.
Subscribe to theartsdesk.com
Thank you for continuing to read our work on theartsdesk.com. For unlimited access to every article in its entirety, including our archive of more than 10,000 pieces, we're asking for £3.95 per month or £30 per year. We feel it's a very good deal, and hope you do too.
To take an annual subscription now simply click here.
And if you're looking for that extra gift for a friend or family member, why not treat them to a theartsdesk.com gift subscription?