Max Von Sydow: Extremely Quiet and Incredibly Personable |

reviews, news & interviews
Max Von Sydow: Extremely Quiet and Incredibly Personable
Max Von Sydow: Extremely Quiet and Incredibly Personable
The Oscar-nominated star on saying nothing in Stephen Daldry's new film
Wednesday, 15 February 2012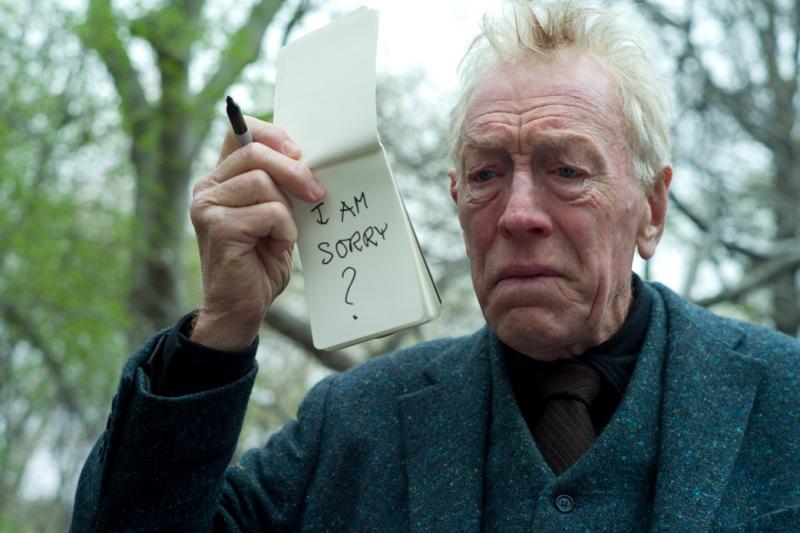 Cinematic colossus has nothing to apologise for
He played chess with Death in Ingmar Bergman's The Seventh Seal, was crucified as Jesus in George Stevens's The Greatest Story Ever Told and diced with the devil in William Friedkin's The Exorcist. There's something magnicent and elemental about the life and work of Max Von Sydow. Born in 1929, he has looked like a craggy old monument for at least 30 years.
For several decades Von Sydow has been Hollywood's Nordic figleaf – an emissary from the farthest shores of European arthouse cinema who gives Hollywood integrity and ballast. No one felt that more keenly than Woody Allen, Bergman's self-confessed acolyte who cast Von Sydow as a gruff tortured painter in Hannah and Her Sisters. There has been the odd moment of mercenary silliness in that long career. He was Ming the Merciless in Flash Gordon and (having played the heroine's father in The Diary of Anne Frank) accepted the part of a Wehrmacht officer in the footballing flop Escape to Victory. He was even Blofeld in Sean Connery's regrettable return to the Bond franchise in Never Say Never Again.
A filmography that begins in 1949 has this year yielded only his second Oscar nomination (the first was for Bille August's Pelle the Conqueror in 1987). This time round he's up against another cinematic Methuselah in the form of Christopher Plummer, co-star of Beginners. The difference between their performances is that in Stephen Daldry's Extremely Loud and Incredibly Personal Von Sydow doesn't utter a word. It's a fashionable year for silence in the cinema, thanks to The Artist and Hugo.
In this video interview Von Sydow - with a bit of help from his director Daldry and co-stars Tom Hanks and Sandra Bullock - explains what it means to act without lines. Unless you count the lines on that matchless old face.
Loading the player ...
Explore topics
Share this article