Aladdin, West Yorkshire Playhouse |

reviews, news & interviews
Aladdin, West Yorkshire Playhouse
Aladdin, West Yorkshire Playhouse
Not traditional panto, but a lovely, low-key and thoughtful delight
Tuesday, 07 December 2010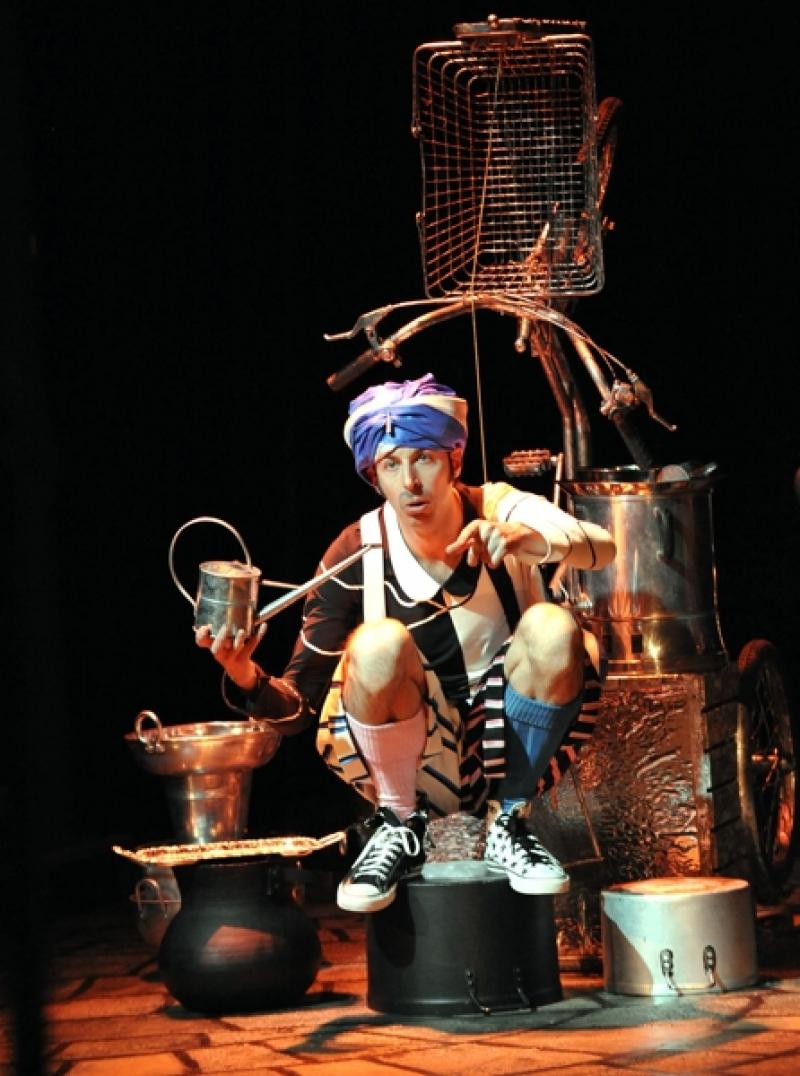 Rew Lowe as the Genie: His mockney delivery is reminiscent of Paul Whitehouse in 'The Fast Show'
It's a neat conceit to set this retelling of Aladdin in Leeds's Kirkgate Market, a short stroll across a dual carriageway from the West Yorkshire Playhouse. It's still an evocative and atmospheric location, and worth visiting as an antidote to all that's bland and corporate about modern Leeds.
Barney George's set is spanned by an impressively solid-looking wrought-iron staircase and walkway, climbed on, crawled under, dangled from, and at one point used as a percussion instrument.
Mike Kenny's new adaptation is his fifth annual collaboration with director Gail McIntyre, and it follows an established template: a small, multitasking cast, a superb use of music and a framing device - in this case that the story is being told by gregarious market traders. It just about works, though Kenny's prologue had my seven-year-old baffled at first. No attempt is made to hide the costume and role changes, in many cases achieved by simply donning hats and changing posture or voice. There's little danger of things going a bit Tristram Shandy, as is the case with a new production of Beauty and the Beast at the National.
Kenny and McIntyre are content to let a fairly straight, simply told narrative unfold without hitch. They're aided by an enthusiastic, hard-working cast. Gregory Bartlett's Aladdin displays a touching naivety, foiled by Katie Matthews as his harder-hearted, more cynical mother. Bartlett even manages to suggest emotional growth and development, as he realises that material bling achieved through a magic lamp is not the most enduring way to obtain the woman of his dreams – in this case Jenny Fitzpatrick as a cheerfully brassy Princess, who tearfully confesses that, "I love you because you kept coming back to me!"
In an adaptation mercifully free of unfunny topical references, it's still good to hear the message that possessions aren't everything spelt out so unambiguously. Rew Lowe's Genie is a glorious creation – his mockney delivery reminiscent of Paul Whitehouse in The Fast Show, especially when he questions Aladdin's first wish – for a satsuma: "Is that the best you can do?" Wishes are realised with the aid of two fluffy drumsticks and comedy sound effects, and in a heartstopping moment the Genie's silken head scarf is transformed into a magic carpet, ridden by simple stick puppets representing Aladdin and his mother.
Simon Kerrigan swaggers and snarls as a suitably oily villain, but the unsung hero of the piece is Ivan Stott in the small role of the Sultan – a Stetson-wearing, handlebar-moustached Yorkshireman. Stott is the show's musical director, and song and sound design throughout are exquisite, with the whole cast accompanying Stott's gorgeous ditties on mandolins, kazoos, harmonicas, accordions and ukuleles. It's a Christmas show, so there's a judicious amount of audience participation – Aladdin at one point hiding under audience members' legs, children helping to rub the lamp and massed flag-waving to celebrate Aladdin's forthcoming marriage. Not a traditional pantomime then, but a lovely, low-key, thoughtful delight, and a welcome distraction from the abysmal Leeds weather.