Las Acacias |

reviews, news & interviews
Las Acacias
Las Acacias
Gently does it in this pleasingly sincere road movie
And baby makes three: Germán de Silva and Hebe Duarte in 'Las Acacias'
As gentle and emotionally affecting as they come, Argentinian director Pablo Giorgelli's feature debut is the tenderly told story of the burgeoning bond between a migrant mother and a slightly grizzled, taciturn trucker, which gingerly moots the possibility of romance. It's a wise and disarming tale of hope and unspoken sadness which, though you'll barely notice it doing so, will work its way right under your skin.
In Las Acacias Germán de Silva (main image and below right with Hebe Duarte) plays Rubén, a gruff and withdrawn long-distance lorry driver. As a favour to his employer he has agreed to transport a Paraguayan woman, Jacinta (Duarte), to Buenos Aires, where she intends to start a new life with the help of a cousin. Also along for the journey, to Rubén's surprise, is her five-month-old baby girl Anahí (Nayra Calle Mamani). Visibly carrying the weight of a lifetime of disappointments, Rubén is a reluctant conversationalist and at first makes for an uneasy companion. They encounter few others on their journey; this story is theirs alone. With charming hesitancy they begin to bond, whereby each reveals their potential to fill the void in the other's life.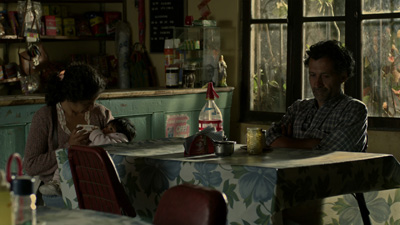 Though the sound of a chainsaw roars over the film's first frames, what unfolds couldn't be more mild. Not a word is spoken for the first 10 minutes, and each one after that (initially at least) seems to require considerable effort. It's half an hour in before Rubén even enquires as to his passenger's name. Its on-the-road setting means the characters are almost constantly in motion, and yet there's a stillness to proceedings. Giorgelli's sensitive framing and de Silva and (newcomer) Duarte's compelling, naturalistic performances draw you into this intriguing, ever-evolving and almost accidental romance, encouraging you to contemplate and, to an extent, invent these characters' backstories based on mere snatches of information. It's absolutely irresistible.
On the surface Las Acacias is a two-hander but - unusually and delightfully - baby Anahí plays an integral part; it's difficult to think of a film where an infant has featured so prominently. Rubén, it appears, falls for both mother and child. Seemingly hardened by the breakdown in contact with his own son (who it tellingly transpires he never knew as an infant), the curmudgeonly Rubén initially seems immune to Anahí's apple-cheeked charms. However, he's soon stealing glances at (and tickles with) this most cherubic and agreeable of children. Ultimately, it doesn't fail to escape his notice that what sits beside him is a ready-made and really rather perfect family.
Las Acacias seems on the surface like a minor work but it packs a surprising punch
It's a journey marked by little landmarks in Rubén and Jacinta's relationship: during an early stop-off, he surreptitiously enquires with a shop assistant whether bus tickets are available, clearly hoping to offload his passengers; when he stops to deliver a gift to his sister, Rubén and Jacinta share some time by a lakeside getting to know one another as they await her return; while Rubén visits with his sibling, Jacinta sneaks a look at a photo album and finds pictures of him dancing and with his son; when his sister asks if Anahí is his child perhaps it plants a seed; and later the green-eyed monster makes an appearance when Jacinta fleetingly bonds with a fellow Paraguayan during a lunch-stop, putting Rubén in a foul mood.
Las Acacias seems on the surface a minor work but it packs a surprising punch. Its director was this year's recipient of the London Film Festival's Sutherland award, and the film won the Camera d'Or (for Best Debut Feature) at Cannes. Don't be deterred by its apparent lack of razzmatazz - it's all the more powerful for its modesty, credible character development and an admirable refusal to fill in the blanks.
Las Acacias is in cinemas now

Watch the trailer for Las Acacias
Though the sound of a chainsaw roars over the film's first frames, what unfolds couldn't be more mild
rating
Explore topics
Share this article