Living With the Amish, Channel 4 |

reviews, news & interviews
Living With the Amish, Channel 4
Living With the Amish, Channel 4
Our kids sampling the quiet life makes for quiet television. And what's wrong with that?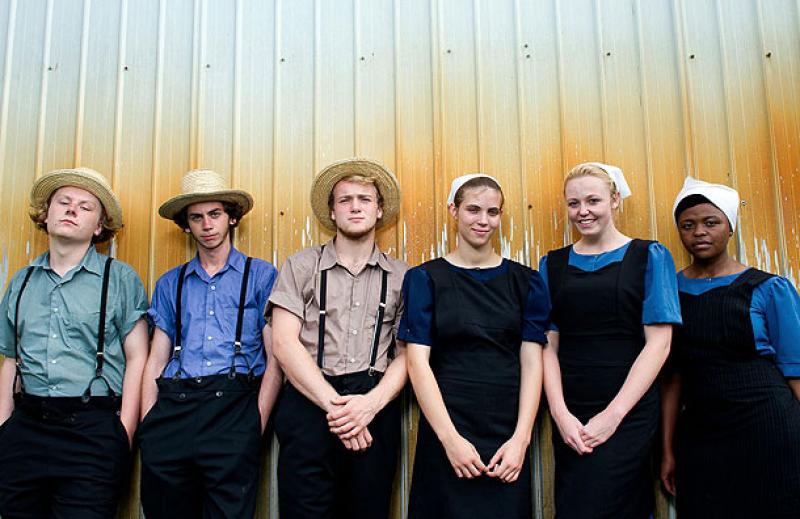 Six British teenagers trade smartphones for shovels in 'Living with the Amish'
The life-swap doc comes in sundry guises. Emissaries of simpler cultures visit our broiling cities to gawp at streets swimming in fresh spew and rivers of piss every Saturday night. Alternatively our lot pop off to places where people shit in holes and praise the Lord. Whichever way the story gets sliced, it's always about the same thing: holding up a mirror to ourselves and not tending to like the view.
Here's what we look like when we stand next to this or that person with whom we wouldn't change places for anything.
Last year a programme called Amish: The World's Squarest Teenagers brought five young people to south London who drive around in carts and know not the whiff of sulphur. It was a bit like Attack the Block, only with friendlier aliens. In Living with the Amish the compliment has been returned. This time six British teenagers are being dispatched in to a series of Amish communities to sample life without electricity and piercings. They started off in Middlefield, Ohio, aptly named.
Loud people transplanted to a quiet place will soon pipe down to blend in
This time round the teenagers have been picked to represent a wider demographic. In the blue-blooded corner there was George, an Etonian from whom we didn't hear much in last night's opening episode, and batting for the other end of the spectrum was James, a lovely tongue-tied boy whose mother was remanded in custody when he was 14 and who has moved from foster care to a hostel. The young women included Siana, a gobby history undergraduate who has no fewer than three blogs, and Charlotte, a spoilt girl who was ready for self-improvement from the off.
The other difference from last year's experiment was the setting. If you put a bunch of quiet people in a loud place they won't go obligingly native and crank up the volume. Loud people transplanted to a quiet place, however, will soon pipe down to blend in. What that tells you is that our culture is a series of accretions; these programmes are designed to strip them away. Thus there was a much less freaky tone to proceedings, as the Amish hosts – a blamelessly nice young couple called Jonathan and Maria – introduced their guests to such alien concepts as washing and fishing, lugging logs and making beds, wearing hats with brims no wider than three inches or dresses stripped of gaudy buttons.
Whisper it softly, the result was ever so slightly boring, a little bit too awash with quiescence as the visiting teens buckled down to their jobs. But that's a good thing. Television, normally no less noisy and hectic than the lives of its audience, could do with a stint in the slow lane. No doubt the crew lay in wait for tantrums like Frozen Planet cameramen scoping the horizon for polar bears, but they just didn't come. Put to work from dawn till dusk, they were too knackered to make attention-seeking complaints.
The absence of histrionics helped subtler colours come out. James, in particular, a boy very much given to loafing, peeled back the layers to reveal deep vulnerability and loneliness. Charlotte, who has the opposite parental problem that her mother does everything, brightly embraced her new life among soap suds. Needless to say everyone was in bits by the end of the week. They always are.