Walk Off The Earth, 02 Academy Brixton |

reviews, news & interviews
Walk Off The Earth, 02 Academy Brixton
Walk Off The Earth, 02 Academy Brixton
An authentic and endearing set from a self-made internet sensation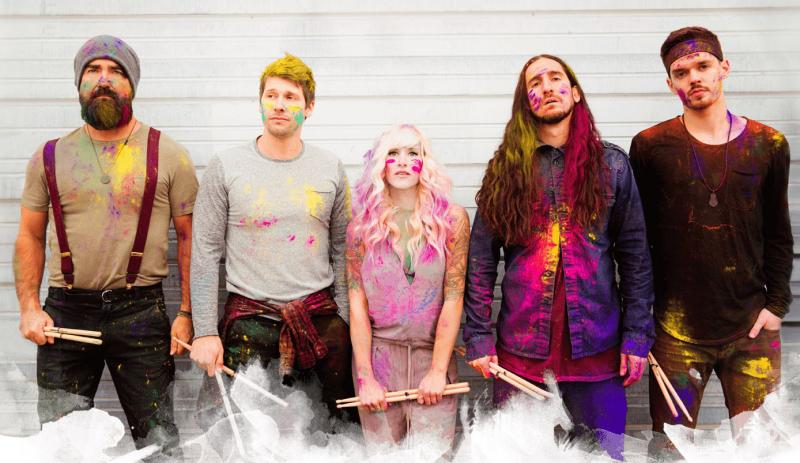 From YouTube to your town: Walk Off The Earth
For a self-made band that found success via the creation of quirky, imaginative YouTube videos spread via social media, there's a level of expectation regarding the same kind of creativity in their live shows. But in fact Canadian indie band Walk Off The Earth's REVO tour experience is a very simple one.
Starting with "Rule the World", the band seemed understated, even a little unsure. But then came "Walking Off the World Tonight", a song containing lyrics that talk you through the building of a song – rusty old guitars, a shaker and a uke, being that's all that's needed to create the perfect vibe. The entertainment value comes in watching a supremely talented set of musicians lob their instruments at each other, swapping equipment as they run and jump around, playing games as they play their music. We feel like we know the characters from their internet productions, and as such we already appreciate their musical and visual genius, so it's enough to see them get out here and rock it. It's like watching your over-excited mates having a wicked jam session.
At this time in London, singing it all away is a really cathartic thing to do
The band is fronted by tuneful twosome Sarah Blackwood and Gianni Nicassio. If anything, Blackwood seems to be the poster girl for the band's marketing drive, even though Nicassio is the musical powerhouse behind the band's success. It works. She's beautiful, he's crazy creative. Mike "Beard Guy" Taylor plays his part as the strong, silent type, orchestrating the crowd's levels of hysteria with his super-buff arms, and the oh-so-pretty vocalist Ryan Marshall brings his mostly-clear-but-sometimes-husky sound and Joel Cassady faithfully lays down an excellent percussion base.
With faithful musical reproductions of their best-known songs, Pharrell's "Happy", "Hold On", "Nobody but Me", their cover of Adele's "Hello" (complete with plastic whirly sound hoses and reception bells) and OMI's "Cheerleader", there's not much in terms of stage effects other than an over zealous fog machine and twinkling lights. Otherwise it's all them, their energy, their sound, their sense of pure musical joy. The cardboard hand-held signs with marker pen that reads "Eh-oh, bop bop away-o" for Summer Vibe is about as sophisticated as it gets.
Punctuated by the crowds singing along to "uh-oh-oh, sing it all away, sing it all away my darling", even the most reticent of audience members are yelling with full lung capacity by the fourth or fifth round – it's like therapy. At a time in London where we absolutely need to sing it all away, celebrate love and joy and vigour and musical beauty to blast away the cobwebs of grief and confusion over our current political state, singing it all away is a really cathartic thing to do. The very name of their tour, REVO – an acronym for the band's motto "Realize Every Victory Outright" – resonates with the Brixton masses, and this alongside meaningful slogans on their design banners such as "Be the change you want to see" feels aspirational and authentic.
The band dance joyfully through a cover of Madonna's "Material Girl", as well as their own songs "Shake" and "I'll Be Waiting". The show ends with a Gotye mash up as the band all huddled around one guitar, reminiscent of the YouTube video that made them famous. The audience leave singing it all away, with echoes of the refrain heard down the high street and tripping into the tube station. It really is the simple things that matter the most.