theartsdesk at Wilderness Festival |

reviews, news & interviews
theartsdesk at Wilderness Festival
theartsdesk at Wilderness Festival
A multi-sensory experience, celebrating wild behaviour outdoors as much as the arts
Wednesday, 13 August 2014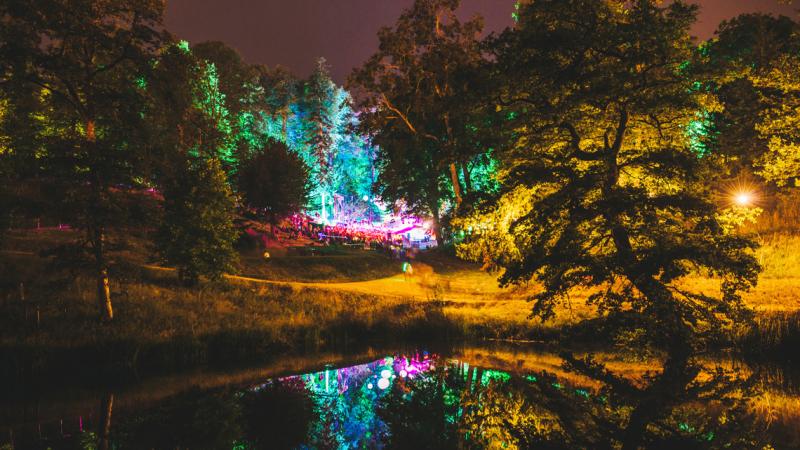 Kaleidoscope of colours: Wilderness
Entering Wilderness is like stepping into the brain of Baz Luhrmann. It is a kaleidoscope of colours, swirling with noise and feathers, surreal in its array of vintage-bohemian-steampunk spectacle, and magical in its collaboration of the arts and nature.
It is a great big fancy dress party – a chance for the middle-class masses to pour themselves into their finest, most psychedelic unitards and bejeweled headdresses, douse themselves in clouds of glitter, swathe themselves in sequins and get utterly decadent, letting their inner exhibitionist run wild for a weekend. They can watch music and theatre, engage in debates, feast at banquets, take part in felt craft or forgery workshops, forage in the woods, learn long bow archery, partake in the Chap Olympics, go wild swimming or join a sunset yoga class – before returning to the daily grind. What a great release. This year, the increasing levels of lunacy were further heightened by the month's supermoon – the perigree moon, if you will, giving us a celestial vision that appears 14% larger and 30% brighter than usual as it reaches the point in orbit closest to earth, lighting a dramatically painted sky as we danced roundels below on the festival's closing night.
Seeing the crowd that rolled out on Thursday evening – a warm up for this four-day extravaganza in Cornbury Park, Oxfordshire, on a lavish estate at the heart of the Cotswolds – you'd be forgiven for thinking that Wilderness isn't about the music. The revelers' dress sense is as theatrical as the on-stage action – kaftan robes, Gaga-style leotards, dayglo facepaint, nothing but bodypaint, glitter, sequins, lizard tails, unicorn leggings, cat ears, fox tails, more glitter, more sequins and tasseled everything. But then the electro-swing vaudeville voices of White Mink welcomed us into the Big Top Ballroom for an opening soiree, and we knew we had arrived. DJ Samantha Pink Panther led the late night revelry at the Juke Joint as crowds arrived and pitched tents across the swimming lake, out past the teepees and hot tubs, as everyone prepared to freewheel into Friday morning.
We started off in the kids' area the next day – a jolly place of hay bales, gypsy swings, tipis, yurts and bunting – for a morning of entertainment from children's theatre group, The Flying Seagulls. They are the most heartwarming, spirited, charismatic and engaging kids' company I might have ever seen, warming the cockles and getting even the grumpiest of dads up and maraca-shaking with their country music show and circus antics. Travelling the globe to bring comfort and courage to children worldwide, they certainly made an impression with their confidence building, nurturing, raucous laughter and rip-snorting fun.
Friday's music programme eased the vibe into an intriguing, alternative place with nu-folk, psych-rock and progressive electronica whirling around the Main Stage, Wilderness Stage and in the Travelling Folk Barn. As people headed off to seek shelter from the rain during the peculiar psychedelic funk singer Kiwi Connan Mockasin's set, crowds gathered by a little bandstand in the middle of a field. And they grew, and they grew as it rained and rained – testament to Parisian electro-pop trio We Were Evergreen's punchy grooves, peppy guitar playing and rocking vocals, which ended with happy crowds clambering onto the bandstand for an impromptu dance party.
Cate Le Bon showcased her semi-strange style (which to be frank, seemed utterly normal within this context), singing in her intriguing, internalised manner while her band threw out odd riffs and playful soft-rock guitar. You just can't help the Nico comparisons in sound as well as appearance, although her lyrics have a softer, more personal intent. After a brief window in which you can conduct your own wedding, funeral or Bar Mitzvah at the Village Hall (imagine – you could have your reception in the 'Dancing Your Naked Truth' workshop, then take a mini-honeymoon in the Shamanic Journeying tent), we strolled back past the life drawing in the Bohemian Artists studio for the electro-sound of Friday's headline band, Metronomy. Their rich, velvety sounds went down well with the crowds and is the ultimate summer soundscape, packaging a bunch of musical references that throw back to the early nineties – I swear at one point I can hear the Police Academy theme tune, and even an electronic panpipe in their serene electro-acoustic compositions.
When you're not listening to music, there is so much more that makes up Wilderness – Teas & Tarts (high tea served by vintage babes), the Sanctuary experience with massage, meditation and emotional well being workshops, jewellery making, literature, retro-roller skating and pony rides amongst others. A huge part of the festival is the culinary experience, facets of which you must book in advance, on top of the ticket price. Not so easy on the purse strings, but judging by the amount of children about the place called Jonti, I'm supposing most don't mind paying. Angela Hartnett was on hand on Saturday to cook up a storm for those who'd bagged a place in the Banqueting Hall and River Cottage's Gill Mellor to tutor those in the Cookery School.
The Sub Motion Orchestra seemed an odd choice for an early afternoon slot with its super-chilled synthy slow jazz, late night tones, all easy on the ears and heavy on the cymbal brushes - harking back to Zero 7 circa 2001. Joan As Policewoman livened things up a bit, before Jack Savoretti exploded onto the stage to really get people moving. His gruff and gritty vocal compliments the indie-acoustic sound of his tracks that have a distinctly country edge.
But Saturday night – if not the whole festival itself – was all about one man. Ladies and gentlemen, Mr Burt Bacharach (pictured above). The incomparable singer-songwriter absolutely stole the show with his sparkle and charm as he sat down at a polished grand piano and declared he'd "never done anything like this before" in his 86 years. Quite the name dropper, Bacharach told of the musical greats he had worked with such as Elvis Costello or Dionne Warwick as his spine-tingling backing singers sang "Don't Make Me Over", "Walk On By", "Anyone Who Had a Heart", "24 Hours From Tulsa", "What the World Needs Now", "This Guy's in Love", "Close to You" and "Trains and Boats and Planes". The crowds crooned along, with Bacharach commenting, "Don't it sound lovely with you guys singing too?" These songs meant so much to so many – this music that has spanned the different generations of audience, from favourite films to first dances at weddings. It was a moving experience for those who've grown up listening to and loving these songs, and a rare privilege to see the man himself sing them to us, albeit with a voice much weaker than it once was as he sang "The Look Of Love" ,"A House Is Not A Home" and finished off with a rousing rendition of "Raindrops Keep Falling On My Head", inviting us all to sing-along for a last final, magical fling.
Sunday began with a morning jaunt to the Juke Joint for some Gospel Choir before we learnt to Charleston betwixt haybales at the Swing Patrol's partner dance workshop. The rain arrived but didn't stop the crowds from swarming to the Main Stage for the charming Sam Smith (pictured left). Having recently been on tour in the US with sunny blue skies he said, in that polite, unassuming way that he does, that he "felt bad about the rain". But a rainbow fought through behind the driftwood-clad stage as he sang, giving the crowds a good singsong with "La La La", a dance to "Money On My Mind" and a moment of reflection during "Stay With Me".
Next came the super cool Jessie Ware playing with the Wilderness Orchestra for whom she was very grateful – her softer songs "Running" and "Wildest Moments" perfectly summing up the magic of the Wilderness festival. Closing the weekend, London Grammar gave a show that was simultaneously dazzling and dark under the brilliant supermoon. Hannah Reid's hauntingly beautiful vocals cut across the night sky as Dan Rothman on guitar lent a hand to the duo's sublime ambient sound. Reid has a unique, whispering sort of voice, but with huge power behind it. She cuts a dramatic picture standing alone in the dusty blue lighting at the front of the stage. As the clouds and the crowds rolled away to soak up the last of the Wilderness experience, it was too dark to see the preposterous outfits and we were left with the feeling of the sublime.