theartsdesk Q&A: Mariza, Diva of Fado |

reviews, news & interviews
theartsdesk Q&A: Mariza, Diva of Fado
theartsdesk Q&A: Mariza, Diva of Fado
The queen of fado talks before her UK tour
Saturday, 23 January 2010
She made her breakthrough in 2001 with her debut album Fado em mim, which sold 100,000 copies and reached No 4 in the charts of her home country, where selling 5,000 copies of a fado album is usually considered brisk business. Following Fado em mim Mariza was hailed as Portugal's natural successor to Amália Rodrigues, the fado grande dame who died in 1999, and in the years since she has become the modern face of an ancient tradition.
Not only has she spearheaded a revival in fado, she has also expanded the range of its possibilities, adding more overt Brazilian influences to her music on Transparente (2005) and nodding towards her African roots on 2008's Terra. In doing so, she has penetrated the global consciousness. She sang at the opening ceremony of the 2002 World Cup in Seoul and at the 2004 Olympics, and has since appeared at Live 8, the Carnegie Hall and Sydney Opera House. She embarks this week on a UK tour of major venues.
With her mixed heritage, willowy good looks and short blonde crop, she is certainly hard to miss. Displaying excellent English, she talks softly and seriously, with the occasional irrepressible giggle punctuating the intensity. It occurs to me that what her conversation shares with her music is that peculiarly European mixture of airy, almost regal grandeur and gypsy-like earthiness. In both cases, it's truly compelling.

GRAEME THOMSON: Your mother comes from Mozambique and you were born in the capital, Lourenço Marques. How important are your African roots?
MARIZA: I was just born in Africa but I grew up in Portugal, so everything I remember is Portuguese. I don't remember Africa at all. I was only three when I moved to Lisbon, so I was very young. We moved to a traditional, old neighbourhood in the centre of town called Mouraria, with tiny streets, small houses and poor people.
At the time Mozambique was a province of Portugal. Even so, in Mouraria you must have looked and seemed rather different from the traditional Portuguese family. Was it difficult to assimilate?
No, I don't think so. If that happened I never saw it. We didn't have any relatives living in Mouraria. It wasn't my father's neighbourhood, though he was Portuguese. My family decided to rent a small taverna there and, of course, there's something that happens in traditional neighbourhoods when you try to live there and people don't know you. It's like joining a family. First they study you, and then they receive you and embrace you. My mum talks about that, but I never felt anything [unpleasant]. I was really little!
And Mouraria was where you first heard fado, and where you began singing it as little girl from the table-tops in your parents' taverna.
Yes, that's right. Everyone thinks I must have some kind of great dream or memory of first hearing fado, but I was really very little. Of course I remember they have a very dark ambience, the sound of Portuguese old times, very smoky, but I was only five years old at the time.
Was yours a musical family?
No, nothing. Nothing.
I'm going to give what I feel. I'm going to give what I know about music, and what that music makes me feel. That's what I do
So where did that passion come from?
I don't know. I really don't know, it's a mystery! I would like to know. But in that neighbourhood everyone sings. Everyone knows about fado. Fado is more than music for them, they live in a certain type of way. If they are very sad they are very deeply sad. If they are in love they are deeply in love, everything is conducted in a very emotional, dramatic way. So they spent lots of time singing, or listening to music in their houses, and I was there listening too, and singing. It was like instead of having a doll I was having music to play with. At the beginning I never saw it as anything other than that. I was just singing because I loved music and I wanted to do something that made me feel good. It's the same today. I'm there because of the passion that music makes me feel.
Photo by José Goulão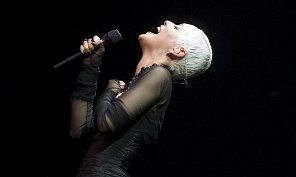 When were you first aware that people were enjoying hearing your voice, and how did that realisation make you feel?
I don't have that type of reaction. People don't realise that I'm very shy. Now I try to open my eyes and see what's happening when I sing, because in the beginning I really didn't have a clue what was happening when I was on stage because I spent the whole time with my eyes closed so I couldn't see the faces. I never realised what people were thinking. If I started thinking about that I could never sing. What I think when I'm on stage is, I'm going to give what I feel. I'm going to give what I know about music, and what that music makes me feel. That's what I do. I can't think about what the audience are thinking about me. If I did I wouldn't go near the stage, I'd be hiding somewhere!

When you became a teenager in the Eighties, did you start getting into pop and rock and regard fado as a bit uncool and old-fashioned?
I grew up in a traditional neighbourhood but I was never trying to get out. The primary school was there, my friends were there, my life was in that small space. But when I went to the high school, all my friends asked me what I used to do for fun, and when I said singing fado they were like, "Whaaat?!" I realised at that time that singing fado was not so popular with the young generation. So outside of my neighbourhood I didn't sing, but inside my neighbourhood I sang all the time, seeing all the singers and trying to listen and understand. I wasn't a good singer at that time, but I didn't want to be an outsider. I wanted to understand fado. I don't know if I ever really learned it. Fado is not easy music, it's something "more" and it's difficult to express. Today, I know the music that I do is really centred in fado, but more and more it represents what I think about all music. It's got other elements.
It's very difficult for anybody who works with me, because I feel that responsibility all the time

You spent some time living in Brazil when you were in your early 20s. What took you there?
Just for fun. A good reason! It was an invitation from some friends of mine. I was really curious about Brazil and so I went with some friends who were musicians. In Portugal I was singing in bars and casinos, singing every kind of thing. In Brazil, my friends were working on a cruise boat and I decided to go on the boat with them and sing, so then I was singing Brazilian music. Music was always my way of living. I've never worked. I don't know what it is to go to an office and work from nine to five. I never had that, I don't know what it is. Maybe one day I will try.
I'm not sure that will be necessary…
Perhaps. Perhaps not.
Was it always an ambition to make records, to have the kind of tangible, worldwide success you now enjoy?
I never wanted to make records! It was more like, "You have to do it" - like an imposition. I said "Why?" "Well, because everyone has a record." All the fado singers used to have records to sell once they'd finished singing their set. I didn't, and everyone was asking why. I told them I didn't want to do it, but they said I should and so I did it. I thought it would either be a mistake or a big opportunity. I wasn't worried about doing it, but I was very happy just playing and singing for people. I loved being in places where I could feel the ambience and see the wonderful way that people received music. Until I did my first record [Fado En Mim] I never thought any of these things could happen to me. I never thought I'd be travelling, doing tours, singing in beautiful halls and that people would try and understand the music, and try and understand me! That is amazing! You know, I think I've relied on luck all my life. Even today, I sometimes feel this person is an outsider, like I'm looking at myself from outside. It can be a little bit scary, because you don't understand what people really want from you. It's not difficult, it's just strange. I try not to think too much about it.
Is it possible to have a fulfilling and truly private personal life when you become famous?
My private life is what you see: music.
There's always more to it than that!
I don't see it. I just try to show what I feel on stage. When I don't have concerts I do other things completely. Sometimes people say, 'That's not normal, the things you do.' But I've been doing them all my life. What do you expect? People think I should behave differently but I don't know how to do it.
Do you feel a responsibility to Portugal and its culture when you sing fado?
I always feel responsibility, but it's a responsibility to myself. What is the word, when someone always has to be perfect? I know perfect singing and music doesn't exist, but I'm really painful on myself and my musicians. I try to make everything perfect: the music must be perfect, the stage must be perfect, the carpet must be perfect, all the time I'm pushing everybody. It's very difficult for anybody who works with me, because I feel that responsibility all the time. It doesn't matter if I'm going to sing in a taverna or in a huge, important hall. If I'm going to sing I'm going to do it as best as I can. For me it's always like that.
You've worked with Sting and Lenny Kravitz, your music has touched on jazz and bossa nova. Have you had any criticism about not staying completely "true" to fado?
No. Why? I love to talk with other musicians, it doesn't matter if it's Sting, or Lenny, or Wynton Marsalis. It's music, and when we're together things like "you sing this" or "I sing that" really don't matter: we just play music. I love to be on stage with different musicians; to me it's very, very satisfying. It's so difficult to say in English, but when I'm on stage with friends doing music, I think the world is a completely other thing. [Giggles] I suppose it's a little selfish, but I just feel part of music. When I listen to my music I don't feel that it's related to any other style, but I understand that when other people listen they might hear different things. I don't think I have jazz in my music, or bossa nova or blues - maybe Cuban music - but people hear a lot of things. Each person hears things in a particular way, but music is music. If you love music you learn to love all kinds of music. Of course music has its own roots, its own culture, but as Dizzy Gillespie used to say, there are only two types of music: good music and bad music. That's my view.
Who are your favourite singers?
I have a big, big list. My favourite singer of all is Maria Callas, but there are others I really love: Nina Simone, Billie Holiday… so many, many, many. I listen all the time, so it's strange just to say "This is my favourite". Each singer has their own thing in their voice that I love. It's very strange when I hear someone sing and I don't feel anything, because I love voices. It's the thing that always grabs me, the most important thing. By the way, I don't say that because of my own voice! I don't really realise what kind of voice I have, because I never listen to what I do or what I sing. I just make records, and then… I don't listen.
What are your future plans?
Ah, no – not that word. I don't make plans. I live one day at a time.
Mariza performs at the Royal Festival Hall on 25 and 26 January, Bridgewater Hall in Manchester on 6 February, Brighton Dome on 7 February, Warwick Arts Centre on 8 February and the Sage Gateshead on 9 February. Official website. Buy Mariza's music on Amazon
.
Watch Mariza perform at LSO St Luke's:
Explore topics
Share this article