PJ Harvey, Roundhouse, London review - incandescent perfection |

reviews, news & interviews
PJ Harvey, Roundhouse, London review - incandescent perfection
PJ Harvey, Roundhouse, London review - incandescent perfection
Breathtaking set from Britain's Top Girl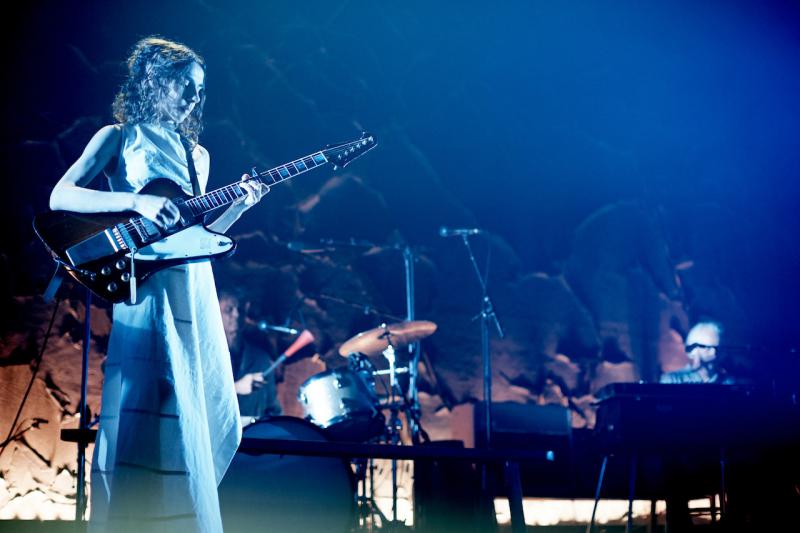 PJ Harvey with her Gibson guitar
London's Roundhouse is a very special venue. For decades the circular shed, with its elegant ironwork supporting structures has hosted a wonderful and varied series of performances. Like a great cathedral, the space has a hallowed feel about it. The culmination of a sold-out UK tour, PJ Harvey's exquisitely paced and passionate set, as much pagan ritual as perfect entertainment, makes the most of this womb of a space.
A womb, but also an alchemical vessel, in which this consummate artist works through a series of transformations, changes that reveal the many facets of her complex persona. She skilfully navigates a constant knife-edge between mystery and revelation, fresh innocence and dark insight, extraverted self-expression and self-effacing introversion. The show is divided between the earth-bound poetry that runs through the songs from her most recent album, I Inside The Old Year Dying (2023) and the raunchier material from her earlier albums, the pile-driving erotic tension of classics like "C'mon Billy" and "To Bring you My Love". Reflecting her ability to re-invent herself over and over, without losing touch of her essence, there are also two songs from Let England Shake (2011) her both fierce and nostalgic hymn to the nation that has nurtured her.
Mid-life has drawn her back to her English and more specifically Dorset roots, with a higher register voice that never relies on the mannerisms of Kate Bush, Björk or the purity sought in the folk revival. Her initial inspiration came largely from the sexual charge at the heart of the blues. With a rebel's voice, she could shriek as well as the best blues shouters, but never imitated Etta James or Koko Taylor. Her very individual voice was hard-edged and very Yang – as if she were exploring the non-binary possibilities of her identity: that aspect of her character more at home wearing DMs than ballet pumps.
The recent songs which open the show are something different, still soulful, but daring to be more delicate and vulnerable. Part of the material is in old Dorset dialect, the lyrics half-buried in swathes of murky sound. In a strikinlgy choreographed set of moves, for which she drew counsel from theatre director Ian Rickson, she paces back and forth across the stage, a mixture of stealthy panther and crazed Isidora Duncan, the minimal yet dramatic lights making the most of her sensual sorcery. Witches come to mind, as she conjures images out of the Underland described by Robert Macfarlane, in tune with the complex patterns of nature, tooth and claw, animal and vegetable as well as mineral. It's easy to imagine that, in the 17th century, Polly Harvey might have been tortured and burned as a sorceress. She is indeed in league with the forces of darkness – but not the horned one consigned to damnation by Christianity's denial of the body. For Harvey, the great god Pan is very much alive, not pronounced dead as he was at the advent of the Christian era.
There is a startling continuity between the earthiness of the blues that inspired her incandescent early work and the more ethereal and yet equally sensuous feel of her more 'English' songs. For all the range of her music – much in evidence in a set that never misses a beat, thrives on songs that never outstay their welcome, and shines with wonderful variety – she's always true to herself. Her unique quality as an artist and her authenticity are present in everything she does, there is never a sense of artifice or manipulation.
Harvey is supported by a band who both serve and inspire her. At the helm, there's John Parish, who has been at her side since the beginning. All of them strong personalities but supporting Harvey, who manages to be the star as well as just one on the band. The show builds, faultlessly, from the relative quietness and introspection of her most recent music to the contagious exuberance and erotic force of the songs that made her famous. There are none of the histrionics of hard rock or metal, no show-off guitar solos, just one blistering riff from Parish, worth a thousand displays of guitar heroism. In every way, this show demonstrates the truth of "less is more": the perfection of Harvey's soulful minimalism is close to overwhelming in its fiery splendour, and a perfect fit in the magical vessel of the Roundhouse.