Music Reissues Weekly: Essiebons Special 1973-1984 Ghana Music Power House |

reviews, news & interviews
Music Reissues Weekly: Essiebons Special 1973-1984 Ghana Music Power House
Music Reissues Weekly: Essiebons Special 1973-1984 Ghana Music Power House
Proof that highlife was never a musical straitjacket
C.K. Mann, the star name on 'Essiebons Special', in 1978
One of the most interesting tracks on Essiebons Special 1973–1984 Ghana Music Power House is Joe Meah's mysterious "Dee Mmaa Pe". It's not mentioned in the compilation's accompanying booklet, and Joe Meah doesn't figure in any of the standard discographies littering the world-wide web.
Despite this inscrutability, Essiebons Special's second cut has a surprisingly familiar touchstone. Mainly instrumental with stabbing brass, a sax solo and odd vocal interjections it has a shuffling soul vibe. But the keyboard part dominates. What's played nods so overtly to The Doors's "Light my Fire" that it's close-to certain Mr Meah or the keyboard-playing member of his band was paying keen attention to Ray Manzarek. This is the first release of "Dee Mmaa Pe".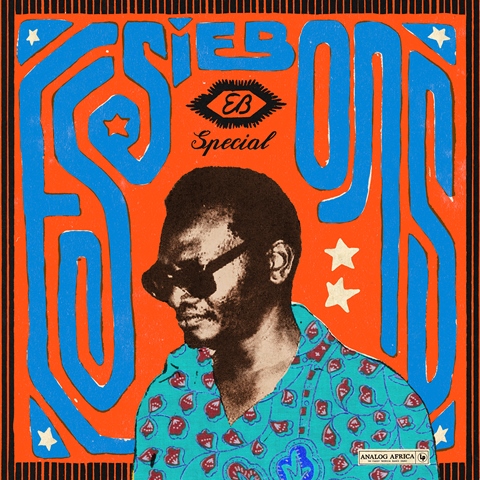 The other thing known about "Dee Mmaa Pe" is that it is was recorded for Ghanaian producer Dick Essilfie-Bondzie, whose Dix and Essiebons labels achieved most success with highlife. C.K. Mann is the best-known name on Essiebons Special.
Essilfie-Bondzie, who died at age 90 last year, was integral to Ghana's music. The booklet tells the story. He produced his first recording in 1959, then studied in London, returned home and became an employee of the Ghanaian government's Industrial Development Corporation. He opened Record Manufacturers (Ghana) Limited, the country's first record pressing plant in 1967. The Essiebons and Dix labels soon followed. In 1972, he left his government job. In 1978, he produced the film Roots to Fruits. As "Dee Mmaa Pe" makes clear, Essiebons Special looks at Essilfie-Bondzie from a new perspective. Six tracks are previously unissued.
There's an emphasis on the funky, groove-based side of things. The C.K. Mann Big Band's "Fa W'akoma Ma Me" was originally included on the 1976 C.K. Mann Big Band album. Featuring some warm solo guitar (maybe from Ebo Taylor), it's restrained and brings a Curtis Mayfield-esque viewpoint to highlife. "Wonnin a Bisa" by Black Masters Band (from a 1978 LP) is also grounded in highlife but, again, has this controlled feel. With at least these tracks, Essilfie-Bondzie defined a difference between the unconstrained live experience and what was released on record.
In contrast, Sea Boy's "Africa" (from the 1976 album Across the Seas) feels as if it was taped at a live session. The just-about rocksteady rhythmic chassis is so direct it captures a moment which would not have lingered. Even though it's a medley – so must have had forethought – Nyame Bekyere's terrific "Medley (Broken Heart, Aunty Yaa, Omo Yaba (Nzema))" (from the 1976 album Broken Heart) has an analogous spontaneity.
Obviously, Essiebons Special 1973–1984 Ghana Music Power House doesn't seek to be a definitive statement on Dick Essilfie-Bondzie and his labels. Instead, it emphasises that highlife has never been a musical straitjacket; that it could be the springing-off point from which any or many directions could be pursued. Which includes celebrating a fondness for "Light my Fire".
Next week: Lenny Kaye Presents Lightning Striking – how specific moments in rock 'n' roll evolution were tied to specific places
'Essiebons Special' emphasises that highlife could be the springing-off point from which any or many directions could be pursued
Explore topics
Share this article