The Manhattan Transfer, Queen Elizabeth Hall review - a class act |

reviews, news & interviews
The Manhattan Transfer, Queen Elizabeth Hall review - a class act
The Manhattan Transfer, Queen Elizabeth Hall review - a class act
The Grammy-garlanded vocal group bid au revoir to London
Saturday, 26 November 2022
The Manhattan Transfer: 50 years, 10 Grammys
On a dreary evening in our dark winter of discontent, a couple of hours spent in the company of The Manhattan Transfer was a joyous uplift. The sell-out audience at London's Queen Elizabeth Hall clearly agreed, happily engaging in a sort-of call-and-response on the first encore of "Tequila" and cheering them to the echo as they took what may be their final bow in this country as a quartet… but let's hope not.
For while this 50th anniversary
tour
may be their last, the evident joy these
musicians
take from singing together surely suggests they are unlikely to resist at least a few concerts here and there.
The musicianship is breathtakingly good – their intricate close-harmony singing is stunning, the arrangements top-notch. And they make it look so easy, which it isn't. Melodically, harmonically, rhythmically, it's very complicated and when singers achieve perfect harmony it's magical. Transcendent even. Something happens in our brains when we hear close harmony perfection and we don't forget it – think how many songs by the Everly Brothers or Simon and Garfunkel or, further back, the Andrews Sisters or the Ink Spots, are lodged in our mental jukebox. It gives us, as listeners, a physiological boost – and an even bigger boost to the musicians inside the sound cloud.
Unlike the Everlys, Alan Paul and Janis Siegel (TMT originals) and Trist Curless and Cheryl Bentyne (who replaced founders Tim Hauser and Laurel Masse) clearly get on well and their performance reflects a shared joy in being together. It's an ensemble in which the individual voices, and personalities, shine through. And while they sound great, they also look great, dressed in variants of tux and tie, the guys in sparkly shoes and Siegel ready to stomp at the Savoy in rather intimidating two-tone platforms. They know how to be on stage (which not everyone does), their movements a mix of the seemingly choreographed and the seemingly spontaneous; energetic but never distracting.
In the States, TMT has been touring with the Diva Jazz Orchestra, but in Europe they are backed by a quartet led by pianist Yaron Gershovsky, who's directed the Transfer from the outset. Together they make a big, and joyful, noise, from first note to last. Opening with "The Junction", the title track from their 2018 album, the performance offered a tour d'horizon from a half-century of music-making and, en passant, a tribute to the great swathe of twentieth-century music that has shaped their sound and which they so clearly love. They are all great music historians, introducing each number pithily and wittily, tipping their hats at the shape-shifting singers and musicians that have influenced them: "Jimmy Dorsey's "Blue Champagne"; Glenn Miller's "I Know Why (And So Do You)", and Count Basie's "Topsy", both from TMT's Swing album; the Four Vagabonds' "Duke of Dubuque", Woody Herman's "Four Brothers", Sister Wynona Carr's "Operator"…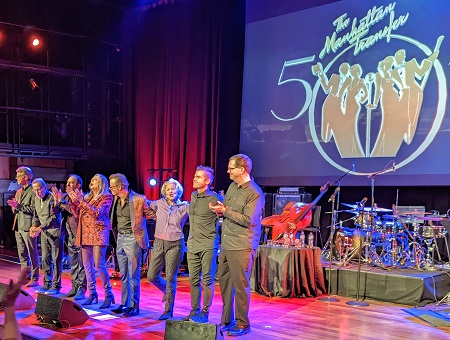 Beyond simply TMT's wonderful sound is their facility with seemingly any genre – be-bop, doo-wop, gospel, funk, Latin, swing, R&B – and they move effortlessly from one to another. The goal was always to put four-part harmony back into popular music and to reinvent vocalese. Their "channelling" of instrumental solos (Siegel's and Bentyne's "trumpet" and Curless's "upright bass") is quite something to behold and never fails to raise applause.
The ultimate triumph was to do all this and have a UK number one, "Chanson d'Amour", Siegel on that occasion channelling Edith Piaf, wiggling her larynx to get the vibrato. It was recorded in one take and spent three weeks atop the charts in March 1977, sandwiched between Leo Sayer and Abba. On Thursday, the song was part of a closing peroration that included "Cantaloop" and "Birdland" – Siegel's scat would have made Miles Davies proud. The number, from Extensions (1979), won two Grammys.
The Manhattan Transfer is a truly class act – and a timeless act. Impeccable musicianship never goes out of style.
The musicianship is breathtakingly good – their intricate close-harmony singing is stunning, the arrangements top-notch
rating
Explore topics
Share this article