The Grammys: A Night of Surprises? |

reviews, news & interviews
The Grammys: A Night of Surprises?
The Grammys: A Night of Surprises?
What does the music industry's biggest shindig say about it?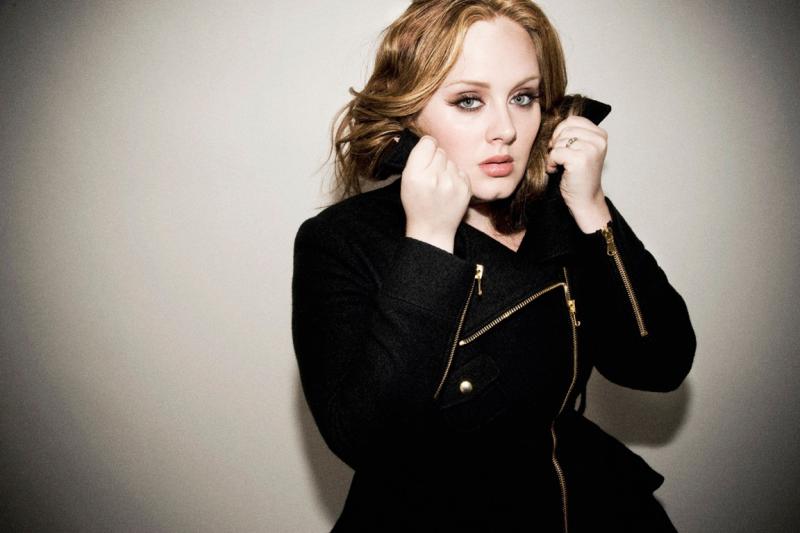 Adele: six-time winner
Well, who could have predicted that? For once the Grammys proved that the US recording industry establishment is up for the challenge of reflecting the sense of a world in social and cultural flux by throwing surprise after surprise, bombshell after bombshell, at its shocked audience. It was a night of victory for the underdogs and the radicals, a sense of musical revolution in the air, with all bets off. OK, no, of course it wasn't. But we can dream, right?
Because we're going to need those dreams if the endless succession of safe bets and pats on the back for big sales is anything to go by. Just like poor, sad Whitney Houston's death and the tributes paid to her at the awards ceremony, there was a feeling of woeful inevitability about it all.
Not that there was anything wrong with most of the records and artists chosen, mind. The world loves the steady-rockin' old Foo Fighters, the world loves dear, mad, ridiculous Kanye West (My Beautiful Dark Twisted Fantasy, pictured below), the world and its grandma loves Adele and sheds a surreptitious tear when "that" song plays at emotional crux points of reality TV shows... but did we really need the point hammered home quite so hard? Fine songs though they are, was there really any need for "Rolling in the Deep" or "All of the Lights" to each win multiple awards (song, collaboration, performance – whatEVERRRRRR)?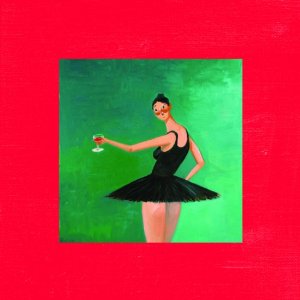 All we were told by these awards was that these artists sell records. Like, great. Well done. How excellent to know that the Kanye-approved indie-schmindie harmonised mitherings of Bon Iver is the "best" "alternative" music out there. How wonderful to know that the Grammys are so keen to reward those who can shift units that they will not only forgive the despicable Chris Brown for hospitalising his then girlfriend Rihanna before the awards three years ago, but spin the situation so that they, not she, were the "victims" of his actions. Just to be clear there: the Grammys organisation think THEY were the victim when an extremely muscular man smashed a young girl's face in. And, oddly enough, there was not a glimmer of recognition of the irony of celebrating Chris Brown while mourning the death of Whitney Houston - a woman whose problems stemmed in no small part from an abusive relationship.
The only genuine stir-up in the whole affair was the three awards that went to Skrillex for his batshit mental ADHD electronic party-monster tunes, which represent the arrival of rave music in the US mainstream – only 20 years behind the rest of the world. It was proof that genuinely grassroots movements can still create stars, and that the unexpected can still happen: indeed Skrillex made the point most strongly. "We didn't have any marketing campaigns for any of my records," he said, accepting an award. "There's definitely something to be said about how we've done what we've done; that is, me and other [artists] doing what I'm doing. We've built this organically, by word of mouth, with people coming to shows and experiencing it live and having a good time."
This was the exception, though, that proves that conservatism rules. Whether it's the faux-rootsy MOR keep-calm-and-carry-on safety of Adele, Bon Iver and multiple nominees Mumford & Sons, or the market leaders in rap and rock, there was nothing else to suggest that the recording industry has any interest in setting the agenda. Just as their sledgehammer tactics against the Megaupload site shows they still haven't learned the lesson of Napster – that they need to engage with the changing world rather than try and block it out – so the utter lack of anything interesting in these choices suggests that there is no interest whatsoever in looking forward, just a blind faith that success will always breed success and that everything will be fine if the endless cycle of self-congratulation continues. Still, I guess at least Coldplay didn't win anything: maybe there's hope yet. Go to page two for full list of winners:
Record of the Year: "Rolling in the Deep", Adele
Song of the Year: "Rolling in the Deep", Adele Adkins & Paul Epworth
New Artist: Bon Iver
Pop Solo Performance: "Someone Like You", Adele
Pop Performance by a Duo or Group: "Body and Soul", Tony Bennett & Amy Winehouse
Pop Vocal Album: 21, Adele
Alternative Album: Bon Iver, Bon Iver
Rock Song: "Walk", Foo Fighters
Rock Album: Wasting Light, Foo Fighters
Rock Performance: "Walk", Foo Fighters
Hard Rock/Metal Performance: "White Limo", Foo Fighters
R&B Album: F.A.M.E., Chris Brown
R&B Song: "Fool For You", Cee Lo Green, Melanie Hallim & Jack Splash
R&B Performance: "Is This Love", Corrine Bailey Rae
Traditional R&B Vocal Performance: "Fool For You", Cee Lo Green & Melanie Fiona
Rap Album: My Beautiful Dark Twisted Fantasy, Kanye West
Rap Performance: "Otis", Jay-Z and Kanye West
Rap Song: "All of the Lights", Jeff Bhasker, Stacy Ferguson, Malik Jones, Warren Trotter & Kanye West
Rap/Sung Collaboration: "All of the Lights", Kanye West, Rihanna, Kid Cudi & Fergie
Dance Recording: "Scary Monsters and Nice Sprites", Skrillex
Dance/Electronica Album: Scary Monsters and Nice Sprites, Skrillex
Musical Theater Album: The Book of Mormon, Robert Lopez, Trey Parker & Matt Stone
World Music Album: Tassili, Tinariwen
Latin Pop Rock, Rock or Urban Album: Drama y Luz, Mana
Tropical Latin Album: Last Mambo, Cachao
Banda or Norteno Album: Los Tigres Del Norte and Friends, Los Tigres Del Norte
Regional Mexican or Tejano Album: Bicentenario, Pepe Aguilar
Country Solo Performance: "Mean", Taylor Swift
Country Album: Own the Night, Lady Antebellum
Country Performance by a Duo or Group: "Barton Hollow", The Civil Wars
Country Song: "Mean", Taylor Swift
Jazz Vocal Album: The Mosaic Project, Terri Lyne Carrington & various artists
Jazz Instrumental Album: Forever, Corea, Clark & White
Improvised Jazz Solo: "500 Miles High", Chick Corea
Large Ensemble Jazz Album: The Good Feeling, Christian McBride Big Band
Blues Album: Revelator, Tedeschi Trucks Band
Folk Album: Barton Hollow, The Civil Wars
Pop Instrumental Album: The Road From Memphis, Booker T Jones
Bluegrass Album: Paper Airplane, Alison Krauss & Union Station
Americana Album: Ramble at the Ryman, Levon Helm
Reggae Album: Revelation Pt 1: The Root of Life, Stephen Marley
New Age Album: What's It All About, Pat Metheny
Children's Album: All About Bullies... Big and Small, Various Artists
Producer of the Year, Non-Classical: Paul Epworth
Remixed Recording, Non-Classical: "Cinema (Skrillex remix)", Sonny Moore
Gospel Song: "Hello Fear", Kirk Franklin
Gospel/Contemporary Christian Performance: "Jesus", L'Andria Johnson
Gospel Album: Hello Fear, Kirk Franklin
Choral Performance: Light & Gold, Eric Whitacre
Classical Contemporary Composition: Elmer Gantry, Robert Aldridge & Herschel Garfein
Producer of the Year, Classical: Judith Sherman
Orchestral Performance: Brahms: Symphony No 4, Gustavo Dudamel
Opera Recording: Adams: Doctor Atomic, Alan Gilbert, conductor
Spoken Word Album: If You Ask Me (And Of Course You Won't), Betty White
Comedy Album: Hilarious, Louis CK
Compilation Soundtrack Album For Visual Media: Boardwalk Empire, Various Artists
Score Soundtrack Album For Visual Media: The King's Speech, Alexandre Desplat
Song Written For Visual Media: "I See the Light", Alan Menken & Glenn Slater
Historical Album: Band on the Run (Paul McCartney Archive Collection - Deluxe Edition), Paul McCartney
Instrumental Arrangement Accompanying Vocalists: "Who Can I Turn To (When Nobody Needs Me)", Jorge Calandrelli
The only genuine stir-up in the whole affair was the three awards that went to Skrillex for his ADHD party-monster tunes
Share this article