The Good, The Bad & The Queen, The Coronet |

reviews, news & interviews
The Good, The Bad & The Queen, The Coronet
The Good, The Bad & The Queen, The Coronet
Damon Albarn is a bit of a Blur in his multicultural, multi-genre supergroup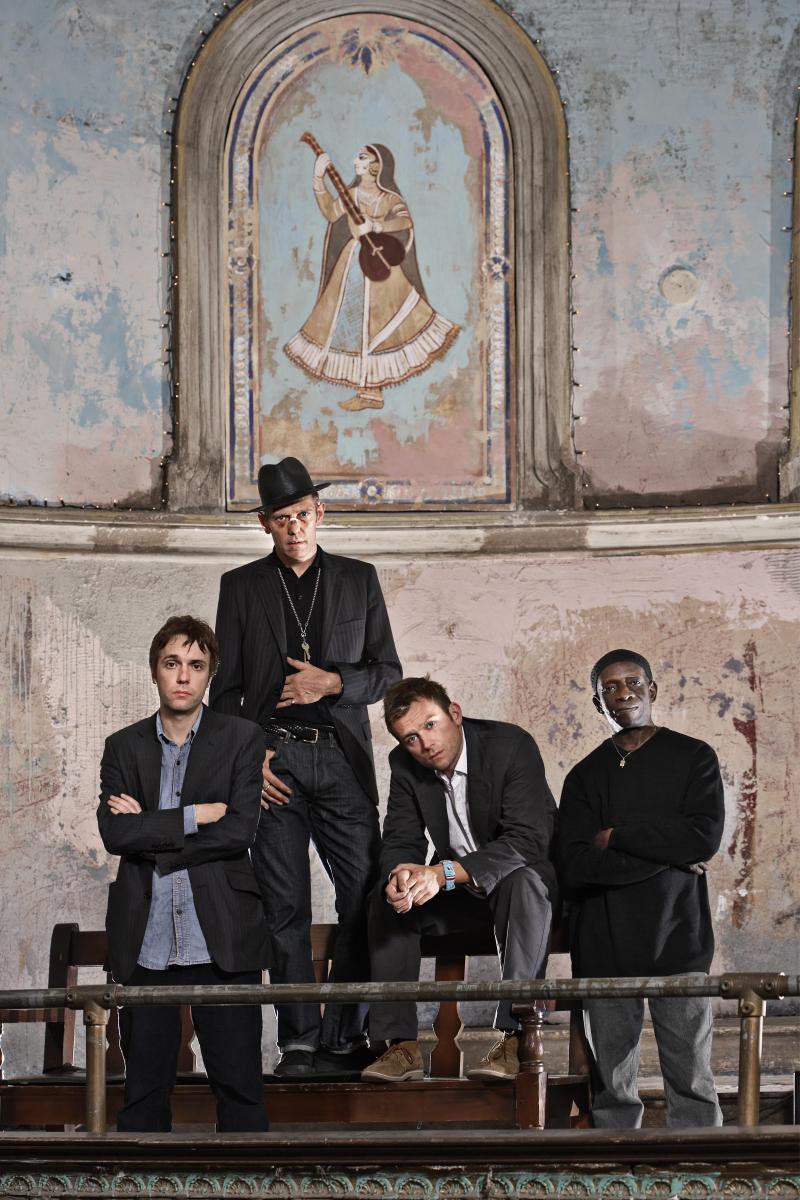 The Goodies: Damon Albarn gets one of his numerous bands back together again
Some successful rock stars accumulate wives, others accumulate houses, cars or drug habits. Damon Albarn seems to accumulate bands. As well as his on-off relationship with Blur, there is the semi-regular Gorillaz. And he has been seeing even more musicians on the side, too.
He recently appeared at the Barbican alongside the Red Hot Chili Pepper's Flea (must have been a seven year itch?) and last night he rekindled an old flame, reconvening The Good, The Bad & The Queen for a one-off Greenpeace benefit.
If things started sluggishly that was unsurprising. Albarn, Paul Simonon, Simon Tong and Tony Allen had just hotfooted it from an earlier guerilla gig onboard Greenpeace's new Rainbow Warrior ship near Tower Bridge. After a start that was so laid-back it was virtually horizontal, the mood inside The Coronet started to coalesce as Albarn introduced the third track off the band's doomy, eponymous 2007 album, "Northern Whale". The melody ebbed and flowed and the string section fought hard to resist the urge to play The Stones' "As Tears Go By", eventually succumbing at the end.
The watery theme continued. "Kingdom of Doom" was very much their "London Calling", a timeless yet timely ode to the capital on the brink of apocalypse, with Albarn singing "In the flood we all get washed away". He seemed to be getting into the spirit, shuttling between his upstage upright piano and the front. He is a pretty charismatic performer, but he needed to be, up against Paul Simonon, who glided effortlessly around in a sharp black suit. The former Clash bassist cut a wonderful dash, but then this man could not look uncool if he dressed as a clown and wore a red nose and rotating bow-tie.
And then Albarn was gone. No doubt to meet another group of musicians around the corner
Anyone hoping for new material would have been disappointed, but the old material – the gig was basically their album in the same order – was sublimely eclectic. There were echoes of Bowie and "Blueberry Hill", dub and funk, swirling R&B and fairground organ and music hall. The kitchen sink was presumably otherwise engaged. During "Three Changes" Albarn really let rip, leaping around the stage to the scrunched-up, complex rhythms which gave Afrobeat virtuoso Tony Allen a rare chance to demonstrate why he is regarded by many – including my mother-in-law, who knows little about music but is always right when she expresses an opinion – as one of the world's finest percussionists.
Albarn treated himself to a seat when it all got a bit much: "I'm often accused of playing the guitar badly, but I play it a little bit better when I sit down," he explained, before introducing "A Soldier's Tale", which was notable less for his strumming and more for its ghostly musical saw refrain. After Mara Carlyle's musical saw display last week, maybe the next generation of aspiring virtuosos will be ditching Bert Weedon's Play in a Day manual, forsaking their Fenders and hanging out at their local hardware store.
After a few more songs, including the eerie, elegiac "Green Fields", complete with its references to war and tidal waves, the gig was over. A lo-fi encore of "Melancholy Hill" from the last Gorillaz album was given a boot up the backside by some toasting from DJ Don Letts and then Albarn was gone. No doubt to meet another group of musicians around the corner. It was certainly terrific to have this band back. It would have been even more terrific if they had previewed a new album. But given Albarn's positively rampant musical promiscuity, it is perhaps no shock that this one-night stand traded on greatest hits.
Watch The Good, The Bad & The Queen perform "Kingdom of Doom"
There were echoes of Bowie, dub, funk, swirling organ and music hall. The kitchen sink was presumably otherwise engaged
rating
Share this article