Big Audio Dynamite, Shepherds Bush Empire |

reviews, news & interviews
Big Audio Dynamite, Shepherds Bush Empire
Big Audio Dynamite, Shepherds Bush Empire
How did the reunion of Clash guitarist Mick Jones' second-best band fare?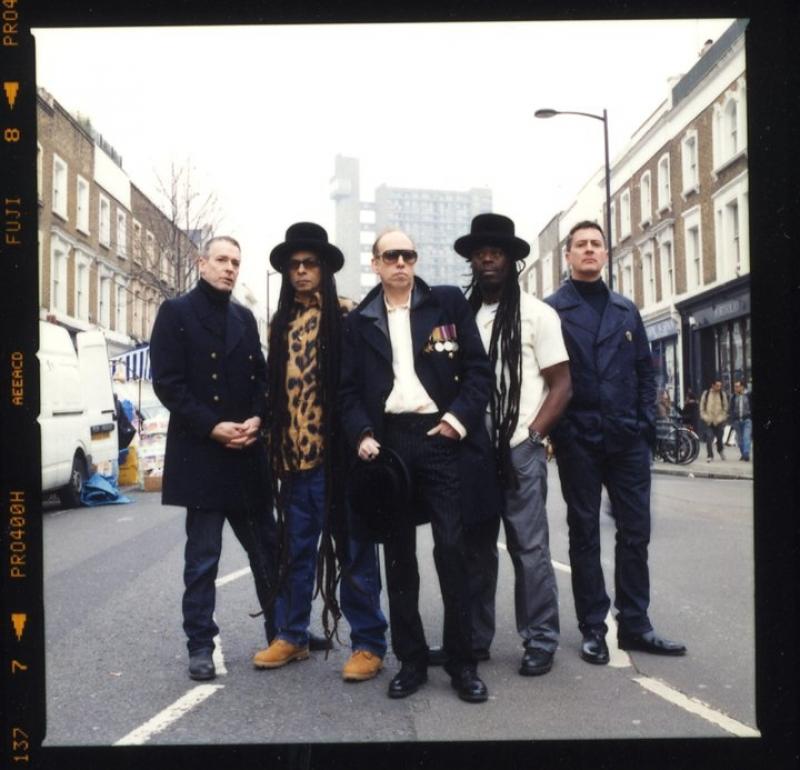 Big Audio Dynamite: The old boys are back in town
One of my most enjoyable gig-going experiences last year was seeing Mick Jones guesting with Gorillaz at the Roundhouse. The former Clash guitarist was clearly loving every minute of it. So much, in fact, that shortly afterwards he decided to reform his second-best band, Big Audio Dynamite, for a short UK tour, including the first of two London dates last night.
But after two decades since this original line-up played together, the burning question was would this be a cynical, pension-funding slog, an arthritis-fuelled embarrassment, or something special?
Within the first few beats and spaghetti western loops of "Medicine Show" the news was good for BAD. At 55, the besuited Jones has less hair but the same old swagger, resembling a hipster Norman Tebbit. Drummer Greg Roberts laid down a pneumatic beat, all rimshots and thwacks. Dan Donovan and Don Letts traded keyboard duties on opposite sides of the stage and bassist Leo Williams ambled around as if he had never been away.
Big Audio Dynamite never sold a huge number of records, but, like The Clash, they certainly did their bit to popularise diverse music in the Eighties, influenced by the Bronx and Jamaica, from Grandmaster Flash to King Tubby. Dropping in a film sample might not seem like a big deal now, but when BAD allied it to Jones's trademark romantic pop-rock sensibility it was genuinely thrilling. "V Thirteen", introduced as "Sodom & Gomorrah", for instance, led by Jones's thin but effective voice, was still a thing of fragile beauty. And, incidentally, co-written with Joe Strummer. To paraphrase Alan Partridge's remark about Wings and The Beatles, BAD were the band The Clash could have been. But in a good way.
The performance, in front of the inevitable graffiti backdrop, was terrific, despite some bloopers. At one point Don Letts jogged centre stage too early to do some toasting and Dan Donovan did some dubious dad dancing, but the vibe dial was emphatically set to party. Even the mix was good, apart from one moment on the Eddie Cochran-referencing "C'mon Every Beatbox" when a bass amp sounded like it was about to implode.
Best of all, there was no dreaded announcement of "here's a new number". Instead it was classic after classic in rough chronological order. Jones seemed genuinely overcome by the waves of moshpit male adulation that bordered on the homoerotic. As he thanked everyone for coming, he smirked that it would not have been much of a gig if no one had bought tickets.
If anything, the finest songs were saved for the not-so-spontaneous encore. After a blast of the 20th Century Fox theme, the quintet ripped into their debut single from 1986, "The Bottom Line", putting a rocket up its titular behind. The choppily funky "E=MC2" followed, taking its lyrical cue from the films of Nic Roeg. If there have been smarter songs inspired by movies about killers in red raincoats and gangsters wearing dresses ("Took a trip to Powis Square, pop star dyed his hair") none spring to mind.
It was good to see the band on form and good to see Jones, who seems to have quietly put his most recent project Carbon/Silicon on ice, in such high spirits. At one point he took a swig of lager and asked if anyone had seen Ricky Gervais drinking on stage. He then tried his hand at stand-up comedy banter, awkwardly asking a fan "Where are you from?" before sensibly breaking quickly into the next song. Don't give up the day job, Mick. In fact, do it a bit more often.
Watch Big Audio Dynamite perform "E=MC2"
{youtube} iB21Y6CertM{/youtube}
To paraphrase Alan Partridge's remark about Wings and The Beatles, BAD were the band The Clash could have been
Share this article