Mara Carlyle, Green Note |

reviews, news & interviews
Mara Carlyle, Green Note
Mara Carlyle, Green Note
A compelling paring down of an orchestrated album showed another side of this Shropshire singer-songwriter
Wednesday, 09 November 2011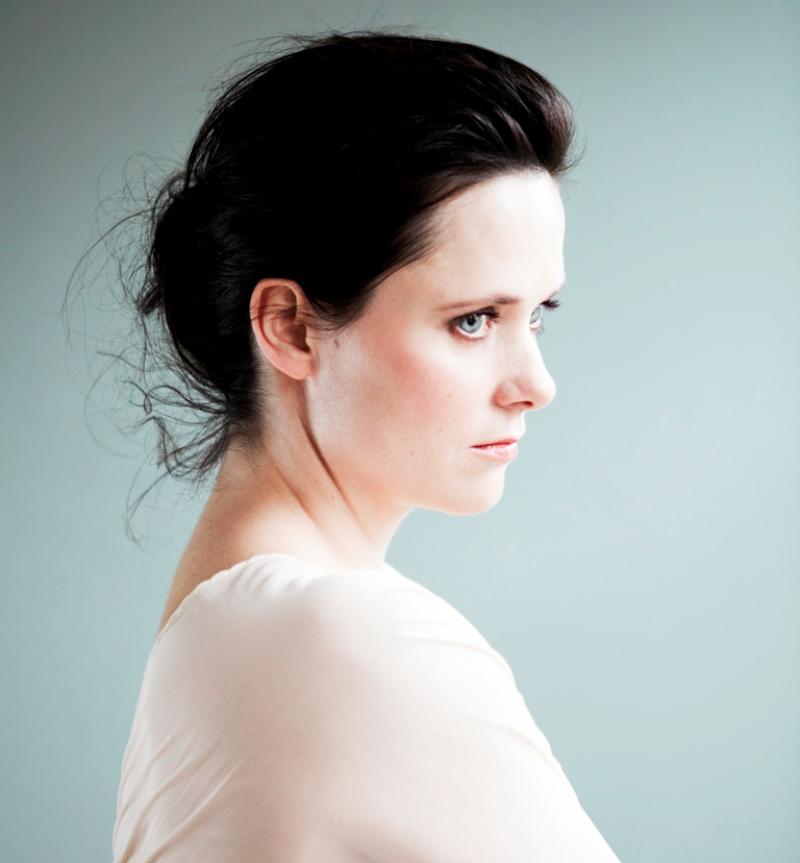 Mara Carlyle: reinvents the love song and plays a mean ukulele
It's commonly accepted that a song's true worth can be tested by stripping it down to its bare bones: if it still has wings when played on just an acoustic guitar, then you're in business.
So I couldn't help but smile at hearing tracks from Mara Carlyle's lushly orchestrated (courtesy of the Royal Philharmonic, no less) album
Floreat
delicately strummed on the humble ukulele, backed by that other wallflower of an instrument, the concertina (played by contemporary classical composer Emily Hall).
The other two musicians crammed onto the almost comically tiny stage were a double bassist (Tom Herbert) and a guitarist/keyboard player (Oli Bayston) whose modestly proportioned keyboard couldn't even fit on with them. But Carlyle, like Camille whom I reviewed here last week, is not afraid of the blank canvas and the new freedoms it offers. She realises that an understated performance which gets an audience keenly leaning forward works just as well as a firing-on-all-cylinders performance that – in rock parlance – is designed to blow the audience away. This Shropshire lass can blow an audience away with the gentlest of mysteriously scented breezes.
When the gorgeous 'Bowlface en Provence' swelled into life, you could hear the proverbial pin drop
This was particularly true at last night's sold-out Green Note gig because - unlike the previous time I saw her at the same venue - she didn't have a drummer/percussionist kicking up a racket in the background, so she wisely stuck to doing a set that consisted largely of ballads. But a Carlyle ballad is no ordinary ballad. For example, "King" - a highlight of last night's concert - is not about unrequited or requited love. It's not about jealousy or obsession. It doesn't pine, plead or broken-heartedly bleed. It simply states that a past love affair was special, belonged to another time, but is worth commemorating as a wonderful, lyrical experience that doesn't have to be regretted or mourned: an enviably sensible attitude so rarely represented in the generic love song. With next to no coaxing, the audience took up the chant-like vocal motif that functions as the backbone to the song. And remarkably they did so with pretty much perfect pitch and without flagging for a moment, allowing this hypnotic number to go on its steady unwavering course.
On a couple of numbers Carlyle showed her skill as a musical saw player (does a theremin utilise an invisible saw, I wonder?). When the gorgeous "Bowlface en Provence" swelled into life, you could hear the proverbial pin drop, which of course was the cue for someone to drop a glass with an atmosphere-shattering crash. Carlyle immediately improvised the words "I forgive you" into the song, thus demonstrating that she doesn't view her own material with quite the same degree of reverence her growing audience does. It's a a measure of how highly she is valued by her fans that the newsreader Jon Snow chose the song as a desert island disc a couple of years before it was even released. (It's a long story, but it took three years for Carlyle to get back the rights to Floreat so she could put it out on her own label after an in-crisis EMI shelved it.)
And therein lies the reason that almost every time Carlyle plays it's with a different group of musicians, often in venues not much bigger than a one-bedroom flat, and sometimes after only one rehearsal or none: a self-released album means no record label to pay for luxuries such as rehearsals or promotion. Given that the venue's bar stopped making money during her set, and given that the critically acclaimed Floreat is one of the most original and quietly powerful albums of the year, this is a criminal and inexplicable shame. Last night the epic oil paintings of Floreat may have been distilled down to intimate charcoal sketches, but the Royal Philharmonic who - as Carlyle quipped at one point, "couldn't make it" - weren't missed one little bit.
Watch Mara Carlyle perform "Bowlface en Provence"
The epic oil paintings of Floreat were distilled down to intimate charcoal sketches, but the Royal Philharmonic weren't missed one bit
rating
Explore topics
Share this article