Extract: The Stone Roses - War and Peace |

reviews, news & interviews
Extract: The Stone Roses - War and Peace
Extract: The Stone Roses - War and Peace
Simon Spence's new biography recalls the Manchester band's legendary 1990 concert at Spike Island
'It wasn't a gig, it was a statement': The Stone Roses play Spike Island, May 27, 1990
There is film footage of those opening magical, transformative moments: of Brown intoning, "The time, the time is now. Do it now, do it now." Film, however, could not capture the effect the band's arrival had on the mood of the crowd; it was a jaw-dropping biblical reaction, of relief, amazement, worship and unadulterated joy. "It was like a massive pilgrimage to witness," said Roddy McKenna, the man who had been instrumental in signing the band to Jive/Zomba. "It wasn't a gig – it was a statement." The resurrection of a day that for so long had threatened disaster began; the party was back on.
The same camera that captured those opening moments also traced the Roses' immaculate 16-song set that followed. "There'd been a kid there right from the beginning of the stage build who'd been putting his camera everywhere," said Jones. "I'd told him he couldn't film anything on the day, but when the Central Music TV filming collapsed I went up to him and said, 'Right, you can film it all now.'" This footage has only recently been traced, although not yet released; when it is, it will render all further description meaningless. Brown has said that the Roses weren't actually playing to the crowd, they were "just partying with them": "We were just a very small part of a very big event, because it's the people who make an event, it's not the group. We get off on what they do and they get off on what we do."
The wind blew the band's sound far and wide. The volume was louder in Widnes town centre than on site
On stage the band enjoyed a clear sound, and the buzz coming off the crowd spurred them on through their set: "I Wanna Be Adored", "Elephant Stone", "She Bangs the Drums", "Shoot You Down", "One Love", "Sally Cinnamon", "Standing Here", "Fools Gold", "Where Angels Play", "Waterfall", "Don't Stop", "Something's Burning", "Made of Stone", "Elizabeth My Dear" and "I Am the Resurrection". The defining image was of Brown on stage holding a large inflatable world globe, which had bounced its way across the raised hands of the crowd towards the stage, fate providing the perfect symbol.
The wind was now blowing wildly, and out past the hysterical front section of the crowd the band's sound lost much of its potency. Some accused Evans of scrimping on the PA system, but the cause was more elemental. Noise limitations had been enforced, with sound-level meters deployed in eight spots on the site and in Widnes and Runcorn.
The wind blew the band's sound far and wide and the volume was louder in Widnes town centre than on site, exceeding the 97 decibels limit. It meant there could be no cranking up of the sound, and the more meandering parts of the Roses' set suffered. There was also a curfew. Although Frankie Bones had promised "house music all night long", it all had to be wrapped up by 11 pm. There was no encore. Squire thought them corny, "proof rock music had become showbusiness". Instead, as requested by Brown, Dave Haslam followed the band's set by playing "Redemption Song" by Bob Marley, and the evening climaxed with a fireworks display.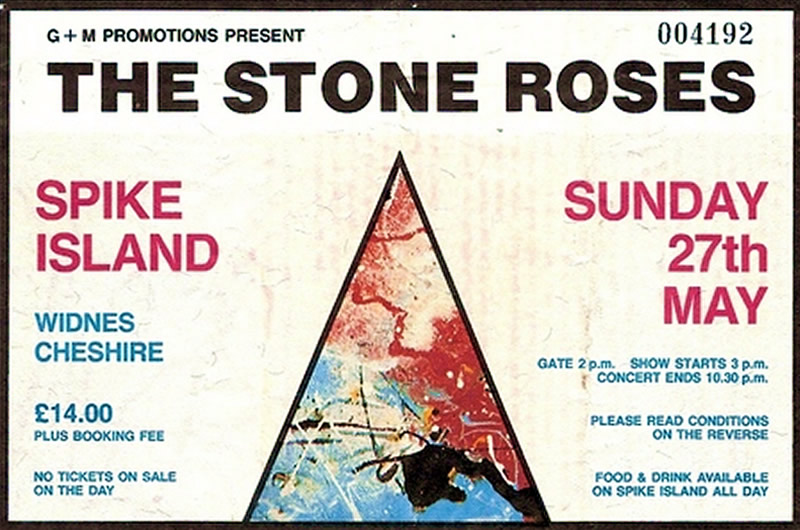 Backstage the elated band was surprised to learn from their crew of the sound difficulties out front, as all they had felt was waves of love from the crowd. As the fans' coaches pulled away, the Roses, their crew and scores of well-wishers headed back to Manchester club the International, also owned by Evans and Cummins, for an after-show party. "The only drink available was Carlsberg Special Brew," said NME photographer Kevin Cummins. "It was past its sell-by date and Gareth just wanted to get rid of it." Brown was huddled over a bottle of Wild Turkey bourbon. Mani felt the band hadn't played well. But there was a sense of relief it was all over.
Reviews for the show, when they came, were mixed – in part because the band's sound had been lost to the elements, but also because the cultural significance of the day was still largely unquantifiable. "It was the moment when everything that had seemed underground exploded into the mainstream," said Haslam. "Spike Island was a full stop, and there was a sense we were entering a new chapter which wasn't going to be as good." Some journalists found the setting depressing. Bob Stanley of Melody Maker described Spike Island as a horrible field surrounded by huge electricity pylons, factories and chemical plants. "Your hair felt very odd and greasy, like it was totally coated with chemicals from the factories. The best thing about it was being able to say you were there."
I was, writing about the event for The Face. I was 19 and no doubt being used by editor Sheryl Garratt to try to patch up relations between the band and the magazine following Nick Kent's less than complimentary cover story on them earlier in the year. My article was another cover story for the band, under the headline "The Third Summer of Love", although the cover shot was a debut for a teenage Kate Moss. I'd like to think it was my piece more than Moss's cute, scrunched-up nose that led to the issue becoming one of the most iconic in The Face's history. Sometimes you have to share the credit. The first Summer of Love – 1988, not 1967 – had happened in clubs. The second, in 1989, was about big raves in open fields. Spike Island was seen as an indication of where the phenomenon was heading for the third: festivals led by bands who fizzed with an energy unseen in rock since punk.
Brown said at the time that the Roses' future plans included London: "We were a bit disappointed with Alexandra Palace. We want to do a massive venue where no one has played before and where we can come on as late as possible. We want to get away with as much as the British licensing laws will let us." Rumours, emanating from the ever-opportunistic Evans, quickly spread that the band were planning a secret show for 100,000 outside Buckingham Palace. In truth the glory days were over: the monarchy was safe, a tour of America would soon be cancelled, and plans to record a new album in the summer abandoned. Nullifying court cases, creative collapse and management problems lay ahead.
The last of the great rock'n'roll bands had already, stubbornly, vaingloriously and quite beautifully reached their peak at Spike Island. It was part of their everlasting mystique that no one could ever really figure them out, their sacrifices and their successes, just how they'd got here and where they were going. Even the band members themselves, over time, seemed to disagree.
The Stone Roses: War and Peace by Simon Spence (Viking, £20) is out on 7 June
The Stone Roses' world tour includes Heaton Park, Manchester (29, 30 June, 1 July), Phoenix Park, Dublin (5 July), T in the Park, Kinross (7 July) V Festival, Chelmsford (18 August), V Festival, Stafford (19 August), Vital Music Festival, Belfast (22 August)
Stone Roses at Spike Island
The cultural significance of the day was still largely unquantifiable
Explore topics
Share this article
Subscribe to theartsdesk.com
Thank you for continuing to read our work on theartsdesk.com. For unlimited access to every article in its entirety, including our archive of more than 10,000 pieces, we're asking for £3.95 per month or £30 per year. We feel it's a very good deal, and hope you do too.
To take an annual subscription now simply click here.
And if you're looking for that extra gift for a friend or family member, why not treat them to a theartsdesk.com gift subscription?