'English music is lumpy if you don't play it well': interview with folk trio Leveret |

reviews, news & interviews
'English music is lumpy if you don't play it well': interview with folk trio Leveret
'English music is lumpy if you don't play it well': interview with folk trio Leveret
Instrumental trio on old English dances and their new album Inventions
Saturday, 16 September 2017
Music in the round: England's finest instrumental folk trio play a private house concert
Leveret (an old name for a young hare) got together in 2014. They comprise former Bellowhead fiddler Sam Sweeney, English concertina player Rob Harbron and accordionist Andy Cutting – three of the very best on the scene.
Their tune sources range from the 17th-century songbook
Playford's Dancing Maste
r, to the magisterial, semi-pagan "Abbots Bromley Horn Dance", first documented in August 1226, but probably much older, while their latest album
Inventions
features all original tunes.
Theirs is a rich, sinewy immersion into the roots of English instrumental folk, guided by a mutual sense of exploration, space and a very English kind of swing. It's an intimate, contemporary reinvention of the source material, each member weaving fluently in and out of focus as soloist.
TIM CUMMING: What makes Leveret so distinctive?
ROB HARBRON: The interplay, the handing stuff over to the other player. We've never agreed a chord, they just seem to fit. No one has a fixed part. And without any discussion it seems to work straight away. And it is really well balanced, sonically.
SAM SWEENEY: There isn't any room for egos. It's 90 percent listening in this band.
ANDY CUTTING: It's about music, not us. That's the thing at the front. If you let yourself yet retain the capability to play your instrument and to stop thinking about it, the tune you're playing allows you to be incredibly free. We don't have to decide which chords to use on them. There is the right one, because there is no wrong one.
A lot of your tunes come from Playford's Dancing Master? Who was Playford?
AC: John Playford put together a collection of tunes and dances in the mid-17th century. It was an interesting time, when formal dance was no longer the preserve of the aristocracy. He was an example of the very early beginnings of people, the public, being able to do it. He put his first collection together and sold it on the steps of St Paul's Cathedral in 1651. It went to 18 editions. He was a businessman who liked the music, and who saw the general population of the country had a taste for dancing, merrymaking, and there was no material available, and he jumped on the bandwagon, and sold them and they were exceedingly popular.
SS: Dancing masters used to travel round the country with a fiddle in their pocket and just play. That's how it worked.
RH: They'd play to the big houses. Their audience was the wealthy, and I guess Playford's thing was the aspiring new middle class. Basically it's one more spin on taking peasant music and packaging up neatly and selling it on. Playford's Dancing Master is the birth of the music industry.
What is it that draws you to a particular tune, old or new?
SS: The traditional tunes we play tend to come from that 1650-1750 window. There's a lot of scope in them for exploration. They are more open.
RH: The parameters of an open tune that leaves you free to do stuff, there's a million possible starting points. In Leveret, we've all played enough tunes to know which ones feel workable, and which are one-dimensional.
AC: There are tunes that are written in a certain way which limits what we can do. There's brackets around it, you're stuck in there, it's like an equation. Whereas a lot of the tunes that work for us are ones without any brackets. Very often they're pretty simple, so there's loads of space and scope for us to express ourselves.
RH: It's not so much the age of them that appeals, but the openness, the unplayedness. You have this space to make the tune work – a tune that potentially no one has played for 300 years. But if you treat the dots on the page as gospel, it's not going to work. There'll be some little thing, a note that sticks out, or the feel you put in to it. There is a lot of interpretation required to lift it from the page. With our own tunes, the same process is there. A tune I bring to the band only finds its legs once we all play it and it's had the chance to bed in.
While much of your source material began as social music – dances and tunes – your concerts feel much more interior and introspective, more akin to classical chamber music than to folk.
SS: What I love about this band is that when we started we thought it wouldn't work. "You're not going to do an instrumental English band, that's stupid." And then we did it and it worked, and we get lots of feedback from people who say they find it an edge-of-the-seat experience because it draws you in, it's not just a case of sit back and listen. And the other thing I love is that someone told me that our first album had become part of the pub session repertoire of choice in their area. So going to Leveret may be akin to a chamber gig, but it is also having an effect on the folk scene, which is very gratifying.
Where does Leveret sit in the world of contemporary English folk?
AC: There are many bands on the English folk scene that are basically from the school of shove it down their throats. "Right ho, come on, it's entertainment, everyone jump around." And that's an incredibly easy thing to do, I have done a bit of it, and I dislike it because I find it completely false and disingenuous. And I think the thing we do is to present the music and invite people to come and be there and experience it, and the more they listen the deeper it gets, the more they get out of it.
SS: The English folk world is obsessed with song, which is why people said Leveret wouldn't work, because you have to have a chorus – the English love a chorus. We've proven them wrong with that. The other thing is, English music has a reputation for being simple and lumpy. And to a degree that is true, if you don't actually play it very well. That is the funny thing about English music, it is hard to play it really well. You have to do so much to it in terms of getting it off the page – groove and pulse and swing – there is so much work to do to get it off the page and into the air.
You new album features your own tunes, rather traditional pieces.
SS: It's called Inventions. Bach wrote a lot of inventions, as did a lot of composers from the late Baroque and Classical era. They're little pieces with two or three parts that are often technical exercises. We've written all these tunes ourselves, so they're inventions, and they are little two- and three-part pieces of music. Why is Leveret doing this now? The answer is that it's a natural progression.
RH: It was only once I started to make my own tunes that I learnt how to make those old tunes my own. That's when I really got a handle on how to play them. There are tunes on this record from places we've been to, from walks or memories. You can make music that is journalistic, even if it is instrumental. There is a way a few notes can capture a piece of landscape. You can be more concise that trying to say the same things in prose.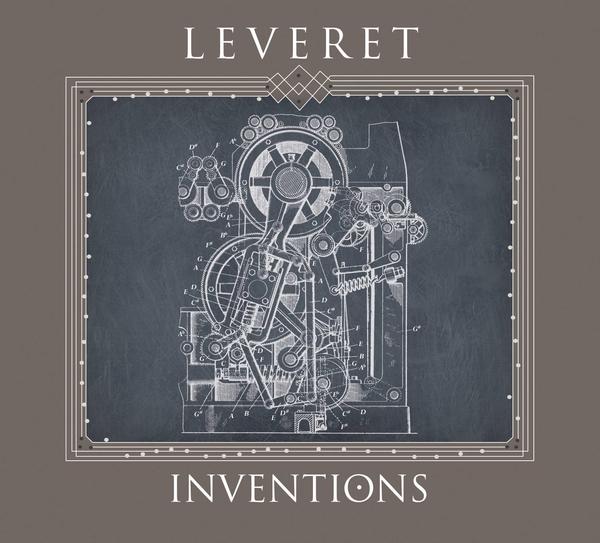 AC: It's easy to make the same record but with Leveret, an interesting thing about it is that it's a journey from "here's some old tunes" for the first record, to "here's a live gig for the second record", to "they've written it". We know what the next record after this is going to be, and I think we know what the one after that will be as well. It's a proper journey. It's about using different ways to move forward and keep it interesting. We're always interacting with each other in a slightly different way. And hopefully getting better.
Does Leveret play a specfically "English" music?
RH: I think the whole tag of English music is artificial. At what point does English music become music of the Scottish borders? I'm firmly of the "tunes don't carry passports" thing. A lot of the three-time tunes we play from Playford haven't got anything at all in common with the traddy Sussex tunes that Scan Tester played, but they do have a lot in common with tunes played in Sweden, with polskas. I don't claim to play any music except my own.
SS: I do say I'm an English folk musician. I don't say I play English music as such, but I am English and I am playing this music, and it sounds as it is. In Scandinavia they have their national music and they know it, and they know the words and they know the tunes. They all knew exactly what to do. That's partly to do with the fact that their culture has been threatened several times and they've clung on to it. We don't cling. We've not had that, so a lot of people don't have a clue. It's not, "Oh you play English folk music", it's "What the hell is English folk music?"
Inventions is on Rootbeat Records. Leveret tour from 5 October
It's not so much the age of them that appeals, but the openness, the unplayedness. You have this space to make the tune work
Explore topics
Share this article