Does anyone know the way to blockbuster? |

reviews, news & interviews
Does anyone know the way to blockbuster?
Does anyone know the way to blockbuster?
As Sweet announce a UK return, read the last ever interview with Brian Connolly, the glamrockers' original lead singer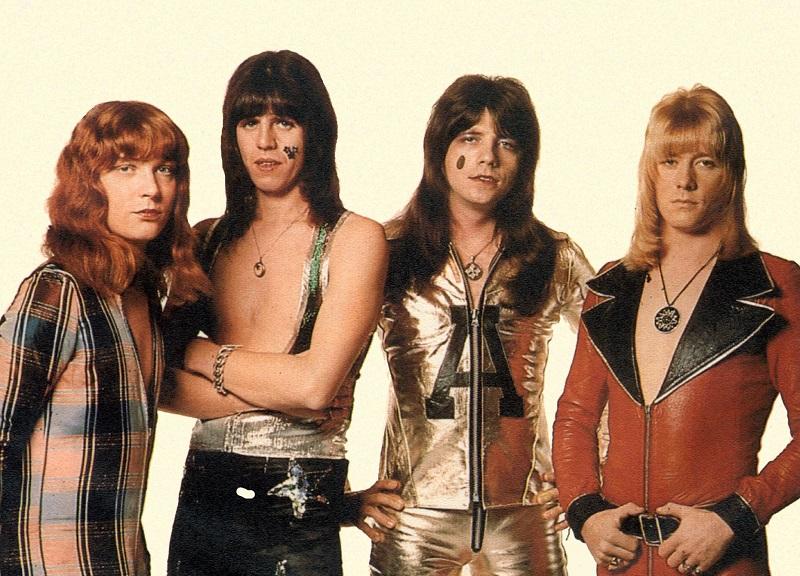 The Sweet: Steve Priest, Mick Tucker, Andy Scott and Brian Connolly
There's a lot of Seventies revivalism in the ether. Fleetwood Mac are back as a famous five after many years asunder. 10cc have on at the Albert Hall, although one astutely remarked that they really should have been billed 2.5cc. In When Pop Ruled My Life, the recent BBC Four documentary about fandom, it was lear that the Bay City Rollers are still very much a going concern. And this week it was announced that three titans of glamrock would stomp once again on British boards. They include The Rubettes, a band coyly billing themselves Mud 2 and – holy of holies – The Sweet.
The Sweet were one of those bands where the definite article was optional. Mud and Slade dispensed with the the; the Strawbs and Mott the Hoople would have been naked without one. But was it Sweet or the Sweet? It wasn't a burning question in 1973, or not as burning as "does anyone know the way to blockbuster?". Only later did it become an issue. They split up many aeons ago, and attempted to reform for the last time in 1990, then split up again in 1991. But glamrock nostalgia being the honey pot that it for a while was, there were two rival Sweets out on the road, one fronted by guitarist Andy Scott, the other by singer Brian Connolly. Remember "Ballroom Blitz"? Over the drummed intro Connolly used to ask Steve, Mick and Andy if they were ready to go. By the mid-1990s it was Glen, Dave, Geoff and (a different) Steve. Which Sweet was the genuine article? Which band was the Sweet?
Sweet perform 'Ballroom Blitz'
This alas is now somewhat academic, as Brian Connolly has long since snapped his last microphone stand in two and retired to the great glamrock hall of fame in the sky. Drummer Mick Tucker has also died, while bassist Steve Priest has formed his own Sweet in the US. So a bit like 2.5cc, The Sweet touring this autumn will feature only one original member. For Seventies nostalgists, it's going to be like a pack of Opal Fruits with only orange-flavour sweets (pictured below).
Before Connolly died, I had the pleasure – and it really was – of doing what turned out to be the last ever interview with him. He told me that he and Scott never did get on. "Andy didn't really come back on the scene until about 1990," he told me. "Little by little he stabbed me in the back. He started ringing up promoters and my name got blackened for no reason at all."
Connolly was the one member of the band who didn't look like a tree trunk smeared in lipstick. And unlike, say, Noddy Holder, he had a beautiful voice. When I met him he still wore his white-blond hair in a shoulder-length feather cut, but the grimacing face it framed had raced ahead. He walked with gingerly grandmother's footsteps, as if still teetering on platforms, and the hands had a very pronounced shake. When he picked up a full cup of tea you feared the worst. He looked like the addled ghost of a pin-up. Very much a case of recognise your age, it's the old age rampage.
Sweet perform 'Teenage Rampage'
What happened? Connolly insisted to me that he "didn't drink and I've never been into drugs". But when he left the band in 1979, exhausted by the lion's share of promotional chores and intent on chasing up other offers, a mole within put it about that he was an alcoholic. "I couldn't battle against what was already printed. But I did a stupid thing, because about a year after I left the group I started drinking. I was just thinking, `What they're going to say about me if they see me they've already said.'"
In 1981 he had a heart attack, then another 13 in the space of 24 hours if you believe what his ex-wife said in a Channel 4 documentary in 1996, in six weeks if you believe Connolly. "I know I did the impossible but that is impossible."
He was lucid and very likeable, but like other pop stars with a memory laundered by the sins of success, Connolly was an unreliable witness in his own life story. Who wouldn't be shaky on the details after receiving the last rites, a prelude to two years of elocution lessons and breathing therapy? "I lost my speech completely. All I could do was mumble. I had to start from scratch. Prior to the cardiacs I had a Scottish accent." (Brian Connolly pictured below)
His biography as he told it began at the age of 12 with a move from outside Glasgow down to Middlesex. He joined the navy at 16 as a training officer. "I've always been mad on boats. I don't know where I got it from". When he left at 18 he found out that he had been adopted at birth, and promptly dropped his foster name McManus. He studied "some sort of technical engineering but I was hopeless at draught work" and anyway music was a distraction. "I was in the original band that was called Generation X. We used to spend all our time rehearsing at college. I missed so many lectures I got the push."
He fetched up in another band called Wainwright's Gentlemen, with Steve Priest from Ruislip and Mick Tucker from Hayes. They hung around with various members of Deep Purple (Connolly was a replacement for Ian Gillan, and lodged with Roger Glover in Uxbridge), and were instinctively just as keen on decibels as Purple, "not heavy but West Coast, more solid than what was the simple pop then". Somehow, though, as Wainwright's Gentlemen mutated into Sweet and Connolly gave up his job in a carpet shop, they ended up sounding as saccharine as their new name.
"There were a lot of bands around called sort of sugary names. There was Strawberry Jam, Marmalade, Orange Bicycle, Tangerine Peel, Clockwork Orange after the film. So we thought, sum it all up: we used a name that sort of instigates all of them." But in those days bands went where the material was, and the songwriting pair who supplied them, millionaire's son Nicky Chinn and Australian waiter Mike Chapman, traded in bubblegum. The early hits - "Funny Funny", "Co-Co", "Chop Chop" - were formulaically twee. "Little Willy", "Wig Wam Bam" and "Alexander Graham Bell", the only hit anyone has ever had singing about the inventor of the telephone, found the Sweet sound struggling to break free of its chrysalis, to emerge fully formed in the band's four most expressive statements of high-octane glamrock nonsense: "Blockbuster!", "Hell Raiser", "Ballroom Blitz" and "Teenage Rampage".
'Little Willy' on Top of the Pops
"Blockbuster!", their only number one, had exactly the same opening riff as "The Jean Genie", and posterity has always jumped to the conclusion that Bowie got there first. "The first play `The Jean Genie' got," recalled Connolly, "was on Luxembourg about one or two o'clock in the morning and we were on our way back from a gig and we were all sort of half asleep in the car, the radio was on and we heard the intro and we thought somebody had lifted the siren off and nicked our back track. But when we took the acetate into the promotion department at RCA for the first time to let them hear what their next single was going to be, Bowie was in that promotion department. I remember him saying, `That's a great song, that's definitely a winner.'"
Sweet had five more years on the gravy train, but Chinn and Chapman were diversifying into Suzi Quatro and Mud - one week they had songs sung by the three acts at one, two and three in the charts. Sweet, always a singles outfit, had a go at writing their own hits: they managed a couple in "Fox on the Run" and, three years and several tours of America later, "Love Is Like Oxygen". By the time the new Generation X and their like brought the curtain down, they had sold 50 million records.
Connolly died in 1997, a few months after our conversation, of renal failure, liver failure and repeated heart attacks. Priest and Scott came to the funeral. Mick Tucker followed him in 2002. Priest published a memoir entitled Are You Ready, Steve?, and in 2008 started his own version of the Sweet. This autumn, Andy Scott will be saying, "Are you ready, Pete, Bruce and Tony?"
The Glitz Blitz and Hitz featuring Sweet, Mud 2 and The Rubettes is from 10 November to 13 December
Overleaf: watch various incarnations of Sweet
Brian Connolly's Sweet perform 'Blockbuster'
Andy Scott's Sweet performs 'Fox on the Run'
Steve Priest's Sweet performs 'Hell Raiser' (not for the faint-hearted)
Subscribe to theartsdesk.com
Thank you for continuing to read our work on theartsdesk.com. For unlimited access to every article in its entirety, including our archive of more than 10,000 pieces, we're asking for £3.95 per month or £30 per year. We feel it's a very good deal, and hope you do too.
To take an annual subscription now simply click here.
And if you're looking for that extra gift for a friend or family member, why not treat them to a theartsdesk.com gift subscription?