Deep Purple, O2 Arena |

New music reviews, news & interviews
Deep Purple, O2 Arena
Veteran rock band shows a new future for nostalgia tours
Thursday, 01 December 2011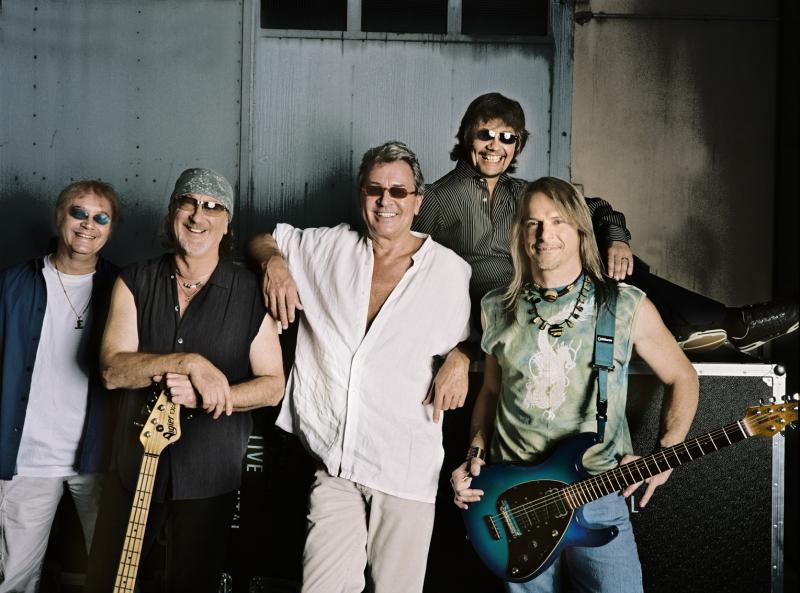 Deep Purple: they all came out to the O2, by the River Thames shoreline...
If anyone tells you that Deep Purple's Concerto for Group and Orchestra (1969) wasn't a masterpiece then they're an idiot. In fact, it was, more or less, the only successful use of an orchestra with a rock band ever. Now, 40 years on, a pensionable Purple have hit the road again with a full symphony orchestra. But they're not playing the Concerto. They're playing their hits. Critically, they're performing them without founding keyboardist, Jon Lord, and guitarist, Ritchie Blackmore. So, at 8.30pm when support band Cheap Trick had failed to ignite the room, even with a five-necked guitar, a 12-stringed bass and a lead singer looking like Dave Lee Roth, it looked like this might be another nostalgia night for music past its sell-by date.
It wasn't. The current line-up showed itself far closer to the spirit of the heyday than the actual classic line-up was for years. By the time Blackmore left the band almost two decades ago he was, allegedly, half mad. Now, he plays the lute in medieval theme-weekends dressed as a pixie. Steve Morse, on the other hand, last night proved himself able to alternate between the delicacy of Blackmore's old phrasing and Van Halen-style fretboard-eating. And Don Airey, having played keyboards in every band in the extended Deep Purple family tree, was a total shoo-in.
The middle-aged man in front of me inserted earplugs and started singing
Drummer Ian Paice and bassist Roger Glover are ever reliable. What came as a relief to the 20,000 people present was that singer Ian Gillan, whose career has reached such lows that he's been forced to apologise for his appearances, was not only at his vocal peak but able to curb his tendency to over-sing.
With an entire Purple line-up for once at such a level of technical brilliance, the idea of bringing along an orchestra worked a treat. More than a gig, it was a show, and a spectacle, making the endless showing-off seem like something you should be marvelling at.
The songs too, in their new guises, were given renewed freshness. Conductor and arranger Stephen Bentley-Klein did an excellent job, inserting stabs of Rat Pack jazz where the likes of Michael Kamen would have used slabs of strings. Gillan, looking a bit like David Essex, was a genial host, and following a brief orchestral intro we were into "Highway Star". Having just heard Cheap Trick sounding like they were playing ukuleles in an aircraft hangar, I had concerns about the sound, but from where I was sitting it was rich and full.
With an entire Purple line-up for once at such a level of technical brilliance, the idea of bringing along an orchestra worked a treat
Explore topics
Share this article