Celebrating Jon Lord, Royal Albert Hall |

reviews, news & interviews
Celebrating Jon Lord, Royal Albert Hall
Celebrating Jon Lord, Royal Albert Hall
An all-star line-up gathers to remember the many sides of Deep Purple's keyboardist
Jon Lord: a rare talent
Jon Lord may have tickled his last ivory in 2012, but last night his spirit lived defiantly on. The great and the good from both heavy and contemporary music gathered in his memory. It was for a serious purpose - to raise funds for pancreatic cancer care. But, boy, what a time we had doing it. A revolving door of stars brought us wild solos, screaming vocals and thundering rhythms.
But before all the classic rock, culminating in a set from Deep Purple, came something a little more classical.
The first hour was devoted to Lord's orchestral compositions. Our host was "whispering" Bob Harris, who introduced us to the musicians (but rarely the titles of the pieces). Still, you didn't need to know their names to appreciate that they fell into three groups. First there were the symphonic moments such as "Durham Awakes", which was full of rhythm, pizzicato strings and pretty woodwind motifs. Then there was a selection of gentle instrumental songs such as Miller Anderson's warm reading of "Pictured Within". And lastly we heard three sections from the half-forgotten Sarabande album, given fresh vigour by Paul Mann's orchestra. By the time we got to "Bouree" it felt like a mash-up between Dave Brubeck and Scheherazade. Lovely stuff.
The biggest hit of the night was, undeniably, the vocal partnership of Glenn Hughes and Iron Maiden's Bruce Dickinson
Still, something felt missing. Judging from the whispering behind me I wasn't the only one who was surprised there was nothing from Lord's landmark Concerto for Group and Orchestra. The omission seemed particularly poignant as it had made its debut in this same hall some 45 years before. But this was, very much, an evening of surprises: such as Jeremy Irons's elegant reading of a Thomas Hardy poem over one of Lord's piano pieces. Or the tracks that Paul Weller came up with to open the second - hard-rockin' - half.
He chose two tracks from Lord's little known first band, the Artwoods. If Weller's versions of "I Take What I Want" and "Things Get Better" were anything to go by, theirs was a kind of white soul/ Motown vibe. It set things up nicely for Phil Campbell's reading of an underrated Paice Ashton Lord number called "Silas and Jerome". He attacked it ferociously. Even the guys in front of me brandishing their copies of Classic Rock magazine seemed startled by the way the wild vocals and Bernie Marsden's frazzled guitar shook the room.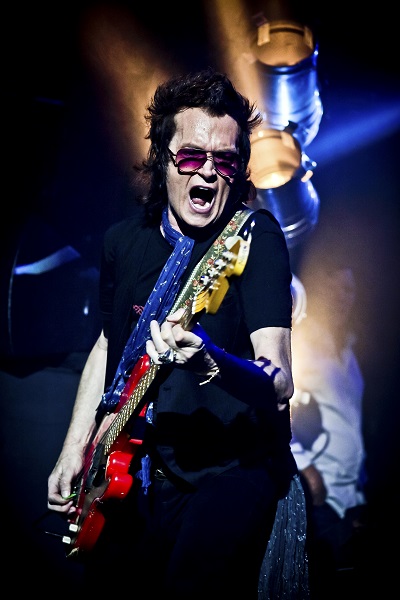 But the biggest hit of the night was, undeniably, the vocal partnership of Glenn Hughes (pictured right) and Iron Maiden's Bruce Dickinson. People call Dickinson the air-raid siren. Hughes sounded more like the four-minute warning. Together, their harmonies were simultaneously exquisite and unholy. And by the time they had done with "Burn", several hundred rock fans were on their feet punching the air.
Finally it was time for Deep Purple themselves. Say what you like about the so-called "Morse" Purple, they still sure know how to rock a room. The classics - "Lazy", "When a Blind Man Cries", "Perfect Strangers" and "Black Night" - were utterly joyous. They didn't, however, end with "Smoke on the Water". Rather, it was "Hush".
Now Bruce Dickinson, Rick Wakeman and Micky Moody returned to join them. Steve Balsamo and Sandi Thom were in the wings. The orchestra and the house band (led by Wix Wickens) were cooking.
The Sunflower Jam (who organized the night on behalf of the Jon Lord Fellowship for cancer research) had certainly put together a remarkable line-up but, as we heard over and over again, Lord was not a man who found making friends hard. Bob Harris even punned that he was a Lord amongst men; in life and in music. Over three and a half hours we were well reminded just how broad his talents were. RIP Jon Lord.
Overleaf: watch Jon Lord's Concerto for Group and Orchestra performed in the Royal Albert Hall
By the time they had done with 'Burn', several hundred rock fans were on their feet punching the air.
rating
Share this article