CD: Jupiter & Okwess - Kin Sonic |

reviews, news & interviews
CD: Jupiter & Okwess - Kin Sonic
CD: Jupiter & Okwess - Kin Sonic
Congolese proverbs and exhortations to right living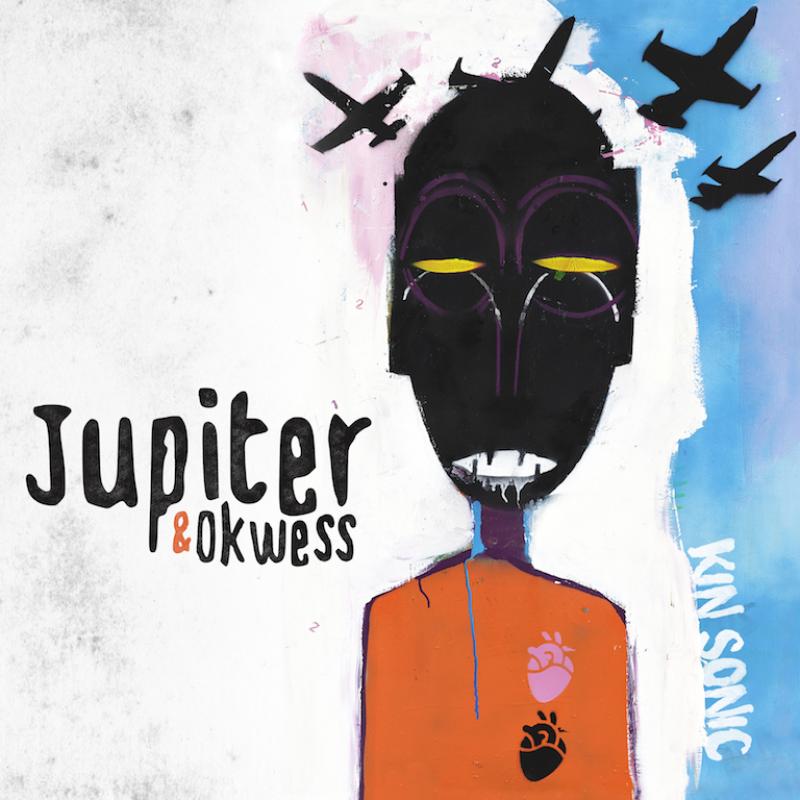 Cover art by 3D (Robert del Naja) of Massive Attack
Staff Benda Bilili and Kasai Allstars redefined the sound of Congolese dance music: the supremacy of the Rumba popularised by Franco and others, with its cascading guitar solos and instantly recognisable beats, was replaced by a host of other rhythms, closer to the intense vitality of the area's rich traditions.
Jupiter & Okwess are part of a similar roots-inflected but resolutely contemporary journey through the sounds that make Kinshasa one of the most vibrant musical capitals of Africa. In this second album, Jean-Pierre Bonkondji (who changed his name to Jupiter over 10 years ago) and his fellow musicians, with support from Damon Albarn and Warren Ellis, continue to explore a music that owes as much to funk and rock as it does to the spirit-fuelled music of their homeland.
The album starts relatively gently with "Hello", perhaps the most rock-inflected track, but builds rapidly to a series of breathless and breath-taking highs with the song "Benanga", an oblique attack on the country's leader and the corruption which underpins his régime. Entertainment in Africa is rarely without an ethical core, as well as a prescriptive one, and all the songs on Kin Sonic are laced with proverbs and exhortations to right living. There is none of the European-derived sugar-sweet sentimentality essential to the Rumba repertoire, those high-tenor love lyrics that meshed so well with the delicate and virtuosic play of the guitars. This is music with a good dose of rock, even punk attitude, with mesmerically repeated riffs on the rhythm guitars, and an intense drum sound from Montana Kinunu, who also gave Staff Benda Billi their particular drive.
The album is surprisingly varied in style, with songs like "Nkoy" – a plea for the recognition of people who are spiritually attuned rather than just "important" – a dreamy contrast to the fast-pace and intensity of most of the tracks. This is music which will play very well live, and it builds up, as in a well-constructed set, towards a fiery finale, with "Ekombe", a joyful praise-song for dance, the embodiment of all that is vital and soul-filled in life, in stark opposition to the ills of the political world.
Entertainment in Africa is rarely without an ethical core, as well as a prescriptive one
rating
Share this article