Calling Festival, Clapham Common |

reviews, news & interviews
Calling Festival, Clapham Common
Calling Festival, Clapham Common
Solid gold headline acts mark the festival's new home
First there was Hyde Park Calling, then it was Hard Rock Calling and now, re-located in Clapham, it's just the Calling Festival (presumably the organisers thought Clapham Common Calling carried too many connotations). The venue may have changed but last weekend was, pretty much, business as usual - a couple of stages, watery beer and a two-day smorgasboard of pop and rock. This year, though, all the pop was on day two.
Saturday was for real
rock
.
The first day's early-afternoon acts were young guns, who played in the pouring rain to an intense rock-crowd. Midlands-based metallers Heaven's Basement had a tough angle-grinder kind of sound. They were followed by Missouri punk trio, Radkey, who had energy and rebellious spirit. But when they left saying they'd "drilled a hole" in our brains, it was surely time for a change.
It came in the form of Richie Sambora. The Bon Jovi axe-man arrived on stage with a big grin, flanked by girlfriend Orianthi (the blonde fretbuster best known for her work with Michael Jackson). The set came mainly from Sambora's solo albums. Still he was considerate enough to start with Bon Jovi's "Lay Your Hands on Me" and finish with "Wanted Dead or Alive". Things were being nicely set up for Thunder.
From 'Mama Kin' to 'Sweet Emotion' he led us through a non-stop, high-octane selection of hits
A couple of years back these London rockers were on the verge of splitting up. Now they are defiantly back. Silver-haired singer Danny Bowes worked this Clapham crowd with the fervour of a man who has rediscovered his career. The audience lapped up their heavy, pop-rock numbers especially "I Love You More than Rock'n'Roll".
After that it was the turn of turbo-bluesman Joe Bonamassa who looked and sounded slick but was met with a little indifference. By this stage, it seems, Clapham Common had Aerosmith on its mind.
The Toxic Twins arrived looking healthy and well-drilled: Steve Tyler (pictured below right) cut a dash with a moustache and neckerchief that had something of the catwalk about them. From "Mama Kin" to "Sweet Emotion" he led us through a non-stop, high-octane selection of hits, with his on-stage antics matched by total vocal accuracy.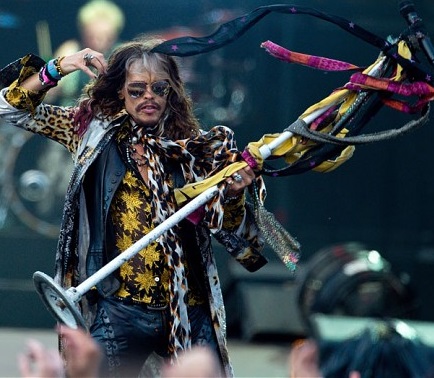 Other than Joe Perry's cringey "Freedom Fighter", the 'smith's set was a two-hour reminder of how fun the band have been over the years. "Livin' on the Edge" (with guest Richie Sambora), and "Walk This Way" were particular crowd favourites. During "I Don't Want to Miss a Thing" the big screens picked out a succession of canoodling couples. And as the strains of "Sweet Emotion" ended, Tyler was still gurning to the camera on those same screens.
Sunday, however, was a completely different scene. The tone was set by Michael Kiwanuka's laid-back, early-afternoon set performed to a sea of picnic blankets, red jeans and Hunter boots. The crowd was resilient too, cheering Paloma Faith through the rainy hour, and even smiling though Jack Johnson's irritatingly easy-going support slot.
But the anticipation for Stevie Wonder was now palpable. In the end he turned out to be even more exhilarating than many had imagined. The Motown veteran walked on sporting a strap-on keyboard whilst performing Marvin Gaye's "How Sweet It Is". There was a slighty awkward moment when he tried to get the crowd to thank God, prompting embarrassed looks all round. After that, though, it was non-stop hits, hypnotising rhythms and blistering instrumentals (including many on Wonder's favourite new instrument, the harpejji).
Most surprising, though, was the discovery of the soul legend's self-deprecating humour. Wonder had just learned to do a comedy British accent and it really seemed to tickle him. The musical highlights were "Ebony and Ivory" during the sunset and the evergreen hits "Sir Duke", "Higher Ground" and "You are the Sunshine of My Life". After two and a half hours (and still no "Pastime Paradise") the 64-year-old ended with "Superstition" (with Richie Sambora flying back from Glastonbury for another cameo).
It was a euphoric end to a surprisingly varied weekend. The support acts may have been mixed bag but, with headliners like these, Calling surely has a bright future in its new home.
Overleaf: Watch Stevie Wonder performing "Superstition" at Calling