Album: Tony Bennett & Lady Gaga - Love for Sale |

reviews, news & interviews
Album: Tony Bennett & Lady Gaga - Love for Sale
Album: Tony Bennett & Lady Gaga - Love for Sale
A new Tony Bennett album...at 95
Wednesday, 29 September 2021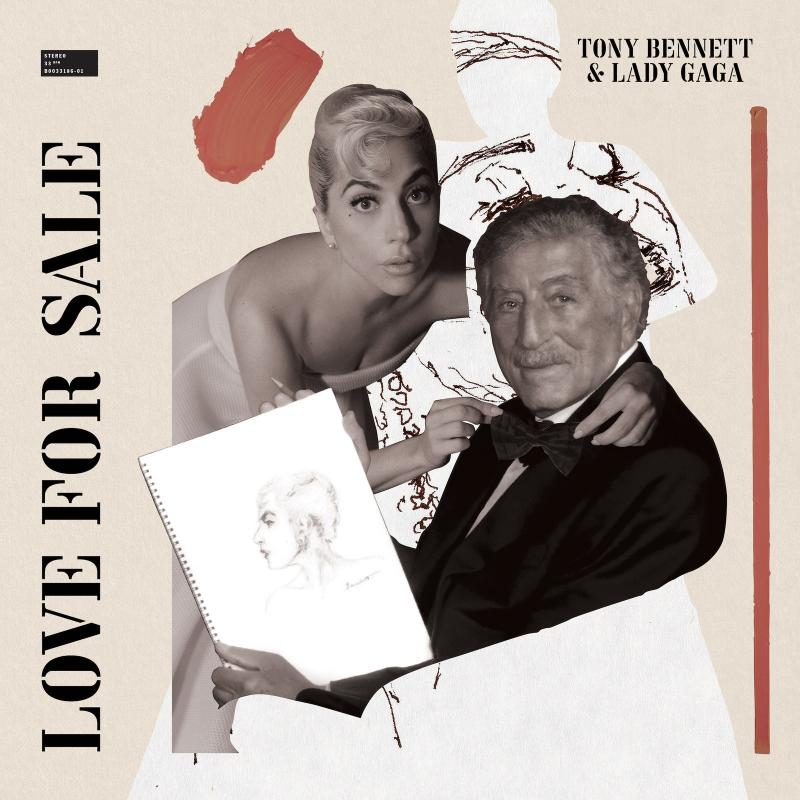 Tony Bennett has just turned 95, so it is no small miracle that this album has happened at all. Apparently he rang up Lady Gaga shortly before his 92nd birthday and said "let's get this record done before I run out of birthdays."
The good thing about the new album Love for Sale (Streamline) is that it has a unifying theme. All ten tracks on the album – there are 12 on the "de luxe version" – are by Cole Porter. True, Bennett recorded less Cole Porter than Sinatra, but he is such an appealing character, and he can give such wonderful empathy to a lyric, that is perhaps the main joy here.
The fact that the album stays in the elegant yet turbulent world of Cole Porter makes it a more convincing piece of work than Cheek to Cheek from 2014. And the Bennett/Gaga partnership has also evolved. It is as if there is less need now (for Gaga) to strain, to "act", find different idioms, to prove anything. This is a calmer, less histrionic album than its predecessor. That said, the video version of the title track does have her strangely whirligigging her arms.
The arrangements mostly alternate between Basie-ish swing for quartet or small band, and a smoochier vibe with studio orchestra textures in which "with strings", gloops of swoopy countermelody and reharmonisation are contrasted with flutes or oboes, vibes and piano. Not all the tracks are duets; there are solos for each of the singers in turn.
One genuinely touching moment is in the verse of "I Get a Kick Out of You" where Bennett finds that authentically urgent and passionate vocal colour he had in tracks such as "A Child is Born" or "Make Someone Happy" on the classic album Together Again with Bill Evans. There are also lapses though: "So In Love", sounds like it was recorded too late in a session, at a point when Bennett's energy for the day had been spent. At his age it's understandable, but a shame nonetheless.
That does raise an interesting question: how does the new, monumental Bennett at 90+ compete with versions of Cole Porter from his own back catalogue? The lyric of "I Concentrate On You ("When fortune cries 'Nay, nay; to me/ And people declare 'You're through' " ) clearly has more resonance when uttered by a reflective senior citizen. And yet, in retrospect Ralph Sharon, Bennett's East-End (of London)-born music director from the Sixties onwards had more of a spirit of adventure than his modern counterparts. The new, latin version of this song from 2021 feels plodding and formulaic compared to Sharon's beautifully paced go-for-it voice and piano version on the album Steppin' Out from 1993.
And comparisons going further back have a way of bringing back more Cole Porter glories from the past. Yes, for his age, Tony Bennett is in astonishing vocal form on "Just One of Those Things". But go back to the version of this song from 1957 on the album The Beat of My Heart: it is not just better paced, it also has some wonderfully insane voice-and-drums sparring (I presume with Art Blakey). The freshness of the older account holds the attention completely, more than six decades after it was recorded. Whereas the more reverent, curatorial approach of today's arrangers and producers just seems to have less ambition about it.
And an aside: there is a curiously annoying blooper on the video of title track "Love for Sale". The saxophone solo is clearly being played on an alto and has been credited as such...and yet the instrument filmed "playing it" is a tenor. Uh?