Album: Kit Downes, Petter Eldh, James Maddren – Vermillion |

reviews, news & interviews
Album: Kit Downes, Petter Eldh, James Maddren – Vermillion
Album: Kit Downes, Petter Eldh, James Maddren – Vermillion
Third ECM album from the phenomenal UK pianist's trio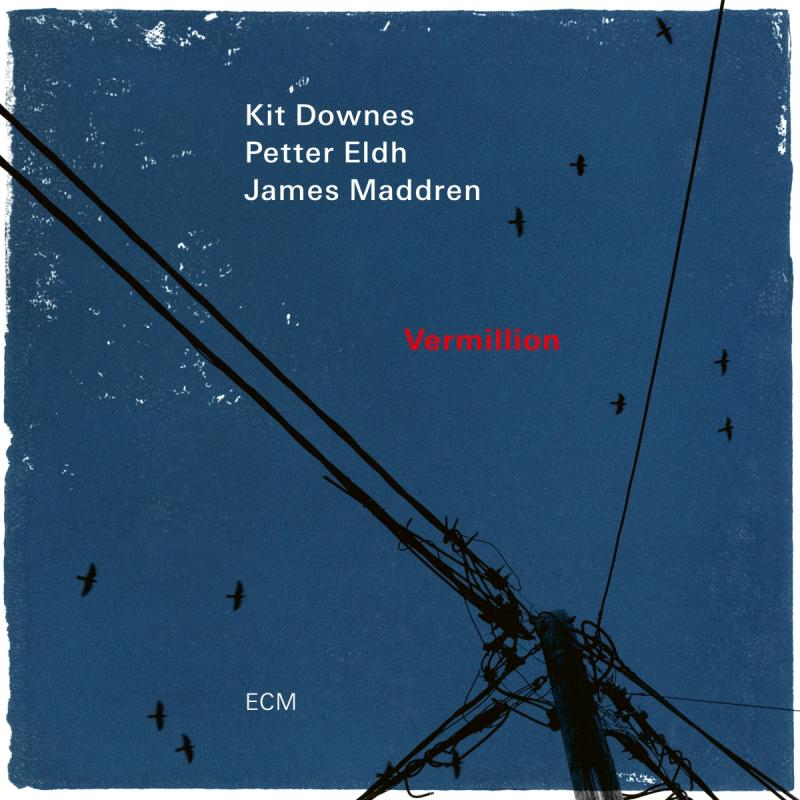 Subtle and quiet joys from Kit Downes's trio
The ECM label has been welcoming British and UK-based musicians to its roster for more than half a century. The very first were a group consisting of Evan Parker, Derek Bailey and Hugh Davies. Then came a bassist who, back in 1971, was called "David Holland". Then Azimuth (Kenny Wheeler, Norma Winstone, John Taylor) and many more.
The story of Manfred Eicher's label could, in theory, have happened without musicians from these islands, but it would have been a different story.
In the past few years a major welcome has been extended to Kit Downes. The phenomenal, Norwich-born pianist/organist/composer, now in his mid-thirties, made a first proper contact with the label while recording Thomas Stronen's album Time is a Blind Guide at Rainbow Studios in Oslo in 2015. Now, with three ECM albums to his name, he has well and truly arrived.
The first was Obsidian (recorded 2016, released early 2018), mostly experimental music for solo organ. The second, Dreamlife of Debris, saw the organ in the context of a group, and also introduced Downes's piano playing. The new release, Vermillion, is for his established piano/bass/drums trio with Petter Eldh and James Maddren (pictured below by Caterina Di Perri/ECM). There will be more releases too: one being talked about is of music for two pianos, in which Downes will play opposite another protean and deeply musical talent from the UK, Fred Thomas.
Downes says of Vermillion, the current release: "This record is different from what I've done before. We pushed ourselves into an area that we haven't played in before, which is a more chamber music-oriented sound. The complex rhythmic component is still kept intact, but it's wrapped in a different aesthetic."
That might sound daunting or esoteric, but it shouldn't because it isn't. This is an album in which clarity, beauty and accessibility prevail. The recording from a studio in Lugano, supervised by Manfred Eicher, is stunning. The album needs to listened to carefully because it is worth it. Part of ECM's ethos was described by Manfred Eicher in a recent public interview in London as to "further the flow of the storytelling." That principle pervades Vermillion. There is astonishingly fine detail, but all of the tracks have a flow to them which sounds incredibly natural. These are players who know each other well, and their active, in-the-moment communication is capable of taking the listener to a different mood, a different vibe in an instant.
That ability suddenly to be somewhere different recalls another English, piano-playing ECM stalwart, the much-missed Manchester-born pianist John Taylor (1942-2015) who taught and mentored Downes. His is an influence which Downes readily acknowleges: "John sought after real moments in the music, often by doing something unpredictable. He wanted to make new things happen and was obsessed with taking risks musically, which is what I think I did with Obsidian and what we're doing now on Vermillion."
The track "Seceda" reveals many of the album's traits: the solo piano introduction might sound exploratory, slowly scanning possibilities, as if Downes is searching for something – and expecting to find it. And from the moment the piano and bass have entered, laying down a deep groove reminiscent of Abdullah Ibrahim, all doubts instantly disappear: this is a good place to have arrived. The melodic hook, first heard on the piano, also suits Petter Eldh's bass like a glove. And the last note of the track, low down on the piano is held and allowed to recede. That lengthy reverberation, like so much on this album, has a naturalness and a complete rightness about it.
The closer and the more intently one listens to Vermillion, the more its subtle and quiet joys are revealed.