Album: Def Leppard - Diamond Star Halos |

reviews, news & interviews
Album: Def Leppard - Diamond Star Halos
Album: Def Leppard - Diamond Star Halos
Sheffield's glam-metal master craftsmen can still deliver... mostly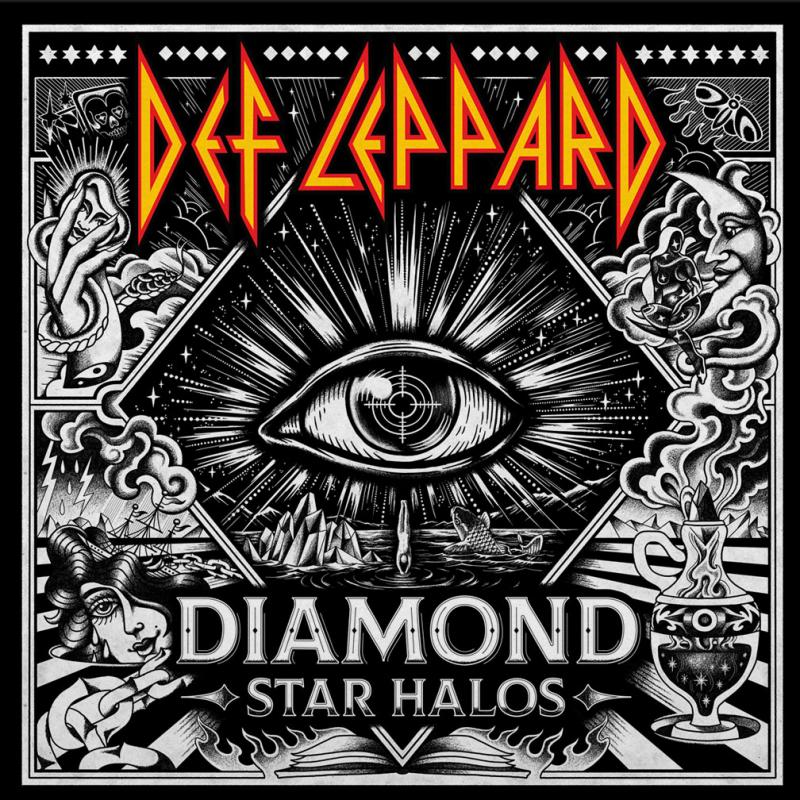 This album starts and ends so brilliantly. It kicks off with a salvo of three tracks that remind you exactly why Def Leppard became one of the biggest bands in the world in the mid Eighties.
They distilled the things they most loved growing up – T Rex, Mott The Hoople, Queen, ABBA – down to their rawest essences, then built up a sound using the most elaborate studio technology available at the time that was in tune with the current post-Van Halen US rock world but actually belonged entirely to them.
"Take What You Want", "Kick" and "Fire it Up" are archetypes of that process. They are absolutely shameless in their repetition of glam and good time rock'n'roll motifs, they are laser focused on hitting the pleasure centres, they sound like a million dollars, and they have those vocal harmonies that "Ver Leps" (as Smash Hits used to put it) spent thousands of hours honing as an unmistakeable signature. They are as joyously direct in their pursuit of the pleasure principle as any disco or house record, and they are brilliant.
The same goes for penultimate track "Unbreakable", which resembles their huge hit "Animal" with added rock-disco beat – and the heavily Queen-indebted high drama closer "From Here to Eternity From Here to Eternity" is a grand way to close a record. Sadly, though, the middle of the album can't really live up to it: in between these great bookends, there are way too many tracks that are way too generic, slightly countrified and very American soft rock. You could easily imagine Aerosmith or any of a few hundred lesser bands doing "SOS Emergency", "Liquid Dust" or "U Rok Mi", for example.
Mind you, the two ballads "Goodbye for Good This Time" and "Angels (Can't Help you This Time)", are fantastic too: unmistakeably Leppard, with some immense string arrangements elevating them further. For a band 45 years into their career to still be making records that start with absolute smashers and deliver seven hefty tracks out of 15, and – crucially – mostly sounds like nobody else is no small achievement. Give this one a spin, because when they're on form, the craft and joy of Def Leppard is like nothing else.