10cc, Royal Albert Hall |

reviews, news & interviews
10cc, Royal Albert Hall
10cc, Royal Albert Hall
Celebration of two decades of great British pop with needless distractions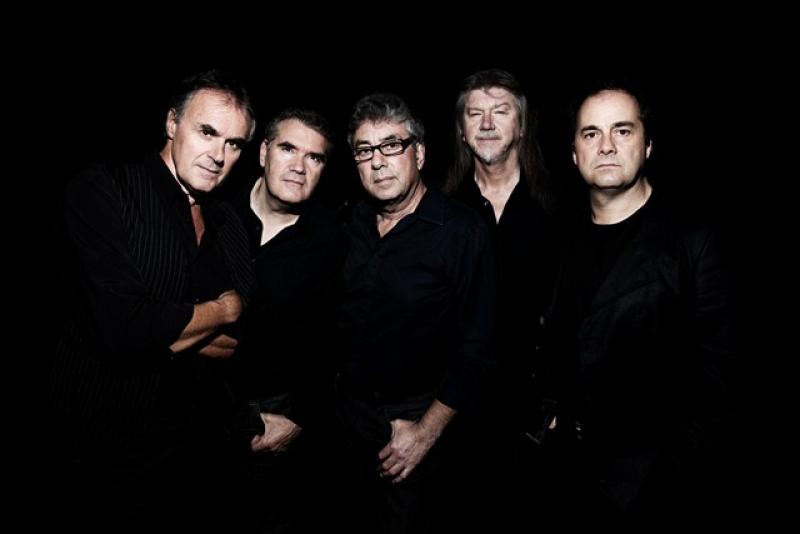 10cc, 2012 style: (left to right) Rick Fenn, Mike Stevens, Graham Gouldman, Paul Burgess, Mick Wilson
Some things just don't need saying. "If you know the chorus to this one, please join in" comes the invitation from the stage just before "Dreadlock Holiday". On the final date of 10cc's 40th anniversary tour it was unlikely that anyone at the Royal Albert Hall didn't know the chorus. Actually, it's unlikely that anyone, anywhere, doesn't know the chorus.
Many of 10cc's songs are so well known, so ubiquitous, they're like a magnolia paint job. But, boy they're good. Last night strung "Wall Street Shuffle", "The Things We Do for Love", "Good Morning Judge", I'm Mandy, Fly Me", "Life Is a Minestrone" and "Arts for Art's Sake" into a seamless sequence that was all reminder needed that this combo were one of the Seventies' greatest. Each song was a quirky, slice of arty pop, an Anglo-fied riposte to Frank Zappa and Steely Dan. Clever, but pop.
A momentum-stopping sax solo in the encore version of "Rubber Bullets" was irritating
That wasn't all. The evening began with an eight-song set from the current band's only original member Graham Gouldman, which mostly drew on the songs he'd written for others in the Sixties. Joined by his 10cc mates, this all-acoustic, harmony-drenched curtain raiser was a swoon. "Pamela, Pamela", a hit for Wayne Fontana, paved the way for "Heart Full of Soul" and "For Your Love" (The Yardbirds), "Bus Stop" and "Look Through Any Window" (The Hollies) and "No Milk Today" (Herman's Hermits). A nostalgia-fuelled pair of songs from his forthcoming solo album were overwhelmed by these entries from the great British songbook. Gouldman looked great and sang great. And it was his birthday.
After being a hitmaker for hire, 10cc were next for Gouldman. Between 1972 and 1976, they were Lol Crème, Kevin Godley, Gouldman, and Eric Stewart. They were a Manchester-bred supergroup. Stewart had been in Wayne Fontana and the Mindbenders.Godley drummed in Gouldman's band the Mockingbirds, while Crème was in Gouldman's pre-Mockingbirds bands. The studio-based quartet that became 10cc first recorded together in 1969 and, after a fluke hit as Hotlegs in 1970, became 10cc in 1972.
Then, in 1976, Godley and Crème left. The rupture didn't stop the hits: "The Things We Do For Love", "Good Morning Judge" and "Dreadlock Holiday" burnt up the charts. The name was put to bed in 1983, then resurrected by Stewart and Gouldman in 1991. From 1999 Gouldman has been the only one of the original four to appear on stage under the banner 10cc. Last night, 10cc were Gouldman (bass, vocals), Graham Burgess (drums), Rick Fenn (guitar), Mike Stevens (keyboards) and Mick Wilson (guitar, keyboards and vocals). Burgess had toured with 10cc in 1973 and joined in 1976, as had Fenn. So the continuity last night wasn't limited to Gouldman.
The burden of this history and the nature of the current line-up meant I was predisposed to suspicion: it's not the real thing, how could it be? Unfortunately, a few anticipated cracks did appear. Although the band sounded terrific and Wilson amply made up for the absent, yet frequently namechecked, Crème and Stewart, a wholly unjustified and momentum-stopping sax solo in the encore version of "Rubber Bullets" was irritating. Bringing on Paul Carrack to sing "I'm Not in Love" after the song had started was also distracting, as was the "Shine on You Crazy Diamond" guitar bolted onto "Art For Art's Sake". We could have done with more than a guest slot from Kevin Godley, who sang the album obscurities "Old Wild Men" and "Sand in Your Face" as well as appearing during the encore – he sings great too. His coming and going also spoilt the flow. It was as if there was a lack of certainty about what a 10cc show should be.
Diversions weren't necessary. It would have been enough to allow this incredible British pop to speak for itself.
Watch the pre-10cc Hotlegs's promo film for "Neanderthal Man"
Many of 10cc's songs are so well known, so ubiquitous, they're like a magnolia paint job. But, boy they're good
rating
Explore topics
Share this article