Arena - Fela Kuti: Father of Afrobeat, BBC Two review - the music that never dies |

reviews, news & interviews
Arena - Fela Kuti: Father of Afrobeat, BBC Two review - the music that never dies
Arena - Fela Kuti: Father of Afrobeat, BBC Two review - the music that never dies
Intimate and in-depth portrait of West Africa's great cultural icon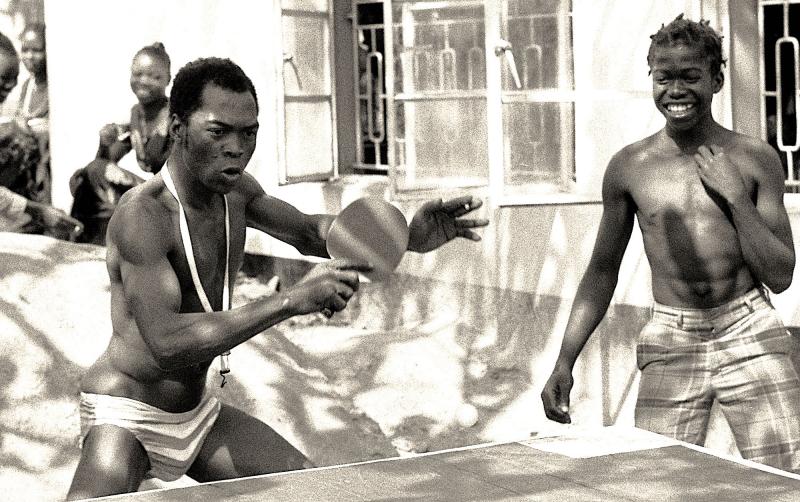 No zombie: Fela Kuti at play in his compound
There have been Felabrations, stage musicals, bands featuring his sons Seun and Femi that have continued the legacy. There has been the slew of re-releases from his massive catalogue, and a number of films, including Alex Gibney's Finding Fela, and the 1982 classic, Music is the Weapon. In his afterlife, the legendary Fela Kuti and his music feels more alive than ever.
More than 20 years after his death, and a funeral that attracted a million mourners (police claimed there were no crimes committed in Lagos over its three days)
Afrobeat
continues to pull dancers onto the floor in order to liberate them.
Created by Kuti, with the great late drummer Tony Allen in the engine room and up on the bridge too, guiding the voyage with the captain himself, Afrobeat is Kuti's gigantic take on funk, the music itself a mobile sculpture of seemingly fixed parts overlaid rhythm by rhythm to create a tangible, ever-moving cosmos of sound. Immerse yourself in his music deep enough, and you can almost believe what Fela himself ended up believing – that he was immortal, and not even the spectre of Aids, the virus that did kill him, could take him away. But take him it did. It went right through him, and moved on. If only he hadn't believed that condoms were "un-African".
In Saturday's Arena (BBC Two) dedicated to his life and legacy, we had a chance to look into his life, to poke around The Shrine, and his sacred compound of freedom from all constraints, Kalakuta. We heard his sons Seun and Femi, his daughter Yeni, and various wives and girfriends – Afrobeat WAGS – including Black Panther and political activist Sandra Izsadore, whose beauty, energy and ideology were key ingredients in what would become Fela's Afrobeat revolution.
Having studied at Trinity in London and played around the capital's jazz clubs, Kuti returned to Lagos musically maturing but politically naive, and it wasn't until he flew to LA in 1969, soaking up not only the post-hippie communal West Coast vibe but the rising Black Panther and Black Power movements, that politics entered his music. Until then, he was more likely to sing about what ingredients went into his soup. Seriously.
All that changed on his return from the US, and with the launch of Africa70, the manifestation of his Afro-hippie compound Kalakuta, and The Shrine, where the music and the audience for that music plunged deeper than deep. Director Biyi Bandele's 90-minute documentary film is packed with previously unseen footage and makes for an absorbing survey of the life and music, of the politics and ecstasy, and of the Nigerian junta's fear and hatred of Kuti that would eventually boil over into horrific violence.
We also meet many the people who supported him throughout – fans, lovers, family, associates, as well as band members including Tony Allen, and musicians such as Nile Rodgers and Questlove reflecting on Kuti's legacy and influence on 21st-century megastars, including Beyonce. The likes of Wole Soyinka and Angelique Kidjo (pictured above) contribute their memories and reflections, as well former manager Rikki Stein, from whom we discover a deeper reason for the junta's dismay at the goings-on at Kalakuta – the young women who'd joined him for music, sex, freedom and drugs at the compound weren't from the streets but from Nigerian society's crème de la creme – one of his wives was the daughter of the chief justice of Nigeria. That gets you noticed, for all the wrong reasons.
The soundtrack is electrifying, and the intimate footage of the performances at the Shrine, and of his dancers painting their faces for performance, is a vivid peek into an extraordinary and singular moment in African and 20th-century culture, one that helps to ensure the immortality he didn't attain in physical form is there in his musical legacy.