Wadjda |

reviews, news & interviews
Wadjda
Wadjda
A small story speaks out strongly in first-ever feature from Saudi Arabia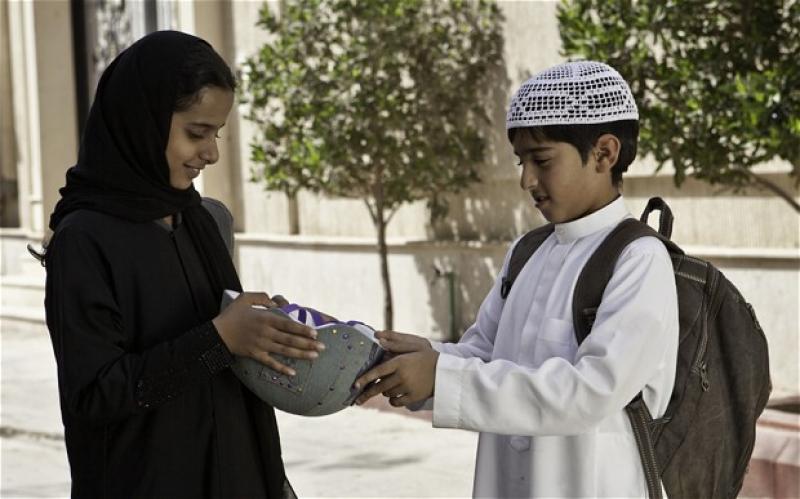 The gift of a bicycle helmet as a mark of first love in Haifaa Al-Mansour's 'Wadjda'
In the independent cinema world, the question of where exactly a director hopes to find his or her audience never goes away. On home ground? Around the international festival circuit? Or in a lucky combination of the two, when a film resounds both locally and beyond its native land? It was always going to be a tricky issue for Haifaa Al-Mansour's Wadjda, the first full-length feature to come out of Saudi Arabia, where cinemas simply do not exist – they are banned.
And the fact that it's a woman director who has set the Saudi film industry in motion challenges further our expectations of the territory.
Wadjda has already achieved festival acclaim, from Venice 2012, and later, no less importantly, in Dubai, the closest to a home audience (at least on the big screen) that Al-Mansour is presumably going to get. Her eponymous child heroine from the outskirts of Riyadh, whose ambitions fly high beyond expected opportunities – as do her abilities to solve the problems that life throws at her – has already proved that she can speak to filmgoers across languages and cultures.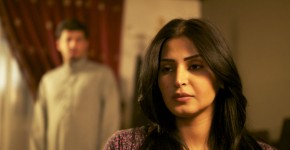 And what might we compare a Saudi film to? To Iranian cinema, a country with a rich history of films about children? Then there's the issue of co-production – Wadjda is a Saudi-European production, which drew considerable backing, both financial and crew-wise, from Germany – and you wonder whether allegiances are already so blurred as to make the issue of nationality irrelevant. But there's always the risk, as with some recent output from former Soviet Central Asia, that the result ends up interesting more for a sense of local "ethnos" than as cinema.
The answer most often proves to be to speak simply, and on eternal themes, with as authentic a local accent as possible. Wadjda (a debut role from non-professional Waad Mohammed) is a 10-year-old with attitude and independence of mind, discovering life's opportunities, and encountering at the same time the restrictions her culture imposes on her sex. School is dominated by a severe headmistress (credited only as Ahd, the actress plays repression at full throttle), while home life involves a loving, if distracted, mother (Reem Abdullah, pictured above right), whose fear is that her non-resident husband is about to be spirited away into a second marriage.
Closest companionship comes with a boy her own age, Abdullah (Abdullrahman Al Gohani, with Waad Mohammed, main picture), with whom the otherwise strict rules of male-female encounters don't yet apply. He has a bicycle, and she longs for one too, as much for a form of self-assertion and liberty as because she can ride one (she can't). But bicycles are on the edge of taboo for girls, and they cost too much, even for Wadjda, who's something of a natural entrepreneur, though far from the best student. When a competition for Koran recital comes along, with a considerable prize attached, she sets her mind on winning (below left, Koran class).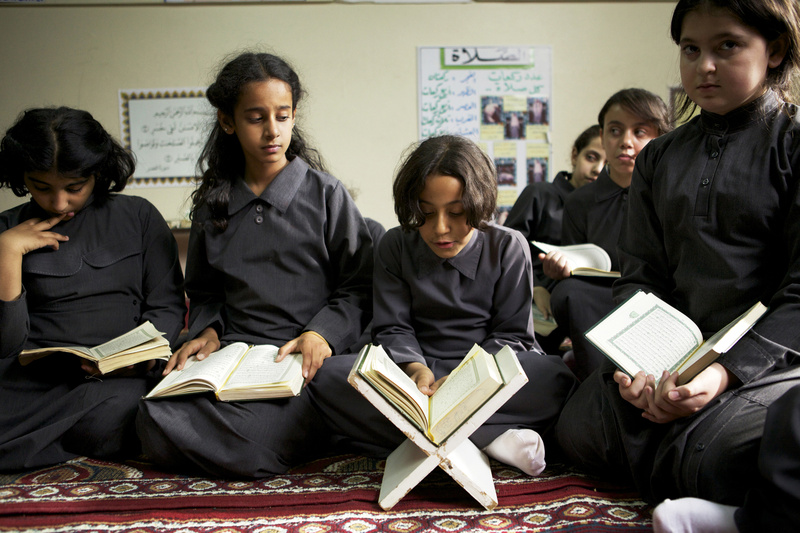 Narratives based on achieving goals against all the odds are hardly new. British models from the last decade or so involving ballet and football spring to mind, and Al-Mansour undoubtedly knows such predecessors. Not everything in her film works completely. It can occasionally seem melodramatic, there are arguably redundant plot elements, and some of the dialogue feels stilted. What stands out is a sense of reality truthfully observed, even if it's a reality we might not immediately associate with its Saudi context. And the cheeky, sometimes sulky but more often winning face of its young heroine speaks, and sometimes sings, with true individuality. Wadjda ends on a bittersweet note, and stays in the memory.
Wadjda is released on Friday July 19.
Watch the trailer for Wadjda