Variety spikes own critics |

reviews, news & interviews
Variety spikes own critics
Variety spikes own critics
Venerable entertainment journal ruthlessly 'rationalises'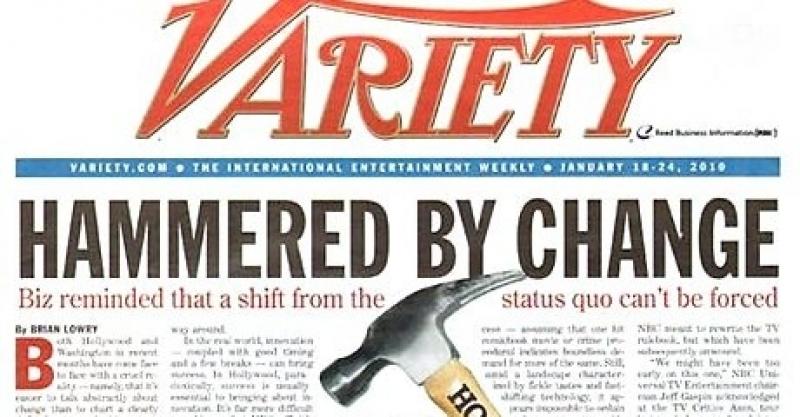 Variety, the most venerable entertainment trade journal in America, is sacking its chief film and theatre critics, including the man for whose film reviews many people read the magazine, Todd McCarthy.
According to a leaked internal memo from editor Tim Gray to editorial staff, "It doesn't make economic sense to have full-time reviewers, but Todd [McCarthy, chief film critic], Derek [Elley, senior film critic] and Rooney [David Rooney, chief theatre critic] have been asked to continue as freelancers."

The memo prefaces this by saying: "Today's changes won't be noticed by readers," which manages to insult both the departing critics and Variety's readership. The leading Chicago film critic Roger Ebert blogged yesterday that he was unsubscribing from the magazine on the news of McCarthy's dismissal - if it could fire its best-known critic, he said, could Variety itself long survive?

What is most worrying is that Variety, even with its new paywall business model, doesn't feel that it can support full-time reviewers. Variety's paywall means that you can only access up to five articles a month before you have to pay to subscribe; paywalls are being rolled out across media brands on the internet.

There is also a clear degree of panic in the memo: "Ignore the bloggers (who obviously are trying in vain to steal our readers and our advertisers)." Those bloggers almost certainly include the acute, fearless and favourless Nikki Finke, with her Deadline Hollywood Daily, which has been screwing Variety to the wall for a while now. And – in possibly a valuable lesson to Variety – her blog has just been sold to a large media company.

Variety, founded in 1905 in New York to cover vaudeville, before evolving into the leading entertainment weekly for Hollywood too, has not covered itself in glory lately anyway - what with a director threatening to sue after he paid $400,000 for an ad campaign in the magazine to promote his movie, only for the magazine to turn round and give it a terrible review. Revealing its integrity, Variety pulled the review when the director starting making noises.

Nevertheless, Hollywood runs through Variety's veins, including the hometown principle which requires you to shut up about your problems: "Be sensitive to co-workers," the memo says. "Doom-&-gloom helps no one. It may make you feel better to talk about your darkest fears, but it might make them feel worse." One may almost be certain it is the sacked critics who probably feel the worst.
Explore topics
Share this article