Tove review - tasteful portrait of the Moomins creator |

reviews, news & interviews
Tove review - tasteful portrait of the Moomins creator
Tove review - tasteful portrait of the Moomins creator
Nicely made lesbian love story about Tove Jansson's evolution as a romantic and as an artist
Alma Pöysti as Tove Jansson with her lover Vivica Bandler (Krista Kosonen)
Even for this reviewer, who was brought up on Tove Jansson's quirky children's books (and is the owner of some 50 different Moomin coffee cups), it's a stretch to recommend dropping everything to go and see Tove in the cinema. There's nothing wrong with the film as far as it goes, but unfortunately it doesn't go quite far enough.
This is a pretty straight
biopic
of the not-so-straight
Finnish
artist and writer. It concentrates on her on/off love affair with the aristocratic and promiscuous Vivica Bandler, somewhat at the expense of exploring her work.
Those lucky enough to have seen the excellent Jansson retrospective at the Dulwich Picture Gallery back in 2017, will be frustrated not to see more of her extraordinarily varied art, as well as the evolution of the Moomins from a newspaper comic strip to a universe. And those familiar with the documentary, Moominland Tales: The Life of Tove Jansson (shown by the BBC in 2019), will feel short changed; Tove the feature film ends just as the artist takes up with the love of her life, Tuulikki Pietilä and long before she immerses herself in island life, the source of her most-loved work for adults, The Summer Book. Currently at the Walthamstow Wetlands there's a small exhibition of Jansson's work and a Moomin trail. It's worth visiting for the extracts from the wonderful 1998 documentary, Haru, Island of the Solitary, which featured Jansson and Pietilã battling the elements on their tiny island.
Enough with the alternatives to Tove the film; for fans of nicely shot period dramas, complete with 1940s silk panties dropping tastefully to the floor and lashings of bohemian types dancing wildly to Benny Goodman and Glenn Miller, Tove will do very nicely. Alma Pöysti is excellent in the central role, she's on screen a lot and conveys a huge range of emotions and thoughts with her striking blue eyes and expressive, unconventional face. We first meet her as a dutiful daughter born into a family of avant-garde, Swedish-speaking artists. Her famous sculptor father Viktor Jansson (Robert Enckell) is something of a chauvinist and dismissive of her drawings of Moomins ('that's not art'). She tries to win grants for her painting from the Finnish art fund but fails. Jansson's anti-Nazi cartoons, caricatures and cover images for the Finnish satirical magazine, Garm, brought her acclaim and became the birthplace of the Moomins. At their peak, the comic strip was published in forty countries in over 120 newspapers. This international success was a mixed blessing. It allowed her to paint and live independently but the demand for more Moomin tales in comic strip and book form, took Jansson away from painting.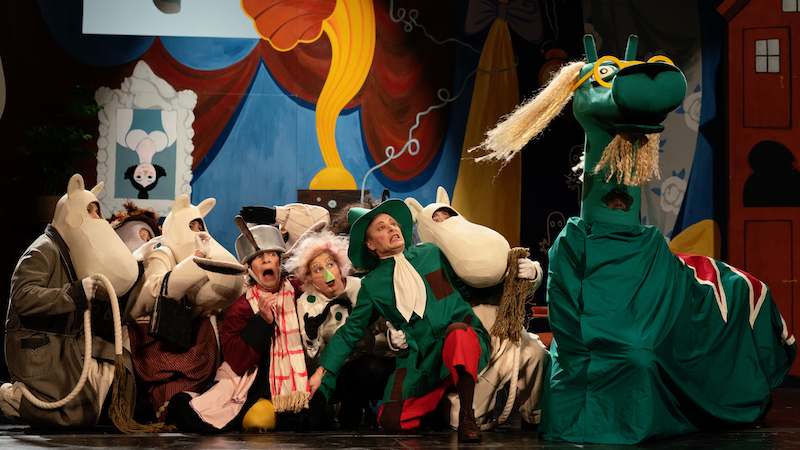 Tove concentrates on her love life – Jansson has an affair with a married politician and is romantically pursued by the political philosopher Atos Wirtanen, who has all the hallmarks of soul mate. But there's some special spark missing and all becomes clear when she falls head over heels in love with the glamorous Vivica Bandler (Krista Kosonen), the daughter of the mayor of Helsinki and an aspiring theatre director. Their stage production of Moomin in Comet Land debuted in Helsinki in 1949, and is recreated here (above) - it's especially poignant as Alma Pöysti's grandmother was in the original cast. Vivica moves to Paris (cue Edith Piaf) and breaks Tove's heart with her philandering, and Pöysti is particularly good in these scenes. It would have been interesting to have a wider view of life in Finland during WWII, but this is very much a film of carefully art directed interiors. And for a love story about lesbian romance, Tove is pretty restrained, there's no nudity or heavy breathing. The highly experienced Finnish director Zaida Bergroth knows where to put the camera to convey just enough passion without frightening off younger Moomin fans.