Tiny Furniture |

reviews, news & interviews
Tiny Furniture
Tiny Furniture
Lena Dunham's second feature is another ingenious mash-up of life and art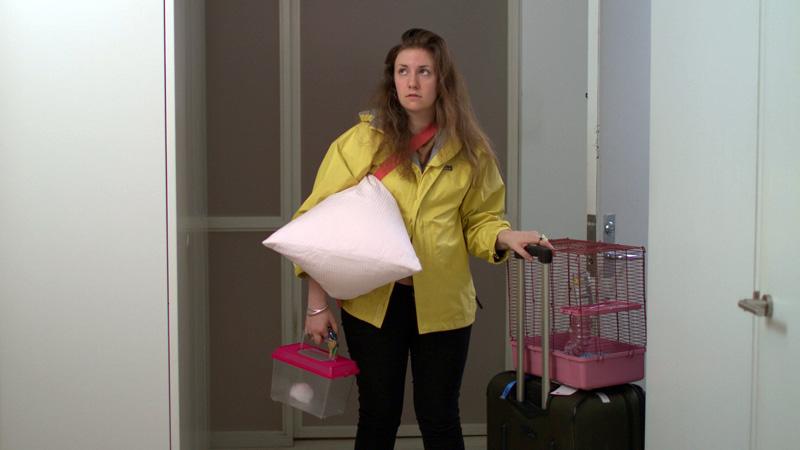 The prodigal child returns? Lena Dunham in 'Tiny Furniture'
Perfectly peculiar and as cute as can be, Tiny Furniture is the second film from writer/director Lena Dunham. Her first, Creative Nonfiction (2009), was based on her own romantic woes, shot whilst she was attending college and featured a cast of non-professionals - mostly her friends.
Its adorably titled, professionally produced successor sees Dunham still working very much with what she knows: she features in the starring role, alongside her mother, sister, (some) friends and it's part set in her family home. In
Tiny Furniture
the colourfully calamitous, low-key adventures of Dunham's alter ego have just the right measure of offbeat appeal.
Dunham plays the hapless Aura who heads home to Tribeca, New York after graduating from university. She's been ditched by her boyfriend of two years who has returned to Colorado ("Something about having to build a shrine to his ancestors out of a dying tree"). With a pet hamster, a useless degree and some embarrassing YouTube videos to her name she moves back in with her successful photographer mother Siri (Laurie Simmons) – whose miniature compositions provide the inspiration for the title – as well as her precocious, combative teenage sister, Nadine (Grace Dunham), who at 16 is already an accomplished poet.
Aura quickly forgets what it's like to have privacy: her mum wakes her up in the morning by sniffing her and asking, "Did you perspire in the night?" Then there's an impenetrable filing system which involves walls of identical white cabinets. On the hunt for lightbulbs Aura comes across her mother's college diaries which she begins reading "illegally", drawing comparisons with her own situation. Post break-up, her romantic relations awkwardly flounder. She's set up with a fellow "YouTuber" - the bone-dry Jed (Alex Karpovsky), who turns out to be something of an indolent opportunist - and simultaneously begins a flirtation with a caddish sous chef, Keith, which leads to sex in a hilariously unlikely location.
With plot all but forgotten, performances rise to the fore. Although the interactions with her family members are occasionally stilted, Dunham is impressively unselfconscious throughout her many indignities and has an understated believability. She's the unfussy centre, often playing second fiddle to her co-performers. As her chaotic and heavily medicated former best friend Charlotte (described as: "totally crazy, but in a really fun way"), Jemima Kirke (above right) makes quite the impression in her feature film debut. While inexperienced actors command the most screen-time, it's not totally devoid of familiar - ok, fairly familiar – faces. David Call (Gossip Girl) features as the spectacularly unsuitable Keith and, particularly pleasing, is the all-too-fleeting appearance of the ever delightful Merritt Wever (Nurse Jackie, Greenberg - above left) as Aura's college buddy Frankie.
Tiny Furniture is a gently humorous, less-is-best US indie flick for those who love Hal Hartley (The Unbelievable Truth) and early Richard Linklater (Dazed and Confused), as well as their more recent "mumblecore" imitators such as Andrew Bujalski (Mutual Appreciation). It's inarguably indulgent and far from flawless but Dunham has a keen eye, a sharp pen and a surfeit of goofy charm and she's sure to win you over with her propensity for humiliation.
Tiny Furniture is out on Friday
Watch the trailer for Tiny Furniture
Dunham has a keen eye, a sharp pen and a surfeit of goofy charm
rating
Explore topics
Share this article