Testament of Youth |

reviews, news & interviews
Testament of Youth
Testament of Youth
Vera Brittain's First World War memoir prettifies the pain
Saturday, 17 January 2015
Touching (up to a point): Alicia Vikander and Kit Harington in `Testament of Youth'
If proof were needed that war exists in some quarters as an excuse for beautiful images, along comes this screen account of Vera Brittain's celebrated 1933 memoir Testament of Youth to offer up prettified pain in abundance alongside some fine performances that do what they can to break through the prevailing gloss.
First-time feature director James Kent's film can be seen as the converse to something like, say, the awful
Unbroken
, which rubs our noses almost fetishistically in suffering and torture. But surely some sort of possible middle ground exists whereby this fascinating story could amount to more than a series of visually alluring postcards. This cast, for one thing, deserves better.
Whatever else the film achieves, it is sure to ramp up the star quotient of Swedish leading lady Alicia Vikander, who suggests a second Felicity Jones in her button-nosed appeal and unforced vibrancy. Vikander plays Vera, the brainy proto-feminist caught in the mounting crossfire of both romance and war. Her own desire is to make her way to Somerville College, Oxford, much to the consternation of her father (Dominic West), who considers higher education for marriageable women a waste of time. Vera's mum (Emily Watson) doesn't offer much of an assist, her sweetness tempered by precisely the very ineffectuality that her daughter refuses to accept as her lot.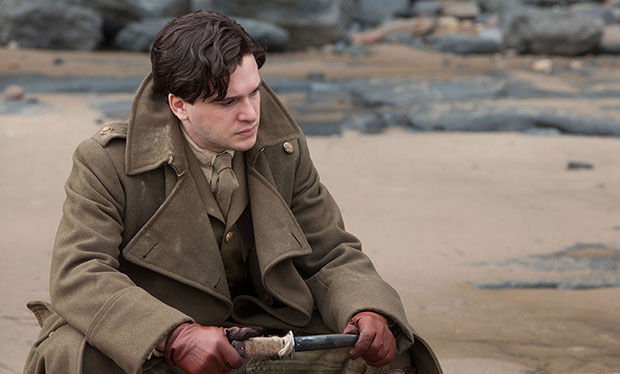 But as the First World War gathers pace, Vera finds that she must put academe on hold, her commitment to nursing the men who have gone to battle amplified by a twofold connection to those who have enlisted. For starters, her brother Edward (Taron Egerton) has gone off to fight, as has the love of Vera's young life, the poet Roland Leighton (Kit Harington, pictured above), with whom Vera had once dreamed of a blissful time together at university. With that prospect in tatters, Vera shifts her keen intellect to being simply the best and most attentive carer, friend, and lover she can be for as long as circumstances permit.
That she comes to know a sorrow of which no one so young should have so full an acquaintanceship provides the emotive substance of a film that is steadily determined to provoke tears, and only the most scarily hard-hearted will remain dry-eyed by the end.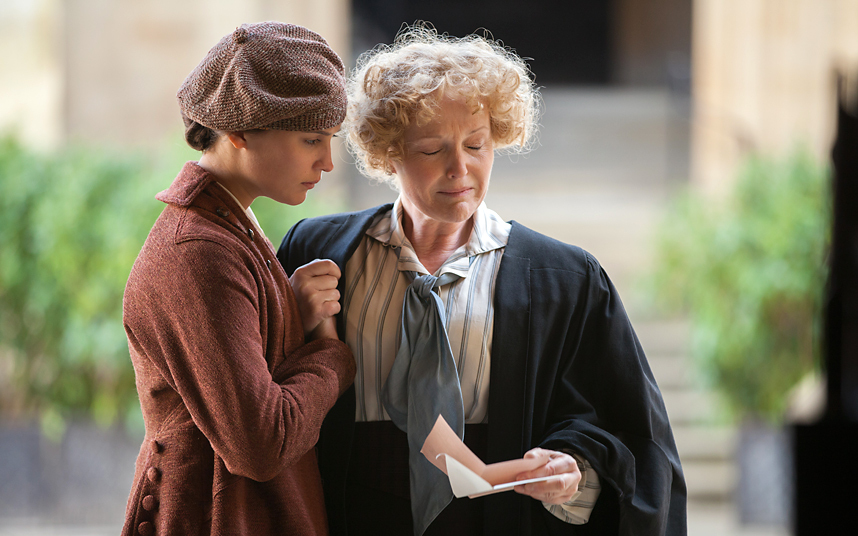 The genuine pathos generated by events notwithstanding, one might still have wished for slightly more rigour from both Kent and the author of the screenplay, Juliette Towhidi (Calendar Girls), in what, after all, is the second screen treatment of Brittain's near-iconic book. (Cheryl Campbell and Peter Woodward led the cast of the last one, which was a 1979 mini-series made for the BBC). Time and again, one is left admiring the pictorial beauty of a shot, often at the expense of the contrastingly grim content. The resulting visual disconnect extends to the cast, who seem on some level to have been chosen to provide a collective case study in beauty cut short by the blight of battle.
That said, the actors are all extremely fine, with special credit extending not just to Vikander but to Colin Morgan in wonderfully open-hearted form as a fellow member of an all-but-lost generation and Miranda Richardson (pictured above with Vikander) as a blissfully starchy tutor who over time learns a thing or two herself about grief.
Overleaf: watch the trailer for Testament of Youth
Time and again, one is left admiring the pictorial beauty of a shot, often at the expense of the contrastingly grim content
rating
Explore topics
Share this article