Suite Française |

reviews, news & interviews
Suite Française
Suite Française
An extraordinary novel of occupied France becomes ordinary cinema
Kurt (Tom Schilling) makes himself at home with Lucille (Michelle Williams) and Madeleine (Ruth Wilson)
Saul Dibb dispenses with the first half of Irene Nemirovsky's great novel Suite Française in about a minute. Grainy newsreel footage disposes of the Fall of France in 1940, then it's on to the occupation of Bussy, the country town where Lucille (Michelle Williams) falls for gentlemanly German officer Bruno (Matthias Schoenaerts, pictured below with Williams).
Their unconsummated, forbidden affair under the gimlet gaze of mother-in-law Madame Angellier (Kristin Scott Thomas) is the focus of this plainly filmed period romance, as the posters suggest it will be. Lovers of the novel will be disappointed by that, and much else.
Reading Suite Française is inseparable from the knowledge of how it was written, and why it was unfinished. Nemirovsky, a Russian Jew who became a literary star in Paris after her family fled the 1917 Revolution, retreated to the supposed safety of the countryside after France's defeat, but was arrested by the French police and murdered in Auschwitz in 1942. She left three-fifths of her final novel unfinished, and it was unknown till its sensational 2004 publication. Even in its brutally curtailed state, it is a revelatory, minutely-observed epic of France's defeat and occupation, written when the war's end was unknowable. It is astonishingly generous to the Nazi invaders, young men far from home who are objects of sexual fascination for the female villagers. It is "loathsome" French behaviour in the face of this catastrophe that she unsparingly documents. Savage moments of cowardice and betrayal are set against defeated ideals and decency.
Dibb adds clumsy hindsight, and action scenes which seem designed to sex up the trailer. Convinced Nazi Kurt (miscast, unthreatening Tom Schilling) is simplified into a sneering villain who Sam Riley's villager Benoit beats in a nonsensical fight that strips his own murderous violence of any ambiguity. Riley then escapes a German platoon on a motorbike seemingly borrowed from Steve McQueen. Nemirovsky had daring deeds of resistance planned for Benoit in unwritten chapters, but these scenes are ludicrous. Lucille's later heroism, and Bruno's bizarre collaboration in it, invent a climax belonging to a quite different, more conventional war story. Executions and persecution of Jews are also added, to take account of wider and later events Nemirovsky only fully experienced when she was herself murdered. Her insistence on honest observation, unclouded by her silencing and financial ruin by anti-Jewish laws and her premonition of the fate closing on her as she wrote, is replaced by story-elements fitting post-war perceptions. By the end, the main French characters are all good Resisters in the face of jackbooted Nazi tyranny. The novel isn't so simple about either side.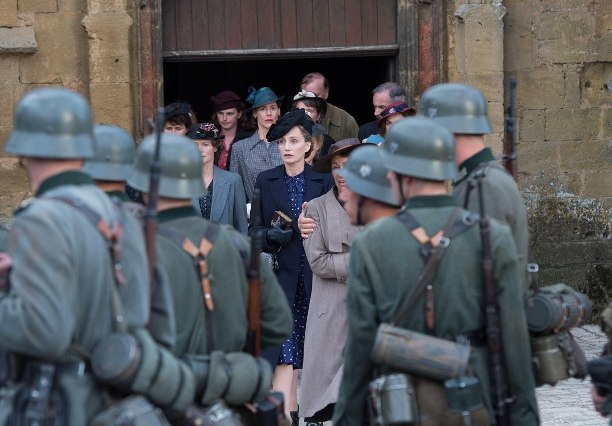 Michelle Williams is the film's most alive element. She's filmed much as she was in Sarah Polley's Take This Waltz, the camera hovering with sensual closeness to her face, watching her skin flush and warm. Her hungry kissing of Bruno, their one grabbed moment of release, has an immediacy absent elsewhere. The terror of a dive-bombed refugee line early on, ultra-modern Stukas buzzing in the sky like nightmare UFOs, is the only other cinematic flourish.
Nemirovsky's face, the fact of her murder, and her heavily worked-over manuscript are the last things we see. Dibb's tribute to the author is honourably meant. But his crude distortions do her novel a grave disservice.