Stonehearst Asylum |

reviews, news & interviews
Stonehearst Asylum
Stonehearst Asylum
A superior, all-star Gothic melodrama, with more ideas than thrills
Danse macabre: Dr. Lamb (Ben Kingsley) and some suitable cases for treatment
Stonehearst Asylum is bookended by classic Hammer horror scenes. Within minutes of Dr Edward Newgate (Jim Sturgess) being dropped off at the titular, fog-bound mansion by a swiftly exiting coach and horses, he meets a full-blooded Gothic gang: stiff-backed asylum overlord Dr Lamb (Ben Kingsley), his leering henchman Mickey Finn (David Thewlis), and beautiful, sexually terrified Eliza Graves (Kate Beckinsale).
Elsewhere on the premises lurk Dr Salt (Michael Caine) and Mrs Pike (Sinead Cusack). This enviable cast relish Joe Gangemi's archly witty script, and its finally moving debate on who is mad, and what can be done for them.
This is a faithful adaptation of the obscure Edgar Allan Poe tale "The System of Doctor Tarr and Professor Fether", a story short enough to, as with the Sixties Roger Corman Poe cycle, leave its adapters ample room to extrapolate as they please.
Poe's brief scene of a demurely dressed woman with "a certain restless brilliancy about her eyes" playing piano in the asylum-master's study becomes a part which stretches Kate Beckinsale, in ways Hollywood rarely has. Her nervous dignity and claw-fingered convulsions dramatise Victorian attitudes to female "hysterics", shown as the true horror here when an Oxford professor (Brendan Gleeson enjoying himself as a posh English bastard) can hardly wait to experiment on her uterus and breasts. Though Sturgess is very good as the innocent in love with her, Beckinsale's top billing still leaves her subsidiary to him, the sort of sexism her character chastises his for (Beckinsale and Sturgess, pictured above).
Ben Kingsley's Dr Lamb generates his own pulsing-veined, suppressed hysteria, and some of the dangerous charisma Kingsley displayed in Sexy Beast. Lamb's idealism in giving the lunatics the run of his asylum has a nobility emphasised by his service in the Victorian Afghan wars. Kingsley memorably played another Afghanistan veteran, Dr Watson, as the frustrated brains behind Michael Caine's idiot Holmes in Without a Clue (1988), and the two actors relish their sparring here, as doctors with very different attitudes to insanity (Caine, pictured below). Though Lamb is the villain in conventional terms, he's a tragic hero too.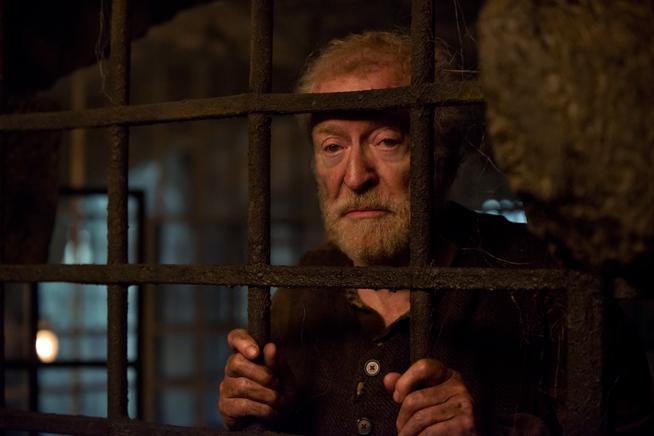 Director Brad Anderson hasn't made the exceptional horror-comedy in his grasp because there's no fear here. Gothic horror just provides the set-dressing for a film which starts full of ripe humour ("Why make a miserable man out of a perfectly happy horse?" Lamb enquires, feeding an equine fantasist an apple), then fatalistically examines mental and social order ("You can't cure the human condition," he laments). All this is leavened by Sturgess and Beckinsale's touching, rebel romance, shifting the mood from tongue-in-cheek to hand-on-heart. That light touch won't please those wanting hotter-blooded stuff, or the delirium Poe gave his tale. Stonehearst Asylum is instead an unusually reflective entertainment. It honours both its Gothic forebears, and generations of victims of mental health "cures".