Source Code |

reviews, news & interviews
Source Code
Source Code
On-form director Duncan Jones proves that Moon was no fluke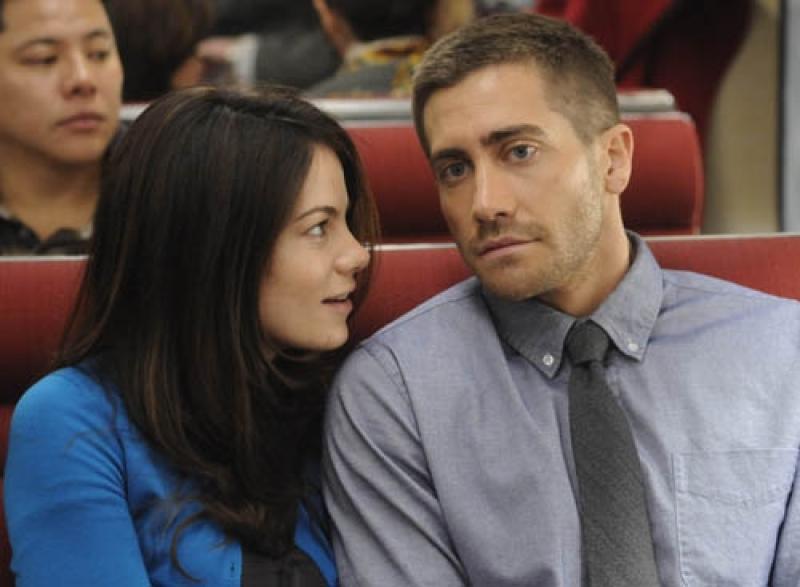 Michelle Monaghan and Jake Gyllenhaal keep meeting up over and over again
With his debut film, Moon, Duncan Jones demonstrated that a sci-fi movie doesn't have to depend for its success on fleets of warring spacecraft or flesh-eating alien monstrosities. He's done it again with Source Code, a cool and clever thriller in which futuristic anxiety and mind-bending scientific theory are firmly anchored in almost mundane reality.
Indeed, what could be a more ordinary setting than a commuter train shunting its load of commuters from the suburbs towards their metropolitan destination (in this case, Chicago). This is where we first meet Jake Gyllenhaal's protagonist, who awakes in a seeming amnesiac state to find himself sitting opposite Christina (Michelle Monaghan). She's talking to him as if she knows him, but he hasn't a clue who she is. Bewildered, he visits the washroom, but the face he sees in the mirror belongs to another stranger, a schoolteacher (as he discovers from the wallet in his pocket) called Sean Fentress. Then the train is vaporised by a massive explosion.
Now we discover that Gyllenhaal is really Captain Colter Stephens, a military helicopter pilot and combat veteran from Afghanistan, on attachment to a super-secret Air Force research project. He re-awakens inside a cramped isolation capsule, and can only communicate with his handler, Captain Goodwin (Vera Farmiga), over a video link. The titular "source code", we learn, refers to the eight-minute vestigial memory in a dying person's brain. By means we mere laypersons can't hope to comprehend, Stephens is being projected back into the body of Fentress, who died on the train which was destroyed by a terrorist bomb. But a second, nuclear device is going to be detonated in Chicago, and Stephens's mission is to use his eight-minute "time displacement" trips to find clues and identify the terrorists (Duncan Jones on set with Gyllenhaal and Monaghan, pictured below).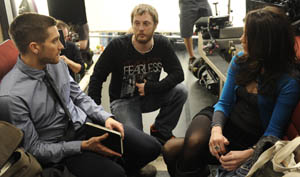 This notion of the time-travelling seeker hopping in and out of other people's bodies invites comparisons to the TV series Quantum Leap, and Stephens's repeated trips back to the train carriage, where he gradually accumulates more information about people and events in between being blown to smithereens each time his eight-minute window expires, project a distinct whiff of Groundhog Day. In fact, despite the deadly seriousness of his mission, there's even the occasional glimmer of a black humour that Bill Murray himself might appreciate.
What makes Source Code tick (apart from the large bomb which Stephens progressively learns to find and disarm) is the degree of nuance and subtle character development which a talented cast bring to Ben Ripley's absorbing screenplay. For a while you can't see how the story is going to break out of its self-imposed loop, but Gyllenhaal and Monaghan gradually develop a warm and credible rapport, while the captive cast of railway passengers begin to reveal their own quirks and traits. Director Jones cannily leads the viewer to clues which Stephens himself misses, or sends him off chasing red herrings, so you're clenching your teeth and cursing him for his slowness.
Meanwhile, fragments of a broader strategic picture emerge. We gather that the source code project is located at Nellis Air Force Base in Nevada, that it's the pet obsession of gruff, impatient Dr Walter Rutledge (Jeffrey Wright, pictured left with Vera Farmiga), and that he's touting it as a critical breakthrough in the War on Terror. The implication is that the ends justify the means, and as the action progresses through its lean 93 minutes, we sense that Stephens may be as much a victim as the murdered train passengers.
Captain Goodwin clearly feels an emotional attachment to Stephens, and suffers pangs of ethical disquiet about what he's being put through. Stephens himself starts to figure out that nothing is what it seems, and his supposedly high-tech pod suddenly starts to look decrepit and ramshackle. It's as if he's living in a Matrix-style construct which is breaking down around him.
I daren't tell you much more, except to say that Gyllenhaal is developing serious chops as a quietly charismatic leading man, Ripley owes Monaghan and Farmiga big hugs for the way they've drawn so much from his script, and it doesn't end how you'd expect. As for Duncan Jones, it looks like he's entering his golden years.
Watch the Source Code trailer