The Punk Singer
The Punk Singer
Unquestioning bio-doc on riot grrrl instigator Kathleen Hanna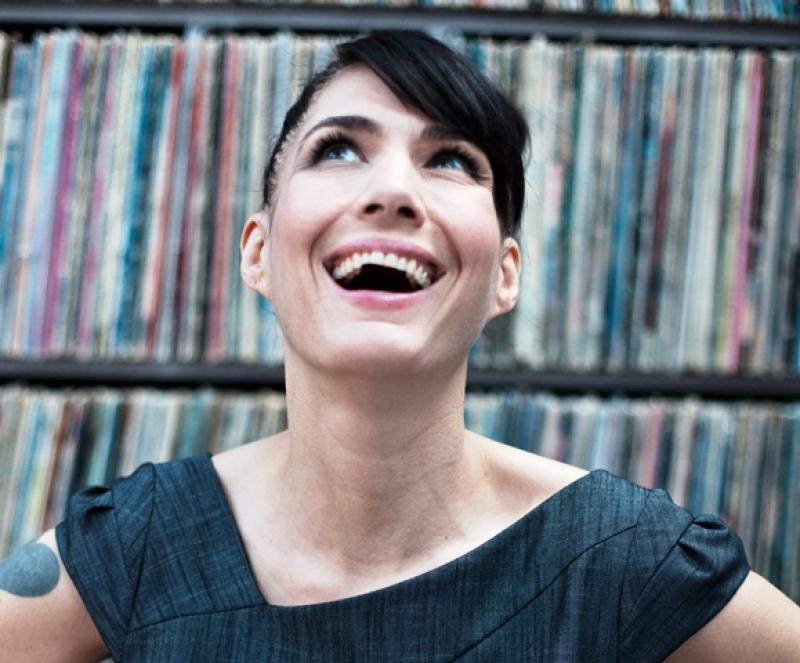 Kathleen Hanna: rightly and righteously uncompromising
"Somebody had to be Bikini Kill, otherwise we would have culturally starved to death." The quote typifies the deferential The Punk Singer, a bio-doc on the driven Kathleen Hanna, the feminist front-person of the American bands Bikini Kill, Le Tigre and, most recently, The Julie Ruin.
In contrast, Hanna herself was never and isn't deferential. Her vital importance to cultural and rock history is set in stone as, for the former, she initiated the Nineties feminist musical groundswell riot grrrl and, for the latter, she sprayed the words "Kurt smells like Teen Spirit" (a deodorant brand) on an apartment wall. Kurt was Nirvana's Kurt Cobain and the phrase was co-opted for his band's breakthrough single.
An engaging subject, Hanna talks about having played "the trust game" with her mother. As a kid, she would lean backwards and hope to be caught. Her mother let her hit the ground. It's a metaphor for her path as represented by The Punk Singer. With Bikini Kill, she confronted macho punk males and was abused. Her rage at the attempted rape of a flatmate fuelled her early music. She explains that in the early Nineties when Time magazine was declaring feminism dead, "we were just trying to take feminist stuff we had read in books and filter it through a punk rock lens." (pictured right: Bikini Kill-period Kathleen Hanna in 1996, photo by Sophie Howarth)
With this came confusion. Of her job as a stripper she says "I worked at MacDonald's and I was a vegetarian. I was a feminist and worked at the strip bar. I felt it was the same thing." It's a head-spinning declaration, but isn't elaborated and is just one frustrating moment amongst many.
There were conflicted feelings too. Her explanation of how she dealt with dealt her independent-minded punk ideals after falling in love with Adam Horowitz – now her husband – of successful band Beastie Boys is heartfelt and touching. Also moving is how she neglected her own health with serious ongoing consequences – not entirely her own fault and in no small part to due to incompetent doctors.
Despite Hanna's rightly and righteously uncompromising views, The Punk Singer is conventionally structured. Apart from a brief history of feminism, it's chronologically linear and zips along. As is now standard with rock docs, there are bewilderingly many contributors and it's impossible to keep track of who they all are. With Hanna herself, contemporary contributions are supplemented by archive interviews which foster a sense she knew all along that documentation would somehow be undertaken in the future. (pictured left: Bikini Kill-period Kathleen Hanna, photo by Pat Smear)
This seems a fair assumption as Bikini Kill were so influential and, in Hanna, had such a powerful voice and were media savvy. They were and are important which means they demand analysis, an aspect largely AWOL here. Beyond assertions that punk was the style of choice because its male-dominated, macho audience needed challenging, no other reason than low musical skills is given for why this type of music was adopted.
Female punk or punk-related forebears barely get a nod. Sonic Youth's Kim Gordon (who Bikini Kill played with) and The Runaways's Joan Jett (who produced Bikini Kill) are seen, but there is no mention of, say, San Francisco's female-fronted Avengers, X-Ray Spex (who Bikini Kill sounded like), UK Anarcho-punk bands like The Poison Girls or Rubella Ballet, or even Blondie or Patti Smith. X, The Slits, Kleenex or Cobain faves The Raincoats? Nary a whisper. Hanna must have been aware of all of them. Curiously, the T-shirts Bikini Kill wear in live sequences are for male punk archetypes 999 and The Jam. The current-day Hanna sports a T-shirt for the male-fronted hardcore punk band Black Flag (pictured below right, photo by Allison Michael Orenstein).
Hanna moved forward musically after Bikini Kill's implosion with the wonky art-pop of Le Tigre. It's impossible not to wonder what influence the similar and just-earlier Germany-based Chicks on Speed had on Le Tigre. The question is not asked. The solo Julie Ruin album comes across in the film as her most significant statement musically. Her current band The Julie Ruin are hard to assess as their time on screen is fleeting.
The written polemic seen on screen from art and fanzines includes the totemic yet pre-Spice Girls words "girl power". It would have been interesting to hear Hanna's take on The Spice Girls, who she may have inadvertently influenced. Her first encounter with Courtney Love is described. Love punched Hanna in the face. Neither Hanna or anyone else in The Punk Singer offers any suggestion why Love might have done this. Love, who does not appear, is no doubt the best person to ask but, again, it would have been interesting to hear Hanna's take on Love's motivation.
As a portrait of a driven, charismatic, righteous, unwittingly self-destructive and contradictory person, the disappointing The Punk Singer does that job but little else. This frustrating film suffers badly from a lack of distance and is a missed opportunity. Hanna and her bands are placed in a bubble. Ultimately, this feels like what she would have made, or have wished to have been made, about herself.
Overleaf: Watch the trailer for The Punk Singer
Watch the trailer for The Punk Singer