Penguin Bloom, Netflix review - stirringly acted if sentimental |

reviews, news & interviews
Penguin Bloom, Netflix review - stirringly acted if sentimental
Penguin Bloom, Netflix review - stirringly acted if sentimental
Naomi Watts triumphs over the treacle
After the fall: Naomi Watts in 'Penguin Bloom'
Two genuinely lovely performances elevate an often-simplistic tale in Penguin Bloom, based on a 2016 memoir of the same name.
Telling of the rehabilitation of an Australian
athlete
, Sam Bloom, who
–
true to her surname
–
learns to blossom anew following a terrible injury, this Netflix
film
is carried aloft by the integrity of leading players Naomi Watts and Andrew Lincoln. That same quality, alas, isn't always so apparent elsewhere.
Screenwriters Harry Cripps and Shaun Grant have gifted the narrative chores to Griffin Murray-Johnston, who plays Noah, the eldest of the Blooms' three young sons. And so it is Noah who informs us of the grievous incident that happened whilst on a family holiday to Thailand in 2013 where a fence gave way and his mum, Sam (Watts), went hurtling to the ground and broke her back "at the bra strap", we are informed. And though the director Glendyn Ivin circles back to that fateful day, most of the movie finds Sam returned home by the Sydney beach adjusting to life in a wheelchair and to the difficulty of simply getting through the day.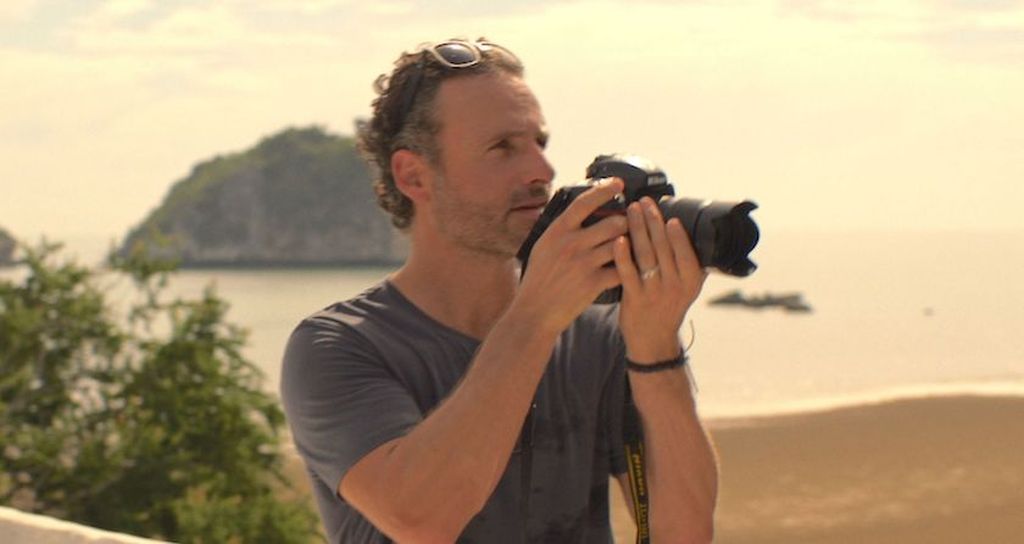 Lo and behold the providential amazement that ensues, therefore, when a wounded magpie enters their lives whom Noah is determined to call Penguin. Cue a symbolism-by-numbers story whereby Sam and Penguin follow parallel paths towards recovery, the bird finding within itself the very ability to take flight that, in its own way, will lead Sam towards kayaking and a renewed sense of self.
The hokeyness is inevitably leavened by a scenario rooted in fact, even if one has to wonder whether there weren't far more distressing down times along the way than a script fundamentally hellbent on inspiration will allow. Sure, there's the inevitable scene of Sam smashing things up in anger as best she can, and Silver Linings Playbook Oscar nominee Jackie Weaver is gleamingly onhand as a mother who can be counted upon to say the wrong thing, starting with the word "spastic". (I chuckled when Lincoln's ever-supportive husband Cameron, a photographer pictured above, suggests that perhaps the bird start paying rent.)
Magpies mate for life apparently, and it's not a stretch to see the applicability of such all-but-italicised information to the portrait of a marriage that on this evidence is only strengthened by what has befallen Sam. A wonderfully truthful actor, Lincoln shades an underwritten part to convey a generosity of spirit that is evident well before Cameron has spoken a word. And Watts, a magpie talent if ever there was one, pushes at the TV-movie confines of the prevailing conceit to present an emboldened spirit just waiting to take flight which, you know from the outset, Sam to her genuinely touching credit with time surely will.
Penguin Bloom is available on Netflix from 29 January
Hokeyness is leavened by a scenario rooted in fact
rating
Explore topics
Share this article