Pain & Gain |

reviews, news & interviews
Pain & Gain
Pain & Gain
A bright, breezy, cartoon-like take on cruel and stupid things people do to get rich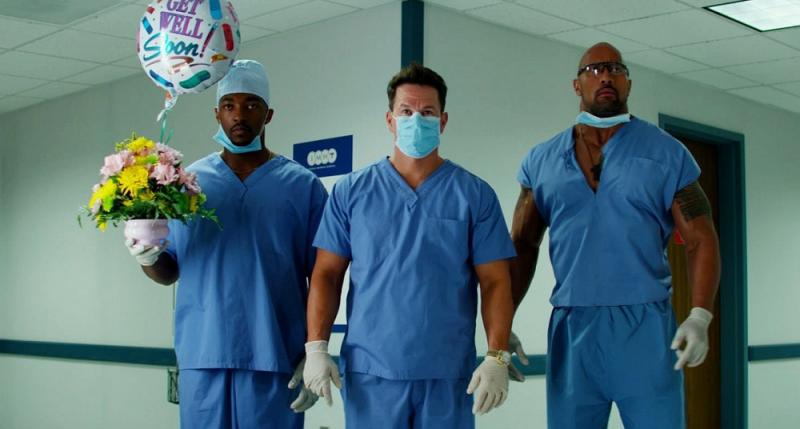 Anthony Mackie, Mark Wahlberg and Dwayne Johnson: not the kidnappers you'd want
Michael Bay's fleet-footed, queasy crime-comedy stars Mark Wahlberg, Dwayne Johnson and Anthony Mackie but the less you know, the more you might like it. This is because the more you know, the less it seems an acceptable source of entertainment. Not that Hollywood and movies in general have any qualms about morality, ethical behaviour or what constitutes "entertainment": we shouldn't laugh at the cry of "She's in the attic!" when discussing an actress's bad performance as Ann Frank, but, unfortunately, we do. Terrible stories often grip us the most.
So, let's get the true horror out of the way first. Pain & Gain is based on a series of articles written by Pete Collins and published in Miami New Times in 1999. (In 2013, Collins wisely timed the publication of his book on the case around the film's release date.) He tells of a gruesome crime – torture, kidnapping and murder – by some bodybuilders at a particular gym in Florida. The real story is pretty horrible. Look it up if you must.
Shalhoub is completely compelling if not totally heartbreaking
However, the film itself is a bright, breezy, cartoon-like take on cruel and stupid things people do to get rich. Three hapless bags of muscle (Wahlberg, Johnson and Mackie) want more out of life. Daniel Lugo (Wahlberg) is whipped into an idiot's frenzy by the great lifestyle enjoyed by Victor Kershaw (Tony Shaloub, pictured below), one of his new personal training clients. So, naturally, Lugo decides to extort all of Kershaw's wealth. Accomplices are Adrian Doorbal (Mackie) a 'roids-impotent bodybuilder and Paul Doyle (Johnson), an iron-pumping Christian ex-addict ex-con who reluctantly becomes part of the threesome after he beats up a priest.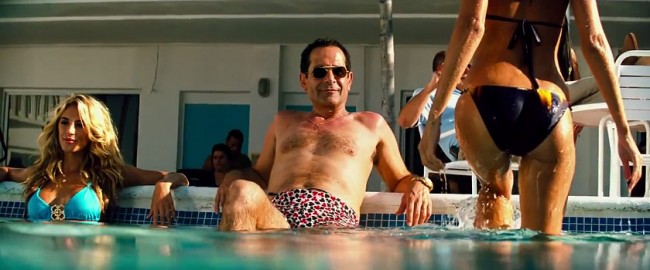 Botched tries at kidnapping Kershaw culminate in a horrendous attempt to kill him. He survives, but having already signed his money over to the criminals. As the police don't believe him, he engages Ed Du Bois III (Ed Harris) for justice. Meanwhile, the trio have blown all their money and decide to do this whole thing all over again to a phone sex magnet and his wife… You can see where this is headed, only now there's dismemberment, accidental death and more. This story is so bizarre it almost seems normal because anything goes in crime comedies. Besides, we know all the actors.
Pain & Gain is funny. The cast is wonderful. Shalhoub's Kershaw is completely compelling if not totally heartbreaking. Johnson is absolutely adorable as the chunky, tried-his-best-but-not-quite overgrown manchild. Mackie is tremendous too, with a nervy, crazy energy, lopsided logic and comedy chops we haven't seen before. Supporting cast includes Ken Jeong and the omnipresent Rebel Wilson. Bay's pace is so dizzying it's almost nauseating: will this bizarro-world story ever end? Pain & Gain is painful, mad and sad - an enjoyable yet guilty pleasure.
Overleaf: watch the trailer to Pain & Gain
This story is so bizarre it almost seems normal because anything goes in crime-comedies. Besides, we know all the actors
rating
Explore topics
Share this article