In Order of Disappearance |

reviews, news & interviews
In Order of Disappearance
In Order of Disappearance
Stellan Skarsgård kicks off a killing spree in the frozen north of Norway
Tuesday, 09 September 2014
Stellan Skarsgård's Nils contemplates suicide in 'In Order of Disappearance'
The frozen north of Norway seems an unlikely spot for a Serbian drug gang to be operating alongside a local mob, but this is the world which snow-plough driver Nils meets head on when avenging the death of his son. Throw in larger-than-life characters, cartoonish but very strong violence and a beautiful snowy backdrop and the result is the Norwegian film In Order of Disappearance, a revenge drama which doles out its thrills at a pace in total contrast to the bleak serenity of the landscape which defines this part of the world.
This formula has been seen before, most notably in the Norwegian zombie-Nazi shocker Dead Snow where undead members of the SS splattered the white vistas with copious amounts of blood. In the case of In Order of Disappearance (the original title is Kraftidioten, a usually Danish colloquialism meaning "prize idiot"), the tranquillity inside the Arctic Circle in a region usually visited by skiers is disturbed by conflict between two formerly non-violently co-existing gangs. It's a war fomented by Nils' search for the truth and vengeance.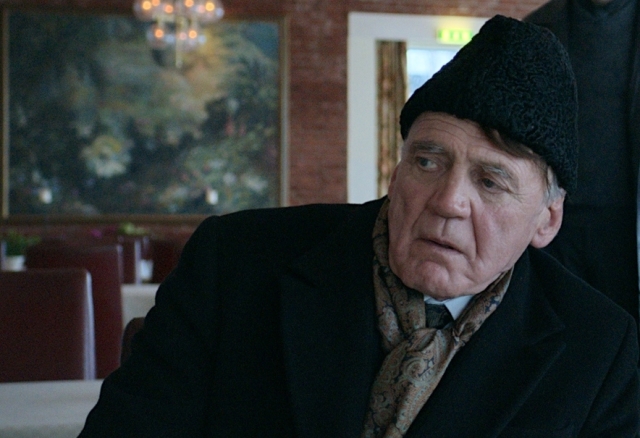 Stellan Skarsgård play Nils, a taciturn man living in the village of Beitostølen who diligently does his job of keeping the roads free of snow, has just been awarded the prize for Citizen of the Year. His home life is quiet, and he and his wife exchange few words. Despite this being Norway and Skarsgård and his character being Swedish, their life is as classically reserved Norwegians. This caricature leads to him being told, "You're as Norwegian as they come, without actually being Norwegian." (Pictured right, Bruno Ganz as Papa.)
The reserve defining Nils' life is shattered after he learns that his son Ingvar has died from an apparent drug overdose. The police aren't interested in investigating another OD so Nils, convinced Ingvar wasn't a drug taker, takes matters into his own hands. After a brief dance with committing suicide (main picture), he tracks down those involved in the death, begins killing them and unwittingly starts a war between the local gang, headed by Greven (The Count, played by Pål Sverre Hagen), a vain vegan weirdo with New Age leanings, and the Serbians, headed by Papa (an on-autopilot Bruno Ganz).
Nils' wife leaves him, saying she no longer knows him. She may have a point, as his brother turns out to be a former kingpin on the local crime scene. Greven has his own problems with taking care of his son and his estranged wife Marit, played as a parodic buttoned-up Dane by Borgen's Birgitte Hjort Sørensen. As the body count rises, each offed cast member is logged on screen. The deaths are often horrific and meted out in a way which brings humour before the gruesome end. Inevitably, the film climaxes with a shootout. (Pictured left, Pål Sverre Hagen as Greven.)
Although frequently funny, In Order of Disappearance is also grisly. With its oddball characters, duplicitous contract killer, bumbling police, implausible setting and mocking of national stereotypes (Danish writer Kim Fupz Aakeson had a hand in the story), it treads the line between satire and crime drama. It is broad, but mostly works due to the forceful presence of Skarsgård, whose preternaturally driven Nils switches abruptly from the calm to the fearsome.
Norwegian director Hans Petter Moland and Skarsgård have made three films together previously, most recently 2010's A Somewhat Gentle Man (En ganske snill mann). That was also the story of a quiet man who boiled over. The less overtly comedic In Order of Disappearance is its obvious offspring. (Pictured right, Birgitte Hjort Sørensen as Marit.)
This isn't, by any stretch, a great film but is a clever and diverting rollercoaster ride. It might also give any potential miscreants pause for thought if they think they'd get away with running a crime syndicate in a remote spot where people keep to themselves. Sometimes, the beast awakes.
Overleaf: watch the trailer for In Order of Disappearance
Watch the trailer for In Order of Disappearance