Océans |

reviews, news & interviews
Océans
Océans
The team that brought you Winged Migration turns its attention to the sea and everything that swims, floats or scuttles in it.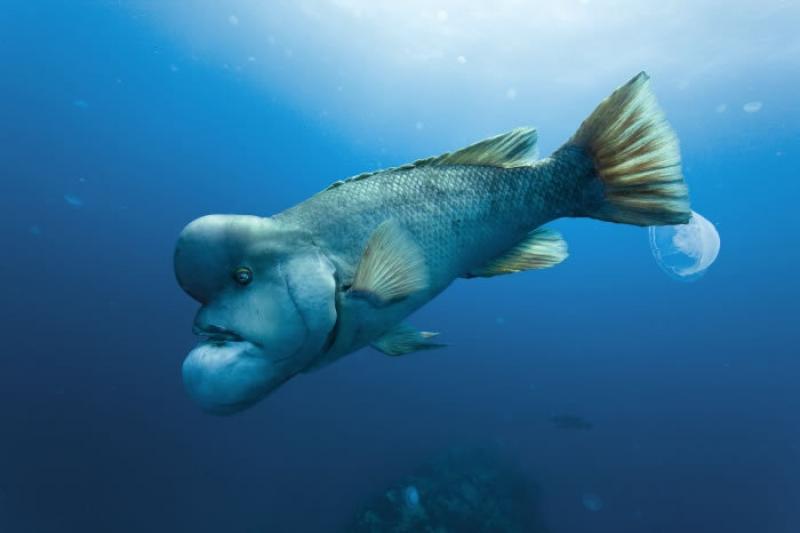 Just one of the funny-looking fish on display in Perrin and Cluzaut's Océans
Who doesn't like watching funny-looking fish? There are some doozies in Océans, the new film from Jacques Perrin and Jacques Cluzard, the duo that brought us Winged Migration. There's one creature with a mug like the Elephant Man and another which disguises itself as a rock, all the better to leap out on its unsuspecting prey.
There are jellyfish like mushrooms, anenomes which look like sinister black spiders and an invertebrate which looks like a floating cassock, dropped into the water by some absent-minded Pope.
Like Winged Migration, this Franco-Spanish-Swiss coproduction gives us nature as we rarely get a chance to see it in real life, up close and personal. Perrin and his tow-headed son (or grandson) show up a couple of times on dry land, but mostly we're at sea, both literally and metaphorically; with minimal commentary and no captions identifying the creatures or locations on screen (you have to sit through the credits or go to the official website for particulars) you're pretty much left to your own devices.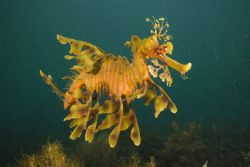 However, it's clear that vast swathes of the globe seem to be represented, from the frozen North to the Great Barrier Reef. I was a little disappointed there was no footage from the bottom of the Mariana Trench as well, but I daresay the technical teams had their hands full enough without needing to invent equipment to withstand water pressure over 1000 times more than that at sea level.

The images are spectacular, with the cameras not observing from a distance, but getting stuck in, right in the middle of the action as whales leap into the air like mighty flying mattresses, fleets of giant rays glide like Stealth bombers, an iguana surfaces like the Creature from the Black Lagoon, cormorants swoop on newly-hatched turtles... You'll forgive me if I've misidentified a species or two, but a lot of my notes were guesswork. I would have preferred more octopus (or possibly squid) and fewer joyously leaping dolphins (or possibly porpoises) but I realise these are popular favourites. And at least there's plenty of shark: not the vicious killer we know and fear from Jaws, but a placid creature which swims calmly alongside a diver without once trying to take a chunk out of him.

After about an hour of this awe and wonder, we get the bill. We've had our fun, now we get our noses rubbed in what man is doing to the oceans. There are some astonishing shots of fishing boats, ferries and frigates ploughing through storm-tossed seas, but mostly we're doing evil stuff like polluting the waters, melting the ice-caps, and getting dolphins (or porpoises) tangled in fishing nets.


As a reminder of what has already been lost, Perrin and his son (or grandson) wander through a gallery of stuffed extinct species; such a shame cinema wasn't invented in time to capture Great Auks or Steller's Sea Cows on film. Bruno Coulais' music, which hitherto has ranged from soaring majesty (whales) to poignant (baby seals) now starts up with the dirgelike chants as the toxic waste sets in and we see a shark, its fins cut off, tossed back into the ocean to die, gasping blood, on the seabed. It was at this point that I burst into tears.

Yet at the end of the final credits, there's a note announcing that no creatures were harmed during the shooting of the film, and that all the "massacre" footage was "reconstitué" - reconstructed. Which made me feel like a fool for ever having wept over the fate of the poor shark, which evidently hadn't been real. And then I started wondering how much of the rest of the film had been "reconstitué" as well. The footage of a long and winding seasnake, for example, hadn't looked very natural. And how about those trillions of tiny silver fish forming themselves into a shimmering sphere? Hadn't it seemed too perfect to be true? Might it have been enhanced, just a little, by CGI? Or what if that dramatic crab versus crayfish tussle had been every bit as staged as a World Wrestling Federation smackdown? And who's to say they didn't whip up that Elephant Man fish on Photoshop?

It's clear that Perrin and Cluzard have collected some truly amazing footage, and the spoilage of the oceans is terrible and must be stopped before it's too late. But by mixing the fake with the genuine, however well-meaning their intentions, they've shot themselves in the foot; I left the cinema feeling as though I'd been taken for a ride.
I would have preferred more octopus
Explore topics
Share this article