Nostalgia review - returning to Naples after 40 years |

reviews, news & interviews
Nostalgia review - returning to Naples after 40 years
Nostalgia review - returning to Naples after 40 years
Mario Martone's sensuous portrait of a city and a man who can't put old memories to rest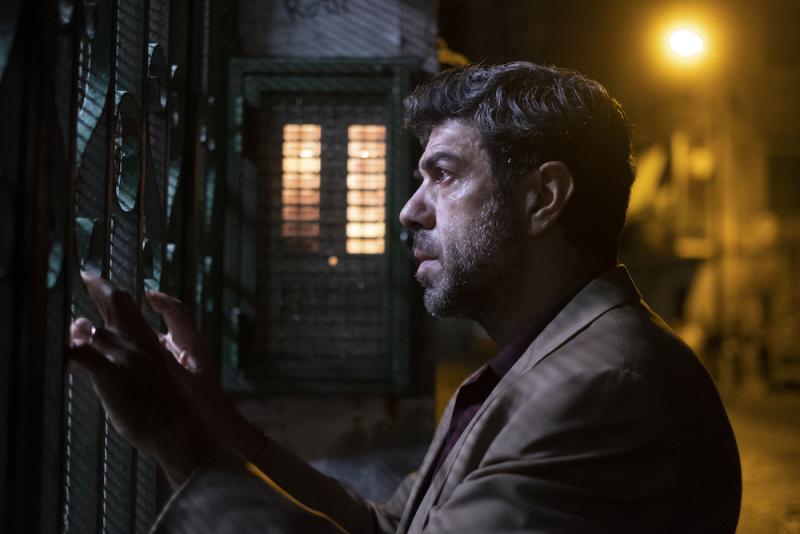 Return of the native: Pierfrancesco Favino as Felice
"He's my best friend, a brother," says Felice Lasco (Pierfrancesco Favino) of his childhood buddy, Oreste Spasiano (Tomasso Ragno). After 40 years away, Felice, a successful, married businessman, has returned to Naples from Cairo to see his aged mother (Aurora Quattrocchi).
He hasn't seen Oreste since he left at the age of 15. No letters, no phone calls. Nostalgia can be dangerous. A clue: Oreste is now known as Badman. Shades of Elena Ferrante's Those Who Leave and Those Who Stay.
In Italian director Mario Martone's intensely atmospheric, compelling film, Felice walks the ancient streets with their steep steps and overhanging walls, beautifully shot by Paolo Carnera, and finds himself under the spell of their chaotic, crumbling beauty. His mother, who was a respected seamstress, is equally decrepit, almost blind, living in a dark, dingy flat. You wonder why her only son has never visited her in all these years.
He makes up for lost time, bathing her in a large plastic tub in spite of her embarrassment. "Pretend I'm a little boy," he says and buys her new sheets and underwear. His Italian is rusty; he can't remember the word for "sponge".
He finds them both a well-appointed new place with a lemon tree in the courtyard – she inhales the scent of its leaves – and modern, airy rooms. He's not short of money, clearly, and buys himself a motorbike after watching the neighbourhood gangs in action. Is he horrified at the way they destroy the peace? Or is he wistful for his lost youth?
He decides that Naples is his home and that his wife Arlette (Sofia Essaidi), a doctor in Cairo, should join him. The city hasn't changed, everything is the same, he tells her, unconvincingly. He sits in outdoor cafés, sipping espressos and relishing the street life of the Sanità district. But after his mother dies, that old relationship with Oreste starts to obsess him.
Even when he discovers that Oreste is head of the local branch of the mafia, supplying arms, drugs and prostitutes, he's convinced that their friendship can be rekindled, although everyone, from Don Luigi, the priest (Francesco di Leva, pictured above, with Pierfrancesco Favino as Felice), to an old family friend who was an admirer of his mother, warn him to stay well away or, preferably, to leave altogether. But Felice is an exile trying to shrug off his displacement.
His new motorbike is torched, his apartment broken into. "Disappear," is written in red on his wall. "Hearts harden with time," says the priest, who battles against the Cammora's influence and whose number one enemy is Badman. "Not mine," says Felice.
There are flashbacks to their teenage motorbike escapades together – no helmets in those days – and naked swims in the sea to the nostalgic strains of "Lady Greengrass", a 1967 German psychedelic pop song by the Ones, before they became Tangerine Dream. There's also a flashback to a murder that's remained a secret for all these years. It's an unsavoury history with ramifications that he has never fully acknowledged.
Because Felice is now Muslim, he can't make a confession to the charismatic, powerful Don Luigi, but he tells him too much anyway. He seems strangely naïve, considering his background. But his fatal flaw is his glorification of the past, one that he managed to escape and Oreste did not. The scales are hopelessly unbalanced. Oreste (Tomasso Ragno, pictured above) is a petty criminal with ratty white hair without family or real friends, having sex with the prostitutes he pimps out, skulking around in a black hoodie, protected from the world by thugs but hardly living the high life we've seen on TV in Gomorrah. How can they be friends now?
Charming Don Luigi is a true hero, tireless, devoted to his community. He takes Felice on his rounds, introducing him to the people of La Sanità as a "person of value". A boy has stopped coming to music school – is it because his father wants him to help with the family drug-dealing business? Look at Felice, says the priest. He's an important man now. His mother didn't want him to leave, but if he'd listened to her he'd be a nobody, just another guy hanging out on the street. Or he'd be like Badman.
When they finally meet, Oreste is broken but still intimidating, wearing a grubby white singlet. "We're two shitheads who hate each other," he tells Felice. "You've come back to make trouble. Can't you hear everyone telling you to go away?" You can see the end coming a mile off, but the film's sensuous quality and Favino's terrific performance rescue it from predictability.
His fatal flaw is his glorification of the past, one that he managed to escape and Oreste did not
rating
Explore topics
Share this article