Neil Young Journeys |

reviews, news & interviews
Neil Young Journeys
Neil Young Journeys
Whiskery Canadian tunesmith achieves erratic brilliance in latest Jonathan Demme collaboration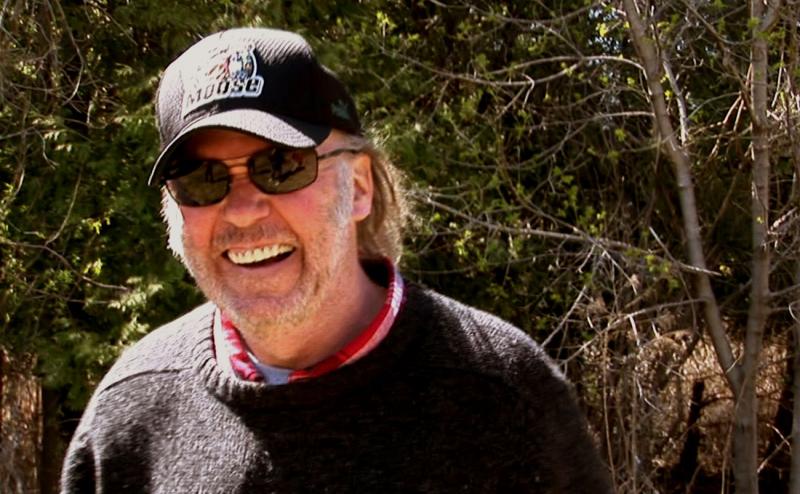 'Old man, take a look at my life': Neil Young still refuses to accept obsolescence
"There is a town in north Ontario," sang Neil Young in 1970's "Helpless", and in this third collaboration between Young and film-maker Jonathan Demme, we get to go there. It's the little rural outpost of Omemee, where, as Young tells the camera, he used to catch turtles and fish and look after his chickens. Young's casual asides and remembered fragments as he drives from Omemee to Toronto, to play a concert at Massey Hall, form the somewhat flimsy spine of Demme's film.
Back in the Eighties, Young sparked outrage when he loudly announced his support for Ronald Reagan's flag-waving Republicanism and aggressive stance against the Soviet Union, though as his manager Elliot Roberts liked to point out, Young had always remained a Canadian citizen who couldn't cast a vote in the United States. References to his Canadian upbringing have cropped up in his songs over the years (not least in the long-lost "Don't Be Denied"), but recently Young's Californian veneer has been increasingly rubbed away to reveal his inner maple leaf. The 2005 death of his father Scott, a renowned Canadian author and journalist, may well have played a significant role in Neil's re-Canuckification, and Young takes care to direct the camera towards the school that's been named after his dad in Omemee (Neil at the wheel, pictured below).
Frankly, the views we see of flat, featureless Ontario (as well as of his homely-looking older brother Bob) in the course of Neil's road trip are unlikely to get disinterested observers dashing to the Air Canada website waving their credit cards, but the flick stands or falls on its extensive concert footage. The Massey Hall concert was part of Young's tour for his 2010 album Le Noise, featuring the artist playing solo, and you get to hear most of the new album plus a sprinkling of key moments from Young's enormous catalogue.
Though he's whiskery and unkempt and looks as if he spent the night sleeping in an alleyway, and wears a battered straw hat that could have been gnawed by a passing mule, Young, at 67, still dominates the stage with a mysterious, brooding power. The seemingly simple setup of one guy with various guitars has been modified with any number of unseen technical enhancements, Young being a keen gadget-head, so even standing alone at the microphone he's able to make almost as much noise as AC/DC playing in a football stadium.
He performs "Ohio" with the big white Gretsch guitar that looks like the one he played with the Buffalo Springfield in the Sixties, but the booming riff and screwed-up intensity of his singing leap off the screen with scary immediacy. The old news footage of the Kent State shootings which prompted the song feel entirely unnecessary. Despite his decrepit appearance, Young's voice has retained its strange luminous qualities, and soars with almost soprano-like clarity in oldies like "After the Gold Rush" or " I Believe in You", or the haunting new song "Love and War". He boils up to a thunderous climax with "My My, Hey Hey", still defying the obsolescence the song warned about back in 1979, and dashes to the tape amid the reverberating tumult of "Walk With Me".
Some great performances then, but you'd hardly describe this as a great film, even if Demme has found some unusual camera angles (like the mike-stand-cam onto which Young deposits a dollop of saliva). Some of the Le Noise material is less than stellar, while the new "Leia" is one of the worst songs he's written in years, and by the halfway mark I was yearning for his perennial cohorts Crazy Horse to stroll onstage and plug in. But it's Neil Young, warts and all, and if you don't like it he couldn't give a...
Though he looks as if he spent the night sleeping in an alleyway, Young still dominates the stage with a mysterious, brooding power
rating
Explore topics
Share this article