Nanny review - no spoonfuls of sugar in this spooky tale |

reviews, news & interviews
Nanny review - no spoonfuls of sugar in this spooky tale
Nanny review - no spoonfuls of sugar in this spooky tale
Intriguing and ambitious psychological drama addresses race and class
Saturday, 26 November 2022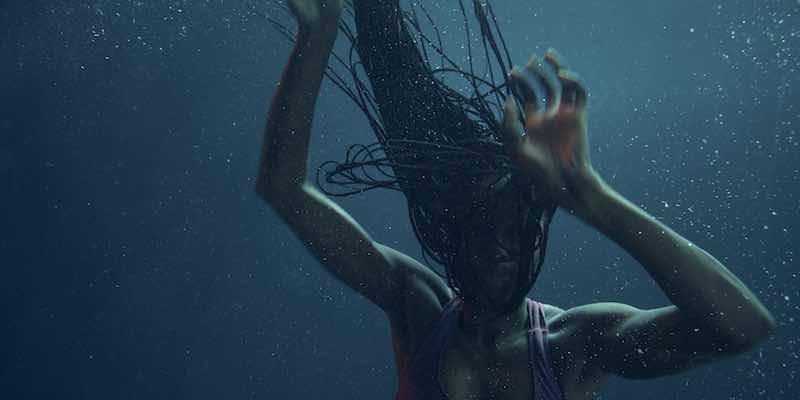 Going deep: Aisha (Anna Diop) faces her watery demons in 'Nanny'
Nanny is being marketed as a horror movie, and arachnophobes should certainly beware, but it's also a stylish exploration of race and class by African-American writer-director Nikyatu Jusu.
Its heroine is Aisha (Anna Diop) a Senegalese graduate teacher who is fluent in several languages. Without official papers, however, she can only work as a nanny in New York. Amy (Michelle Monaghan) is pursuing her own career and pays Aisha cash in hand to teach French to her five-year-old daughter Rose.
Amy also wants Aisha to stay overnight in her slick Lower Manhattan apartment whenever her social or business life dictates, log every moment of her child's activities, feed her bought-in food, and not mind the surveillance cameras watching her in every room. Amy would also like Aisha, who is very beautiful, to submit to her boss's patronising hugs and borrow her tight dresses, but only when it suits her. She probably wouldn't be too happy to know that her war-photographer husband, Adam (Morgan Spector), makes a pass at Aisha as soon as his wife is away. Early on it becomes clear that this film is not another spin on Mary Poppins, Nanny McPhee, or Mrs Doubtfire.
Jusu has drawn on her own observations of nannies of Caribbean and African origin working for wealthy white women in New York and on her own memories of her Atlanta childhood when her mother (who came from Sierra Leone) had to leave her family to do domestic work.
Rather than make a straightforward polemic about the damaging economic legacies of labour in a post-colonial world, Jusu deploys some of the supernatural tropes familiar from films by Jordan Peele and Boots Riley. There are psychic disturbances and spirits unleashed from Ashanti folklore to enhance the psychological horror. Aisha dreams of bringing her own little son to America -- when she has enough money for his airfare. But what do her watery nightmares portend?
Nanny is not all spookiness. Jusu mixes in everyday scenes from the vivid life of Africans in America, complete with joloff rice, highlife music on the soundtrack, and elaborate hair-dressing sessions. Aisha enjoys a sweet romance with Malik (Sinqua Walls), a black American. The film would make an excellent double bill with the recent Queen of Glory, which also gave audiences a glimpse into the lives of African immigrants in America. (Pictured above: Anna Diop, right, with Zephani Idoko)
As Aisha, Anna Diop is mesmerising. The actor has old-school movie star glamour, and her rapid emotional shifts – from playful when she's having fun with Rose, to enraged when she feels exploited by her employers – are impressive. Diop had a part in Jordan Peele's Us and a recurring role as Starfire in the DC superhero series Titans, so it's great that she gets a chance here to show her range in a leading role.
Nanny has a somewhat unsatisfactory final act, as if Jusu had too many possible endings to work with and couldn't choose. But that shouldn't put an audience off this striking debut.