The Muppets |

reviews, news & interviews
The Muppets
The Muppets
The multicoloured felt puppets make a welcome comeback
Thursday, 09 February 2012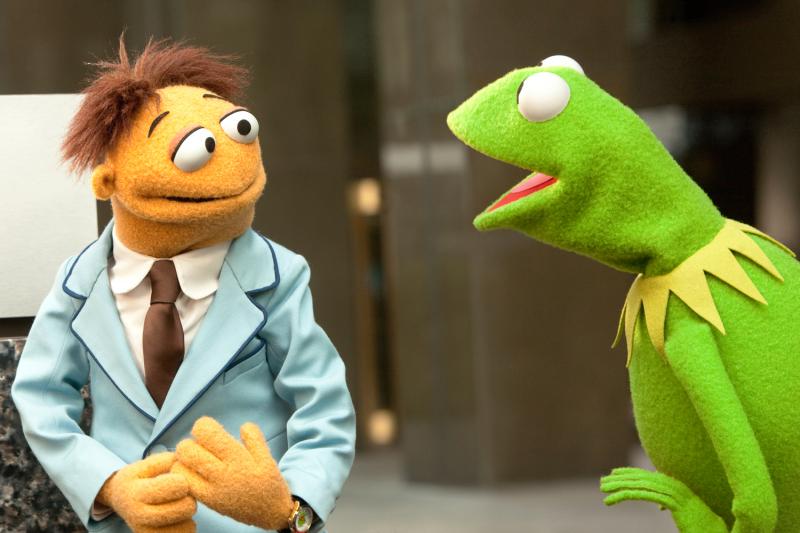 Walter joins Kermit and the gang
Those of a certain vintage will recall with fondness their childhood years (or those as parents of small children) gathered in front of the television on Sunday evenings between 1976-1981 to watch The Muppet Show. But The Muppets movie, their first big-screen outing in 12 years, is no lazy exercise in nostalgia; it's bracingly original and postmodern, with dollops of self-knowing humour and irony.
It's also produced by Disney (which now owns the Muppets brand), making the accusation that, with its message of anti-corporate greed, the film is the work of pinko communists so much funnier. As Wall Street faces criticism from even the most right-wing of American commentators, it seems to me that the film's makers are very much in step with current US thinking, and that its other message – together, by the simple act of being nice to each other, we can make the world a better place – is surely the kind of basic Christian ethic that even the battiest fundamentalist espouses with sincerity.
Enough with the politics already, for The Muppets is simply great entertainment. It starts disconcertingly in a human world – albeit a garishly sunny and primary-coloured one reminiscent of The Truman Show – where handyman Gary (Jason Segel, pictured right with Amy Adams) and his teacher girlfriend Mary are preparing to leave Smallville, USA for a holiday in Los Angeles. Coming along for the ride is Gary's brother Walter, a felt person who is obsessed with the Muppets.
Walter is desperate to see the Muppet Studios and theatre, but the premises are now dilapidated because the Muppets have long gone out of fashion. While there, Walter overhears dastardly oilman Tex Richman (the nicely villainous Chris Cooper) planning to take over the building because he has found oil underneath. The three of them go to find Kermit the Frog, now living in the faded grandeur of a Bel Air mansion, to warn him, and persuade him to get the old gang back together to do a fundraiser to save the theatre. They have only a few days to save the Muppets and off they go to gather Fozzie Bear, Scooter, Rowlf, Beaker, Gonzo et al. And of course, Miss Piggy, now a senior Vogue editor in Paris – what else would such a sophisticated superstar be doing?
There's lots of fun guying movie tropes like playing with timescales (the cast decide it's quicker "to travel by map", where the route from LA to Paris is drawn on map and hey presto, they're in France in a flash), and neat visual references to (among others) Dallas and Sunset Boulevard, while a host of stars – including Whoopi Goldberg, Emily Blunt and James Carville - appear in cameos. And Jack Black, as the celebrity host of the show, spends much of the movie with a gag in his mouth for reasons that would spoil the, er, gag to explain here.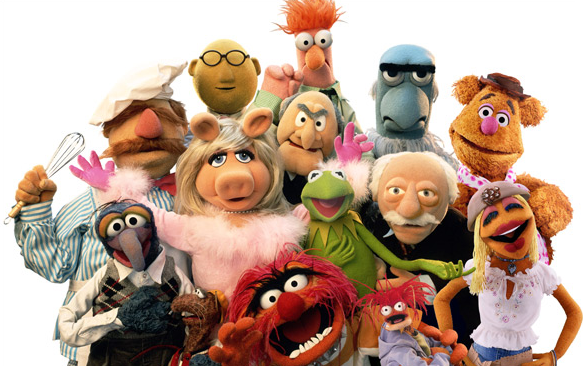 The actors and Muppets break into song frequently and perform a few old favourites but none of the new songs, despite an Oscar nomination for Best Original Song for "Man or Muppet", is particularly memorable. The fundraising show, a telethon produced by the businesslike TV executive played by Rashida Jones, is a revivified mix of slapstick, surreal gags – welcome back Camilla and her dancing chickens – and funky music.
Segel co-wrote the film with Nicholas Stoller, and it's nicely directed by James Bobin, even if it feels a little stretched at 103 minutes. The film-makers also give credit to the late Muppets creator Jim Henson in the form of photographs of him on shelves and office walls, in what is clearly an homage for all concerned. The film ends happily, of course, and Kermit is able to deliver a final homily about the importance of family. Pinko communists indeed.
The Muppets is on nationwide UK release from 10 February
Miss Piggy is now a senior Vogue editor in Paris – what else would such a sophisticated superstar be doing?
rating
Explore topics
Share this article