Morning Glory |

reviews, news & interviews
Morning Glory
Morning Glory
Broadcast News redux, this time with nervous tics and knickers
Wednesday, 19 January 2011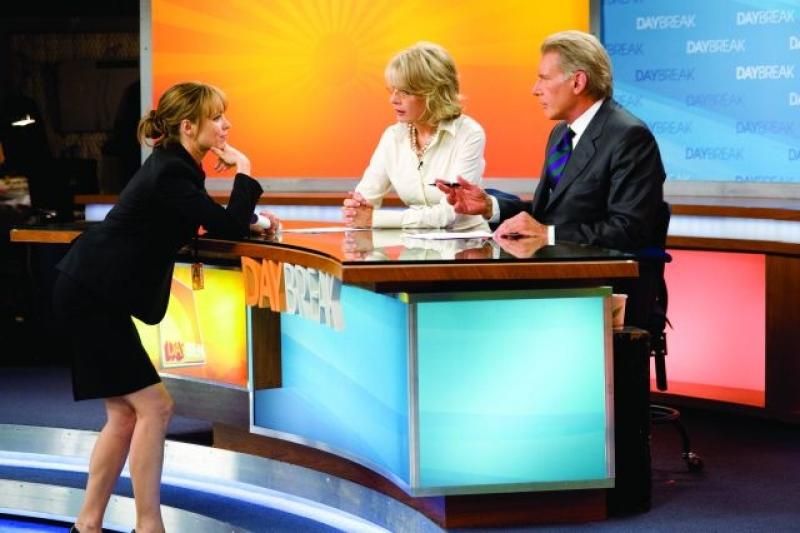 Anchors aweigh! Rachel McAdams cosies up (or not) to Diane Keaton and Harrison Ford
Rachel McAdams brings her appealing arsenal of kooky, Kewpie-doll twitches to bear on the story of an apparent ditz called Becky, who actually has steely claws to spare when it comes to turning round the fortunes of an ailing Manhattan-based breakfast television program. True to form, the show's bluntly spoken, fitness-obsessed boss (Jeff Goldblum) is ready to give Daybreak the chop if ratings don't improve. (At one point, Becky launches yet a further desperate appeal to her employer during a jog round the Central Park reservoir, as you do.)
So what if Becky's job interview is a bluff-and-bluster affair that in real life would doubtless get you quickly escorted to the lift? Similar tactics worked for Shopaholic's even more manic Isla Fisher, who went on to sleep with the boss - a scenario that, in fact, is not replicated here. Morning Glory in any case isn't a documentary about realpolitik in the realm of TV now; it's a feel-good film about perseverence in the face of adversity, whose finale is preordained.
And judging from the consistently chortling industry types amongst whom I saw the movie at a central London club, I'd guess that screenwriter Aline Brosh McKenna's parable of idealism hits home often enough to play bigtime to its coterie. Those, meanwhile, who couldn't give a fig whether the ambitions of a bygone era of journalism are sacrificed on the altar of daytime TV frippery will nonetheless surely warm to the sight of McAdams plotting frantically while wearing little more than knickers. If only Becky were as focused on her patient boyfriend (Little Children's Patrick Wilson, a fine actor in a nothing role), the rom-com side of things might have some genuine resonance.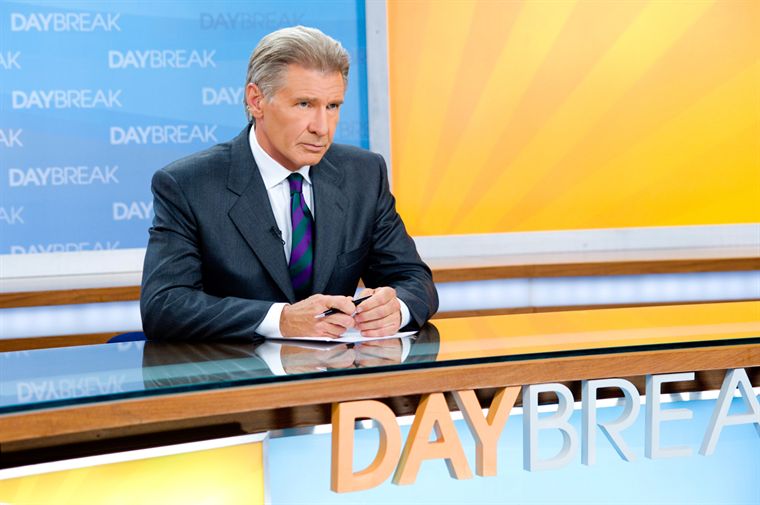 This movie saves most of its energy for Becky's run-in with seasoned anchorman Mike Pomeroy (Harrison Ford, pictured right), a one-time TV hot shot - think Dan Rather, or the like - who is contractually obliged to come aboard a programme whose entire reason for being fills him with contempt. Speaking softly and sinisterly like a sort of televisual Hannibal Lecter, Ford is there to soften under the charm barrage levelled against him by McAdams, and I suppose it's a sign of restraint in context that the two of them don't end up waltzing off into the New York moonlight, the decades between these stars no obstacle to romance in the Hollywood de nos jours.
Ford is quite enjoyable, as it happens, his character's disdain surely drawing on this Hollywood player's own experience over time with celluloid projects of which he can't entirely have approved. (The Sabrina remake, anyone?) I'd have liked quite a bit more of the wonderful Diane Keaton, here wittily cast against type as Mike's poison-tongued co-anchor; a seasoned pro who has watched more than one colleague wilt under the unforgiving glare of the television-ratings war. Instead, Keaton's Colleen Peck is made to surrender to the general celebratory pow-wow, her sting neutralised by the film's end. In Morning Glory, pluck conquers all, success never further away than a beguiling set of neuroses - and some knickers, too.
Morning Glory opens nationwide on Friday
Find Broadcast News on Amazon
This parable of idealism hits home often enough to play bigtime to its coterie
Explore topics
Share this article