Moonrise Kingdom |

reviews, news & interviews
Moonrise Kingdom
Moonrise Kingdom
Wes Anderson returns with stars aplenty in this meticulous portrait of young love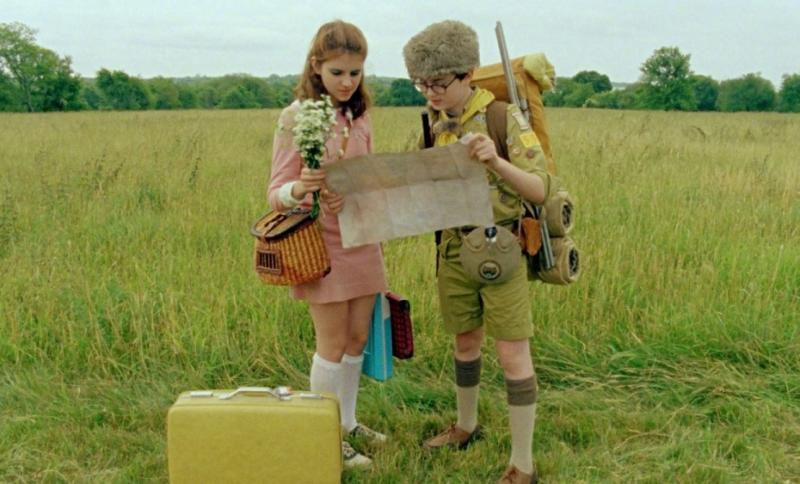 A couple of queer birds: Kara Hayward and Jared Gilman in 'Moonrise Kingdom'
With its precocious youngsters, enchanting title, wonderful wit and delight in hand-crafted detail, Moonrise Kingdom is every inch a Wes Anderson film. This year's Cannes opener is steeped in The Royal Tenenbaums' director's faux-naïf, frivolous worldview, with nearly every one of its magical frames carrying his signature.
He has always presented adult strife as if seen through a child's fertile eyes - spinning the prosaic, dark or melancholy into something altogether more quixotic. Anderson's films are poised and peculiar, with their thrift-store chic and deadpan protagonists. Grim reality is always there (indeed matters often erupt into cartoonish violence) but any sharp edges are meticulously blunted.
Scripted by Anderson and Roman Coppola, Moonrise Kingdom might boast an all-star adult cast but its protagonists are two 12-year-old delinquents. Set on the fictional island of New Penzance in 1965, it sees made-for-each-other misfits Suzy Bishop and Sam Shakusky (newcomers Kara Hayward and Jared Gilman) meet when Sam flees his Khaki Scout troop and stumbles into the dressing room of a church play where Suzy is dressed as a raven (pictured below right).
They're certainly a couple of queer birds: he's an orphan and excellent marksman, she's a loner who occasionally goes "berserk". She looks out through meticulously made-up eyes, viewing the world up close via ever-present binoculars, but she's detached from the day-to-day. Suzy finds her parents' book called Coping with the Very Troubled Child and escapes into a world of fantasy stories which she liberates from the local library, while Sam is unceremoniously dumped by his foster family and tormented by his peers.
The film seditiously cheers on these two young lovebirds as they make a break for freedom: him through a hole in the side of his tent at Camp Ivanhoe; her from her family home. And so the hunt is on to find these fugitives. It's led by "sad, dumb policeman" Captain Sharp (Bruce Willis, pictured below left with Murray, Swinton and Norton) who is accompanied by the terribly earnest Scout Master Ward (Edward Norton, pictured overleaf) and Suzy's lawyer parents, Laura (Frances McDormand) and Walt (Bill Murray). Following is a matronly woman known only as Social Services (Tilda Swinton) who sweeps in, in a royal blue cape like a glamorous cross between Thatcher and Dracula. There are also cheering appearances from Anderson stalwart Jason Schwartzman, playing the hilariously irresponsible Cousin Ben, Harvey Keitel as scouting big cheese Commander Pierce and Bob Balaban as our island guide/narrator.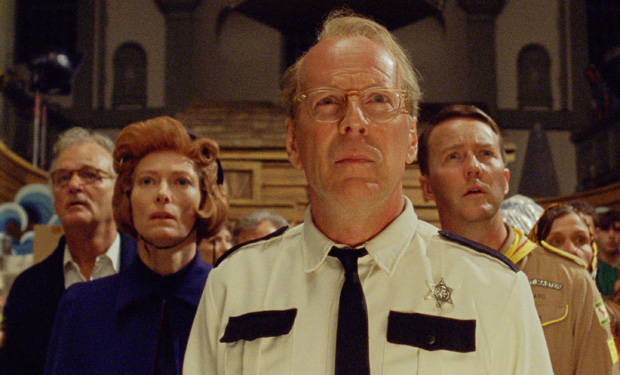 Moonrise Kingdom has that unmistakable Anderson attention to detail but this time round there's a more faded, lived-in aesthetic as if some of the colour has come out in the wash. It's unusual for an Anderson film to be set in a specific time period but the era suits his retro style and the film visually emulates some of the lower-budget movies of the period, particularly those from the French New Wave, with which it shares an anarchic spirit. Throughout Anderson's films – from Bottle Rocket (1996) to Fantastic Mr Fox (2009) - he's made nods to the work of other auteurs, especially the tonally similar films of Hal Ashby. Moonrise Kingdom's specific points of reference include Loach's Black Jack (1979), Waris Hussein's Melody (1971) and Truffaut's Pocket Money (1976), while Godard's Pierrot le Fou (1965) seems to be in there too. Fittingly, these days Anderson himself is an inspiration - the recent Submarine being a prime example.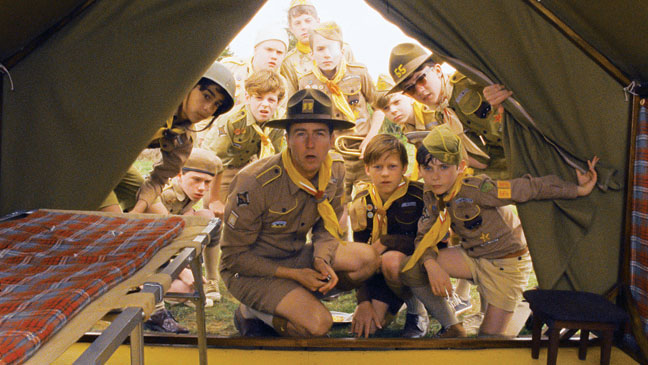 Moonrise Kingdom is also haunted by the ghosts of Anderson's past, which both works in its favour and to its detriment. His previous films are evoked throughout, binding them all unmistakably together as an oeuvre and providing satisfying recognition for fans. As the camera seamlessly explores the fastidiously decored Bishop home we're reminded of the Tenenbaum's townhouse, Steve Zissou's ship, or Mr. Fox's den. Kara Hayward's doe-eyed detachment and sorrowful speech recalls Gwyneth Paltrow's terrific turn as Margot Tenenbaum. Myriad other features reoccur including the portable record player, the tents, the final act of destruction and Bill Murray's romantic misery and increasingly dishevelled despondency
Where Rushmore (1998) perfectly balanced the portrayal of kids with an exploration of adult characters, Moonrise Kingdom focuses on the kids at the expense of the adults, whose characters drift sometimes unsatisfactorily in the background (a love triangle, for instance, is barely even touched upon). The two young leads are extremely likeable but lack screen confidence. Furthermore, this group of actors are slightly less successful at tailoring their performances to Anderson's offbeat, nonchalant style than previous starry ensembles. Willis in particular is a little uneven, though Norton stands proud as the inept and sweetly bemused Scout Master Ward.
Anderson's seventh feature is an adorable romantic fantasy with a deft blend of sincerity and playfulness. It's heartachingly gorgeous with ample knockabout charm but, wit and visuals aside, unfortunately it's not up there with his finest. Despite this, in troubled times, his child's-eye-view is to be savoured. As the Swiss philosopher Henri Frédéric Amiel once said, "Blessed be childhood, which brings down something of heaven into the midst of our rough earthliness."
Follow @EmmaSimmonds on Twitter
Watch the trailer for Moonrise Kingdom
His previous films are evoked throughout, binding them all unmistakably together as an oeuvre and providing satisfying recognition for fans
rating
Explore topics
Share this article